Perhaps no young player on the ATP World Tour in recent memory has faced the high expectations that Grigor Dimitrov has had to deal with in his career. Nicknamed "Baby Federer" from early on, the Bulgarian has always been expected to do great things, but has always fallen short.
But now at the Western and Southern Open, he has a chance to finally put some of his doubters to rest, as he will contest his first Masters 1000 final tomorrow after defeating John Isner in a tight two-tiebreak semifinal. It's a moment that is not lost on the Bulgarian, who has had to battle hard for this opportunity.
Hard-fought win
Dimitrov could just as easily be on a play to New York at the moment, as just a few points in the tiebreak were the difference. But perhaps a win like that may be beneficial for the Bulgarian. Dimitrov's assessment of the match was:
"Today was, I think, one of those matches that I really had to just be patient. I think that that was the key. I knew I'm not going to have that many rallies against John. I knew that he's going to serve big, bold serves. I just had to be very composed and use every opportunity that I had. I think in the end of the match, it was just a few points that made the biggest difference for me.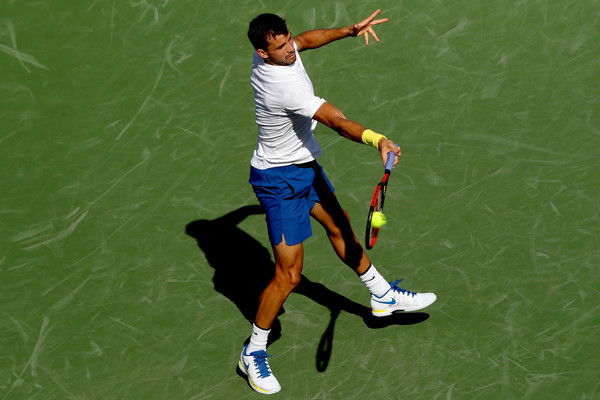 I'm just happy obviously with the win, but I'm just happy with the way I kept myself together throughout the whole match. Just remained calm in those tough moments. I mean, I know it's nerve-wracking from outside, but it's even tougher when you're in there and have to receive a serve that comes 141 miles an hour. So, yeah, I take a lot of positivity out of that match, and I'm just building up. This is how I like to see it. Tomorrow is the same thing for me. Just another match that I just want to come out and play the best way that I can. That's all I can count on right now."
Isner attributed part of his downfall to tension in the tiebreaks. When asked about that tension, Dimitrov said, "it's just different for every player. For him, the biggest thing was obviously the serve. So he was under pressure a lot, because I also thought I was putting a lot of balls back. But, for example, I think the four match points that I had, he put four first serves and not a slow one. So for me it was -- I mean, I didn't think he was tight for anything, you know, (smiling). Maybe he was a little bit tired, I would say, but definitely -- yeah, in the end, it was pretty -- I think we were playing with our nerves in the end.
It's just simple as that when two players are going head to head and it's that close, this is what it all comes down to. We were just talking about it in the locker room now. He's like, Man, I never hit those big forehands. I was like, Yeah, I know. I never seen anybody hit that wide serve so well four times in a row."
Realising the potential
At long last, Dimitrov is into a big final. It may not be a major, but there is no question that this is the biggest final of the Bulgarian's career so far. However, Dimitrov didn't appear to be breathing too many sighs of relief, saying "I think it's a good step. It's a good step. I have been on the tour for quite some time now, and I appreciate those moments. I'm starting to, I think, to appreciate them even more. Being able to compete at a final, it's always a great feeling. No matter Masters 1000 or 250, it's always something that you work for. It all comes down to that.
For me, as I said, right now is just all about just going step by step and just building up not only my confidence, my game, to be able to do that pretty much every time I'm entering a tournament. And I feel good. I think the body is responding well. I have been playing good tennis, as well. So that actually helps. Hopefully tomorrow is going to be one of those days that I can, again, produce good tennis. But not only that. I just kind of want to make sure that I'm going in the right direction."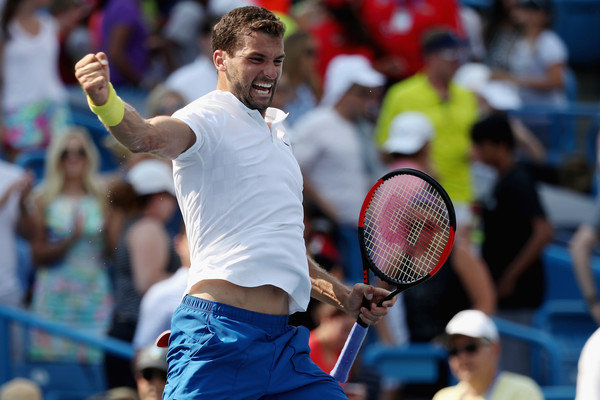 In terms of taking a weight off his shoulders, Dimitrov said, "Of course it means to me, because this is something I can obviously check off my list. I mean, I always had, like, higher goals for myself, and I think the biggest pressure I'm putting on myself, it comes from me. But, yeah, I don't want to think that way right now. I don't want to be relaxed just because I'm playing in the final tomorrow. Oh, great, I got to the final. Now I can just take it easy. No. These are those moments where you kind of want to build a momentum, and it's so hard to get that kind of momentum on tour, especially with so many players that are playing good and competing. Everybody is playing well nowadays.

So I think it's so important to keep that momentum going, that game with you, and just apply it every single time to there is no more, basically. Just keep on going. I think that's why the best players in the world have been doing throughout the years -- Rafa, Roger, Andy, Novak -- I mean, once they build the momentum, they were pretty much unplayable. You have seen other people doing it. And why not you? I think a lot of players right now are knocking on the door. And it's different when you don't see the guys, for sure, playing quarters, semis, and they are not top 4. It's a completely different view on the other side of the net. Yeah, I think that's how I look at things right now."
Great calves = handsomeness
Seeing as he is often in the conversation, Dimitrov was asked at the end of his press conference who he thought the most handsome man on the tour is. Dimitrov's response?
"You're becoming very handsome with this kind saying to me [to the reporter]. Oh, man. That's a tough call for me, isn't it? Let's talk about women or something else. Talking about guys... Guys. Wow. You caught me off-guard completely. Help me out here, Man [to the moderator]. Anything helps.

That was the last question. He said last question. Go with Feli. I have always been an admirer of Feli, Feli Lopez. I like this guy a lot. He's just -- I mean, every time -- he's, like, fit and good and his long hair and the beard. I'm like, Dude, you do good. Like, I wish I had his legs. His calves, man. He's strong. Every time walking towards the showers, I'm like, Show me those calves again. He starts laughing at me. I guess him, yeah. Of course there are a few others, but this is the first thing that popped into my head."