Simona Halep is in the zone as she prepares to take her third stab at the number one ranking tomorrow at the Western and Southern Open. The current world number two was dominant in her semifinal win over Sloane Stephens. The Romanian just needs to win the final tomorrow to ascend to the top of the women's game. And she feels like she has a great chance to do it.
Coming in hot
You wouldn't have even needed to watch the match or see the score to know that Halep had just played a fantastic match as she entered the press room after her semifinal win, hardly able to do anything but sport an ear-to-ear grin. She was over the moon with her performance, saying, "I played my best, I think, match on hard court so far. I felt great on court. Now I feel better, actually." When asked if she felt like she was in the "zone," she simply replied, "yeah."

Halep was coming off a challenging quarterfinal win over Johanna Konta, something that she said helped her in this match. The world number two explained that "I think the match from yesterday gave me a lot of confidence, and since yesterday I started to feel the game, to feel that I can hit the ball. So today was much better. I moved very well today. I just feel good. That's why maybe I can play. I have no pressure."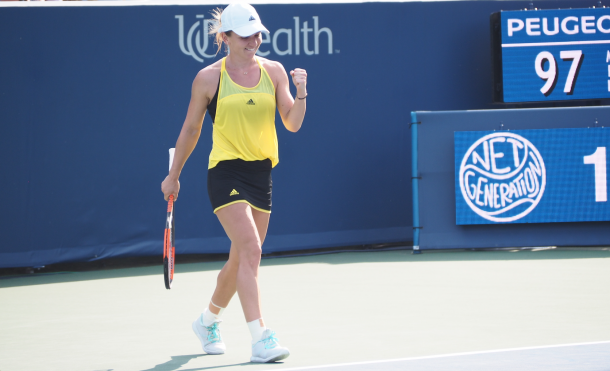 Last week and into this week, Halep was complaining that she could not properly feel the ball. But in the Konta match, "just from the first point I felt that I can play good tennis, and I felt it straight away."
During that match with Konta, clearly Halep found a perfect way to deal with those big hitters. When she found herself up against another one today in the form of Stephens, she "did the same thing. Like I said yesterday was the same plan, to hit the balls because if I get in defense a lot, I have no chance against these players. So I just tried to hit, and some points I just wanted to go with her power. So I have been, and I think I won some points. It's important that I can see I can play this game, and I want just to keep it and to keep improving in this way."
The Spaniards
After beating Konta last night, Halep returned to the court, only this time to the sidelines to watch soon-to-be men's world number one Rafael Nadal. Like Nadal, Halep is a heart-driven, defensive fighter who covers the court well, returns every ball with power and never, ever gives up. When asked if she thought her game was kind of like Rafa's, she said "I try to do that, but I'm talking too much between the points. I have just to take off that, and that's why I'm watching the best players."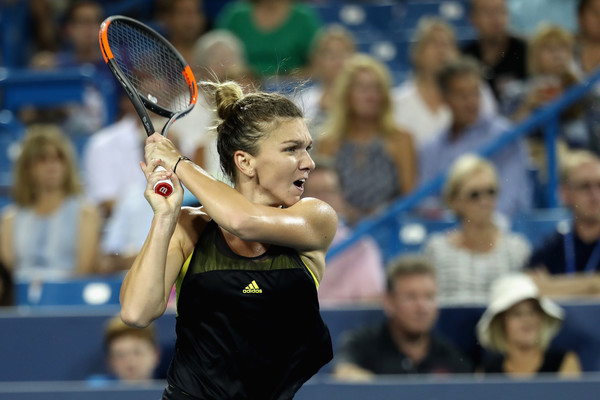 Going into the final and developing a game plan, Halep explained that "Well, it's not always about me. Every time it also depends how the opponent is playing. But if I stay with my plan, I think I have a better chance. That's why I don't change anything for tomorrow. Just going the same like these days. I know that [Garbine Muguruza] has a lot of confidence coming with title from Wimbledon, so she's favorite, in my opinion. She's hitting the ball strong, but I had already two matches, so I know how it's gonna come, the ball. But still, I want just to do the same and not thinking about the result. I just want to go there and enjoy moment."
So what is the plan for Muguruza? "I know she's very aggressive. She stays close to the baseline, and she hits everything. I have just to respond fast and, like, strong with my legs, move well, and just to push her back. I'll try everything tomorrow. I have just to go there and to play another final, which is great."
Five Points
Yeah.
All the members needed to say was "five points" to turn Halep's joyous, beaming smile into a sly, focused grin and for a little spark to appear in her suddenly super-focused eyes. Halep knows exactly what five points they meant. The five points that separate her and the world number one ranking.
With a win, Halep will become the number one player in the world. A loss will leave her five points short. This will be her third crack at claiming number one this season. After having missed out twice before, Halep feels that "I'm more relaxed now. So I'm not thinking about that. I know that if I keep this level, is gonna come. If not tomorrow, maybe next weeks. But I'm much better now. Hopefully I can play better."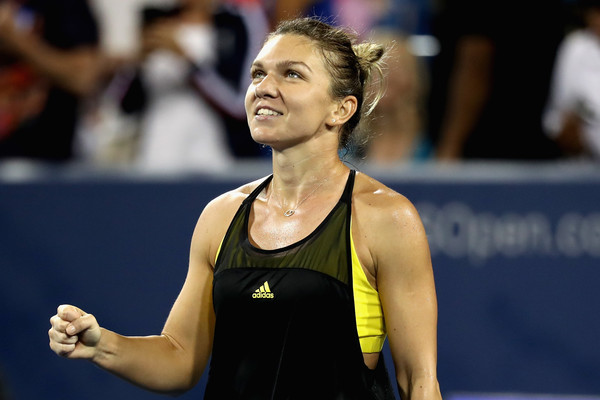 With the rankings being so tight, it was pointed out to Halep that even should she lose tomorrow, she will have many more chances throughout the remaining months of the season to claim number one. It was also suggested that she enter a small event next week before the US Open and withdraw in the first round, earning her eight points and the top spot. While she got a kick out of that idea, she said, "I don't want to do that, actually. I want to win it. So if it's gonna be just to win a match and to get there, it's going to be more special and nicer for me. Everyone can get to No. 1 now. The ranking is close. So depends of anyone. But I am so close. I really want that. So we will see."
Halep has made no secret of the fact that she wants the number one ranking. But she admitted that it's been an evolving goal, and one that still does not take priority. She explained that "I could not wish No. 1 in the world when I started playing professional, because I was too far. So when I got to Top 10, I said that I can be there. But still, when Serena was playing, I didn't think too much about that. My first goal was a Grand Slam title, and it's still the first goal. But now being very close, it's maybe the most important thing in this period, the last three months, let's say. I don't know. I think it's something special to get No. 1 in the world. Only 23 players got that, if I remember well. So it's going to be special. Yeah, just that. Don't have to talk anymore. It's fine. I am far to get it."