Simona Halep may have suffered the worst defeat in a final of her professional career on Sunday at the Western and Southern Open when she lost 6-1, 6-0 to Garbine Muguruza, a loss further intensified by the fact that a win would have made her the number one player in the world, but you would never have known that from her demeanour after the match.
After the defeat, Halep was pragmatic about it, choosing to focus on her opponent's impressive performance than her own struggles and the positives she is taking from a strong summer on the hard courts.
Too good
A week ago in Toronto, Halep was not happy with her performance and made no effort to hide it. While she was no doubt disappointed in this defeat, she was very quick to give the credit her opponent. Of Muguruza, Halep said, "she played really well, first of all, and she was hitting very strong, and after a few games I got down with the confidence. I tried to hit the ball and couldn't much. Then I tried to go back a little bit and was not good. So today I don't really know what I had to do, and I think she was just too good today."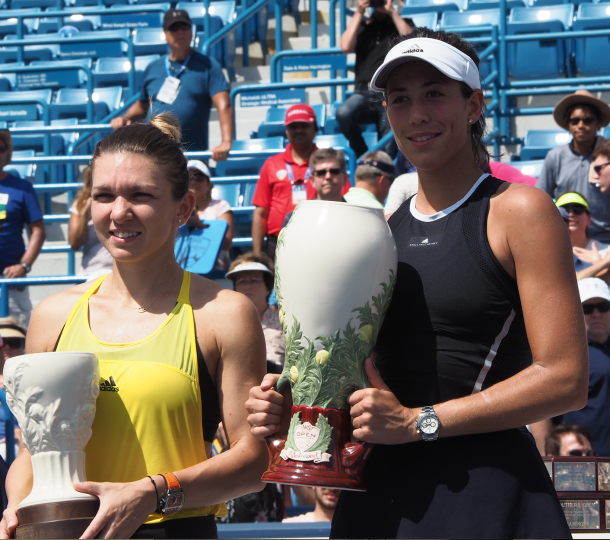 The common theme during the loss in Toronto and early this week in Cincinnati for Halep was her claiming that she could not "feel the ball." That was not the case this time around, as Halep explained that "it was different than last week in Toronto where I didn't feel the ball at all in the semis. But today I felt it. I just -- I think maybe I was too slow to the rhythm, and also tried to play her game a little bit, to hit too strong. I don't know exactly how it was there, but what I know is that I have just to forget it and just go ahead, because I have an important tournament next week. So I don't want to go down too much, and I don't want to analyze too much. It was a bad moment, bad feeling on court, but it's just a day."
Pressure and confidence
Halep was under some extreme pressure entering this final, as she would claim the number one ranking with a victory. Was pressure a factor in her poor play in the final? According to Halep, "Maybe. But I'm not sure about that. Like I said yesterday, the third time is going to be lucky or another experience. So is another experience. It's tough to analyze anymore about this thing. Maybe I feel the pressure and I don't realize it. Maybe I just played bad. I don't know what to say. But it's still there. I have still -- I still have a chance. So I will work for it, and maybe one day it will be there."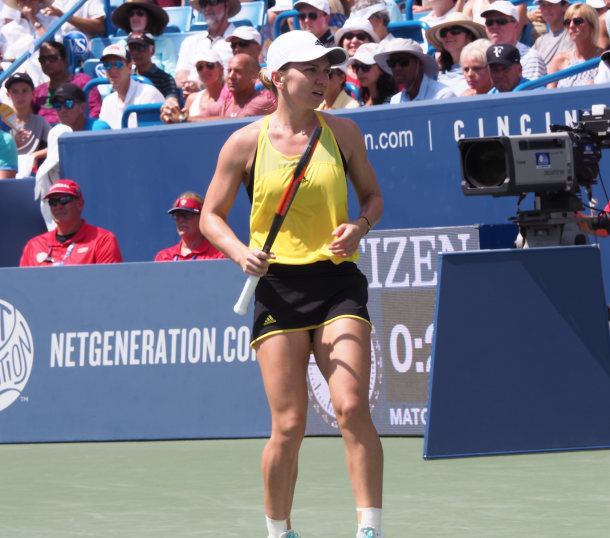 Confidence plays such a role in this game, and Halep has admitted in the past that her confidence fluctuates. But that's not exclusive to the court, she's "like this in normal life, as well. Up and down every day. But I cannot say I lost my confidence after today. Of course I feel that it's been a big shame to be there to lose 6-1, 6-0 in the final, but these things happen, and she's a very good player. So I don't have to feel that bad. But still, I am. Well, when I feel on court that I got dominated a little bit, I felt that I cannot control anymore the points, and that's maybe why I got a little bit down in my confidence. But I tried. Inside, I tried. But maybe I didn't show that I wanted just to keep closer, the match. Sometimes I don't show that, but inside I really felt that I can play and I gave everything I had, every point."
Putting it in the past
It did not appear that Halep was planning on dwelling on the losses. When asked what she is taking out of the last few weeks, she said, "two very bad matches, first (smiling), and a final, this is great. And the most important thing is that first two matches here I played very poor level. I could just handle it, and I could just past it. And then I played maybe the best matches on hard court. I don't count today. I just take it like it is, and I leave with positives. I leave with good feeling of the ball. Just take it like a normal tournament and a good tournament."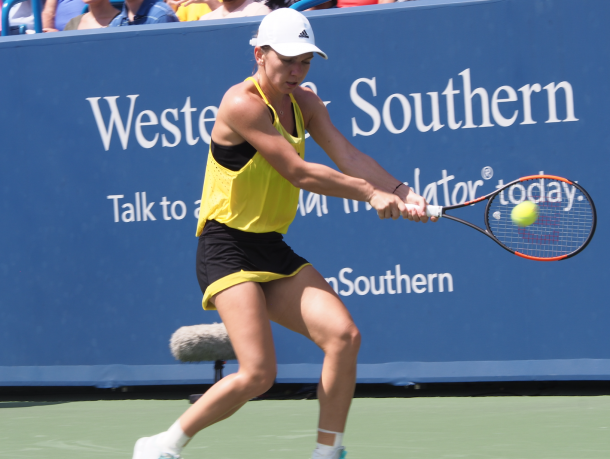 The world number two will now be taking a much-needed, albeit short break before the US Open. Over the next week, she thinks "I will have two days off. I think it's still available, the offer that Darren gave me yesterday, two days off after this tournament (smiling). After this match, I'm not sure, but yeah, I hope to have rest I need. I played three tournaments in a row. And I played well in the last two. Then I just go ahead. Like I came here, I will go to New York and I will be with the confidence up. I played really good few months. So I don't have negatives to take. Just these moments that are not easy. But I feel that these moments are bringing something new, a lesson, and I just try to learn from it."
Overall, she's not feeling too bad, explaining that "I don't feel tired, physical. I don't have any problem. Just mentally a little bit with the routine. Maybe a little bit tired that I have to warm up to get ready for the match and stuff like this. But I feel pretty okay. We'll see next week before the tournament starts, and then I can talk about it."
Halep will take her next shot at the number one ranking at the US Open.