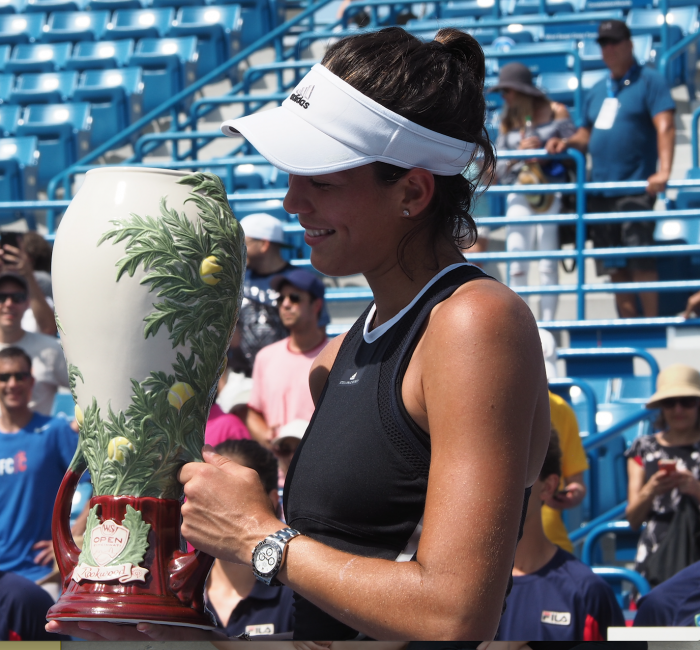 Garbine Muguruza scored one of the most impressive wins of her career on Sunday at the Western and Southern Open, claiming the title with a 6-1, 6-0 dismantling of Simona Halep. The Wimbledon champion was completely dominant, claiming her first title on American soil and establishing herself as a favourite heading into the upcoming US Open.
After the match, Muguruza discussed her wild run in Cincinnati and how she has evolved as a champion on the tour.
Huge win
Some of the best tennis came in the early stages of the match, when it appeared that Halep might be able to hang with Muguruza. But it quickly became clear that Muguruza was going to take charge of the match. She explained that "since the first ball, honestly, I knew there was going to be a lot of long rallies, and she's a very solid player and, you know, very tough, as well. I was ready for it. I was looking to play my game, to be aggressive since the first moment, and then after, I was improving a little bit, a little bit more until the second set, also, played better."
Halep nearly engineered a come in an epic fourth game on Muguruza's serve, where the Spaniard saved a handful of break points before holding. Despite the pressure, Muguruza "felt very comfortable there, playing against Simona, and also my level was very high. So I felt like especially in the second set I could raise it a little bit more and close the match."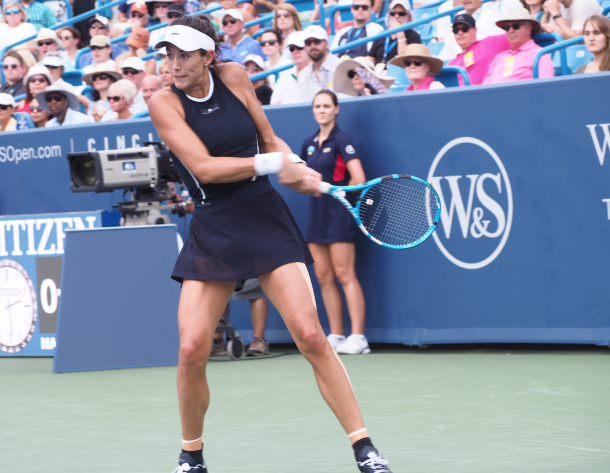 It was a challenging week for the Wimbledon champion, who had to battle through a brutal draw. But when she needed to bring her best tennis, she did, saying, "I think today was my best performance of the tournament, because I felt like I played 20 hours in that court, you know. I had very long matches (smiling). And it was just there. I think I did few little mistakes and my shots were very, you know, placed, and I think I was doing almost everything right there."
To win the title, Muguruza had to beat Madison Keys, Svetlana Kuznetsova, world number one Karolina Pliskova and then world number two Halep. Muguruza's response to that was "well, that's a tough draw. That's a tough draw, you know, because all the players that I have played, they're in a good moment. But I knew it's gonna be a tough draw, because all these tournaments are very difficult. I felt in Toronto I had a tough draw, as well. I feel it's very equal. We always talk about it. But I'm happy that I, you know -- I was almost in the locker room in the third match. I turned it around. I won, and then that gave me, you know, a boost for the next days."
Picking up the hard court game
Muguruza has never been a great hard court player. Her best results, including both of her majors, have come on clay or grass. But she put everything together in the summer of 2017 to win her biggest title yet on the hard courts. When asked what she did differently this year, she replied, "I'm not sure. I just think in the past -- I don't know. I just didn't play well. And as soon as I stopped the grass season, I came here, and, you know, I wanted to play right away, trained hard, not take anything for granted. I was really focused and improving especially this swing, because I know it's important. Cincinnati, Toronto, these tournaments are huge. And coming to the US Open, as well. I just wanted to change this thing going for the last years."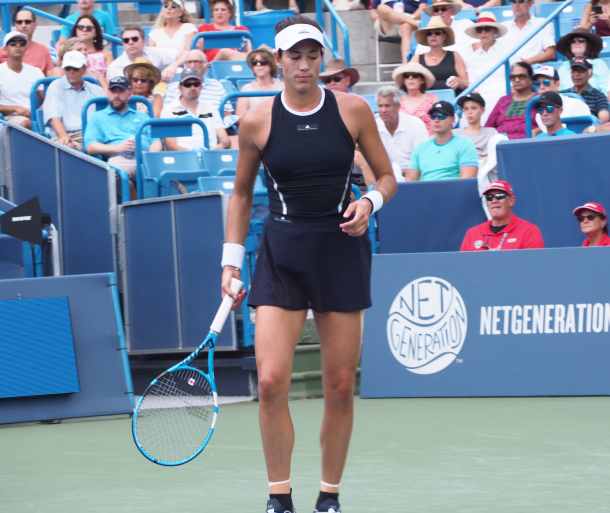 Last year after winning the French Open, Muguruza seemed to suffer a bit of a hangover, struggling for several months. That has clearly not been the case this year. What's changed? "I think I'm more relaxed. I don't know if "relaxed" is the word, but I know that maybe I get used to that, maybe, you know, because it was a little bit different situation for me, so I feel like right now it's helping me rather than maybe holding me back, like it did a little bit last year. So that's something that I really wanted to change from last year and improve that. Yeah, I'm taking a good path there."
The number one question
The pressure was more on Halep in the final, as she had the chance to ascend to number one in the world with a win. Instead, she is stuck at number two as Muguruza has now played her way into the conversation. The Spaniard now sits at number three in the world, with a shot at number one at the upcoming US Open. When asked if she was thinking about it, she said,
"Honestly, I know it was tough. I was thinking about it. I'm like, Oh, I wish I was in her situation. Must be difficult. But I wanted the title, as well. Actually, I never -- it never crossed my mind until everybody is asking me that question now. It never crossed my mind, honestly. I'm like playing, I want to win the tournament. Now you're telling me I'm going to be 3. But I didn't know that.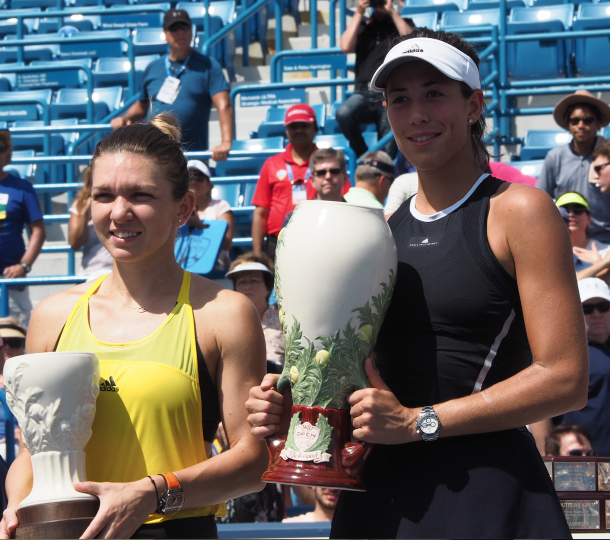 Now I feel like a lot of people is asking me about No. 1, stuff like that. All I want is to win the tournaments. That's what -- I don't know. It, like, motivates me always. And that's going to be a consequence. If I keep playing like this, sooner or later I guess I will be, I don't know. I hope so."
On to New York
With the US Open now almost upon us, Muguruza thinks "the most important part is to recover, to be fresh for a tournament like US Open, because it takes a lot of energies, a Grand Slam, and have played three tournaments in a row. So I'm sure a couple of days, and then getting used to New York vibe again, because it's special. And that's it. Not a lot else."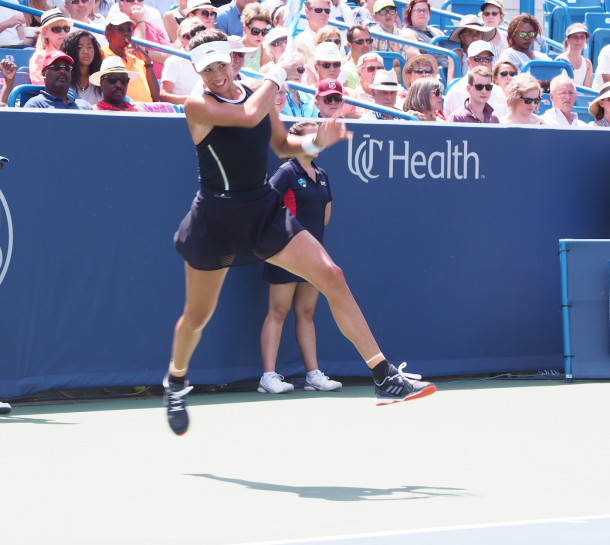 Coming off a major title, her biggest ever hard court title, and a rise to number three in the world. Muguruza will surely be one of the favourites in New York. That's something she's trying not to think about too much, saying "it's normal, I guess, when people say that. They always say, you know, when somebody is playing well, they always put a list of favorites of the list, and they go, like, This one is the favorite. So I understand -- I think it's normal. I'm happy that people see me as a favorite, but not always happens that you win a tournament before and then you go and win a Grand Slam, for sure, or you lose first round, bad result, and then you go and win. So I'm just happy I'm going to go with a lot of matches and confidence. I'd rather this than not having it. We'll see after."
What is Muguruza looking forward to most in New York? "I'm looking forward to be able to be there and feel, I don't know, that I'm -- that I improve what happens the past years, because I feel like I never really found my -- I don't know what it is. You know, my game or the tough matches that I always have never goes my way. So I want to change that. Because is a tournament I want to play, a kind of scenario I like, everything that I like is there, but it's just not -- so I want to find the recipe maybe this year, maybe that I have a little bit more confidence or is going maybe better, or, I don't know."
The US Open starts on August 28th.