It was a tremendous week for Nick Kyrgios as the Aussie made his maiden Masters 1000 final this week at the Western and Southern Open. Early in the week, the 22-year-old was struggling against David Goffin but made his way through that match as the Belgian was also injured.
Throughout the week, the Aussie grew in confidence, taking out the likes of Alexandr Dolgopolov, Ivo Karlovic, top-seeded Rafael Nadal, and David Ferrer en route to the final. In his post-match press conference, the Aussie tackled what he was most proud of throughout the week, his last service game where he was broken, his trip to Kansas with Jack Sock, and more.
Excited For The US Open
The Aussie said he's come a long way from three weeks ago, when he was down 3-6, 0-3 to Tennys Sandgren, he said he never pictured himself in a Masters final three weeks later. He's impressed with where he was and where he is now.
He gave props to Dimitrov for winning the title, saying, "he's starting to be where I think I pictured him being." He finished it off saying he's feeling happy to be getting some wins again and he's excited for the Open.
Physically Tiring
In his last service game, Kyrgios hit three double faults after hitting only one before in the match. The finalist said that he was feeling it physically because he hasn't had a lot of matches in the same week.
He noted that Dimitrov looked the fresher of the two, and that when they trained in Montreal, the Bulgarian was taking it easy while he was dripping in sweat.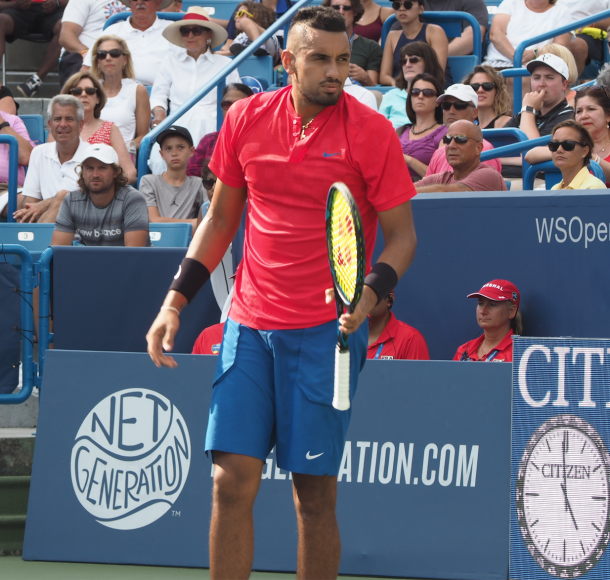 Thinking About Sweets
Kyrgios has mentioned his good friend Matty Reid in previous press conferences, talking about the importance of his best friend who is basically like his coach. He said after the match, he didn't talk about the match to Reid and his mother. All Kyrgios wanted was to get some ice cream.
Kyrgios joked that while Dimitrov was serving for the match, he was thinking about getting a Graeter's milkshake. He added he was headed down to Lifetime Fitness to go play basketball after.
A Launching Pad?
With this being the biggest final of his career, the Aussie was asked if this could be a launching pad for the rest of his career. Kyrgios laughed and shrugged it off by saying that he said his Tokyo title was a great one then he had a horrible experience in Shanghai. He said he just wants to take it day-by-day.
Kansas Trip
In his semifinal presser, the Aussie mentioned that he was going to go to Kansas to hangout with Jack Sock before heading to the US Open. He said he's going to rest for a couple of days before training with the American and is looking forward to relaxing.