It was a week to remember for Grigor Dimitrov. The Bulgarian did not drop a set en route to his first career Masters 1000 title at the Western and Southern Open. The seventh seed at the event now finds himself as the new world number nine and top-eight seed at the US Open next week.
The Bulgarian had plenty to say in his presser, praising both Nick Kyrgios and Rafael Nadal as well as talking about different thoughts he had throughout the match.
First Set Important
The Bulgarian faced break points in the first set but was able to fend off Kyrgios before breaking him later in the set. Dimitrov noted how important taking the first set was and that he did well in keeping his gameplan.
Dimitrov was quick to praise the Aussie in that his power is unbelievable, and that he keeps him on his toes, even when he's serving out wide to save break points on the ad-side. The Bulgarian said that keeping his composure was key through the match.
Nadal As An Inspiration
The Bulgarian spent time this summer practicing with Nadal at his academy. He said that everything he did there was helpful and even said Nadal is one of his inspirations. He said, "Sometimes when I'm down in the match, I'm, like, if I'm complaining or something, I was, like, Would Rafa do that? I don't think so."
Dimitrov said that they'd be out all morning practicing and then would go out to the beaches and get dinner together. He praised the academy saying that there are great courts, a great gym, and that everyone is so welcoming in getting everything done to help you.
Have To Stop Thinking About It
Dimitrov was asked how did he feel going to the US Open with his huge ceramic trophy. He jokingly said at first, "A bit heavy (smiling). It's great. I mean, honestly, it's great. There's no point to hide it." However, he added that tomorrow, he has to stop thinking about it.
The Bulgarian said that as a tennis player, you really can't appreciate winning a title the way it's supposed to be appreciated. He's happy and humbled to have won his first title in Cincinnati and that he's feeling good coming into the US Open.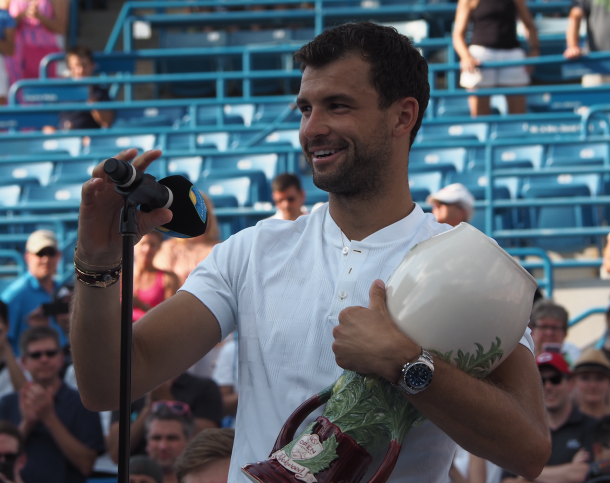 Keeping It Secret
After the match, Dimitrov and Kyrgios had a long hug and talk at the net. The champion said that what's said at the net is usually between the players. He was saying he was just there to help a friend out.
Feeling The Nerves
After hitting a tremendous forehand winner to start the final game, Dimitrov said he was beginning to feel the nerves. He said he could barely lift his arm to serve and that the weight of his shoulder and arm multiplied by a lot.
Likes It Cincy
The Western and Southern Open offers something much different compared to the US Open. With the tournament held in a Mason, Ohio (a suburb of Cincinnati), players see a quieter lifestyle than they're used to. This quiet lifestyle is something Dimitrov appreciates, being able to go to a place like Dickey's Barbecue.
He said the tournament director, Andre Silva, has been great in making improvements to the tournament. Every player has their own car, the food is getting better. and that the vibe is easy on them before heading to New York where he doesn't wanna leave his room for the first couple of days.
Kyrgios A Respectful Guy
Dimitrov was asked what he appreciates about Kyrgios that most people don't know. He said that the Aussie likes to chat and is very respectful of everyone around him. He finished it off saying that he appreciates him in different ways.
Taking His Chances
Dimitrov was asked about possibly becoming a dominant player as the Big Four get older and more injury-prone. He said that it's an insight he has for sure but to him, seeds don't matter anymore since anybody can beat anybody he said.
He noted that it's only his first Masters in his handful of titles he has won and that he has to do a lot more before he could properly answer the question.