 Laver Cup Team Europe captain Bjorn Borg has chosen a team that on paper, will be very difficult to beat. The Swede has chosen Rafael Nadal and Roger Federer to star in his side as the two have turned back the clocks, winning every major title and all but three Masters 1000 titles this year.
The injury to Novak Djokovic, as well as Andy Murray choosing not to play, may have put a hamper on "The Big Four" competing together as a team. Nevertheless, the Swede still has a very strong side at his disposal.
The Rest of the Team
As well as the aforementioned Murray and Djokovic, Stan Wawrinka would have been an automatic qualifier to get in after Djokovic said he would not play, but the Swiss' injury has ruled him out of the rest of the season.
Using post-Wimbledon rankings, Wimbledon finalist Marin Cilic is the third Grand Slam winner to join the side. Dominic Thiem completed the automatic qualifiers as Borg waited to announce his two wild card picks. The Austrian has had a strong year this year, which includes making his second straight French Open semifinal.
Tomas Berdych was the first of two wild card picks for the former 11-time Grand Slam champion. The Czech has struggled to find his form this year but still has the ability that can easily get him back into the top-10.
The final wild card pick for Borg is ATP NextGen Star Alexander Zverev. The German is having his best year of his career, having made six finals and winning five titles. Two of the titles the German won were Masters 1000 titles in Rome and Montreal, defeating Djokovic and Federer respectively.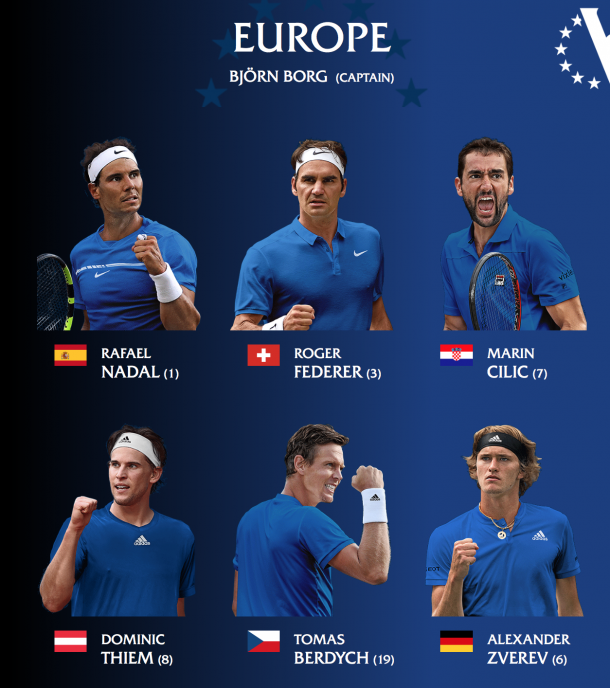 The Laver Cup will take place September 22-24 at O2 Arena in Prague. It is the first event of its kind as Europe's best face the best of the rest in a team competition.