 Eighth seed Svetlana Kuznetsova was hoping that she could be handed a favourable draw at the US Open for a chance to add on to her ranking points, but lady luck was not on her side as she was drawn to face the talented star Marketa Vondrousova in the opening round, with this being one of the must-watch matches in the first week.
This would be Vondrousova's first tournament since her triumph in Prague (an ITF 80k event) back in July, having just suffered an elbow injury recently. Meanwhile, Kuznetsova has the smallest of opportunities to take the number one ranking for the first time in her career after the fortnight in Flushing Meadows, but other top players' results must go her way, definitely.
Head-to-Head
This would be the first meeting between both players. It is definitely one of the must-watch matches in the first round especially with Vondrousova being tipped as a future world number one and Kuznetsova is a respected veteran who experienced a career renaissance just last year.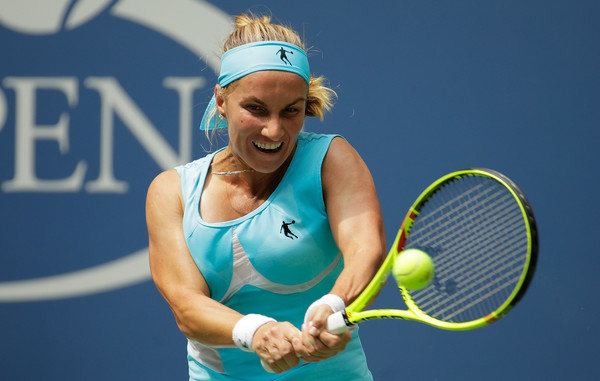 Vondrousova's Hard Court Summer
After suffering a disappointing first round exit at the Wimbledon Championships as she fell to Peng Shuai in three tough sets, Vondrousova proceeded to participate at an ITF 80k event in Prague, her home event. There, she was the top seed and expectedly strolled to the title without facing any huge obstacles, clinching her fourth ITF title of the year.
The talented Czech youngster was originally slated to participate in her first ever Premier 5 tournament at the Western and Southern Open as she received a wildcard into the tournament, but was forced to withdraw from all her planned US Hard Court tournaments due to an ongoing elbow injury, as revealed by the WTA Insider.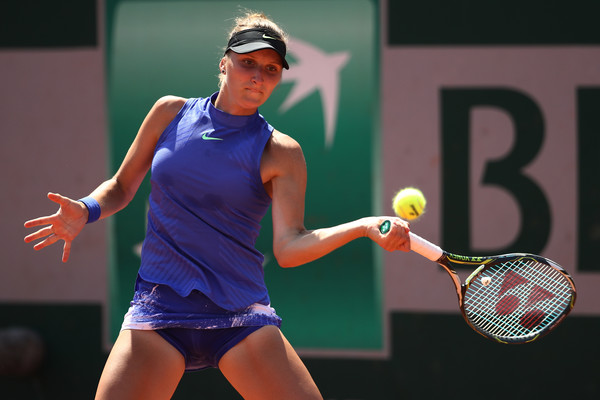 Kuznetsova's Hard Court Summer
Kuznetsova had a nightmare start to her US Open Series campaign as she crashed out in the opening round of the Rogers Cup held in Toronto where she received a bye, falling to teen sensation Catherine Bellis in a tight two-setter. The Russian looked to have sent the match into a deciding set but failed to capitalize on a 5-2 lead as she eventually lost five consecutive games and fall to her first opening round defeat this year.
Nonetheless, she bounced back in some manner as she stormed to the quarterfinals in Cincinnati without losing a set, defeating quality players like Yulia Putintseva and Carla Suarez Navarro. There, she faced her nemesis and recent Wimbledon champion Garbine Muguruza and was just an inch away from victory, but failed to convert her chances as she eventually fell in three tough sets after over 2 hours and 48 minutes.
Match Analysis
Vondrousova is definitely the more aggressive player of both, and she looks to dictate play against the inconsistent Russian who can get really defensive at times. With her incredibly powerful serve, the Czech is able to keep Kuznetsova at bay and disallow her from playing at a comfortable range. Other than her serve, Vondrousova's powerful forehands is also a strong weapon in her game.
The aggression she displays was what pushed her to a first WTA title in her career back in April, which labeled her as a future top player. Vondrousova tends to mix in a variety of shots into her game, adding in slices during baseline rallies and also throws in a couple of drop shots to catch her opponents off-guard. The Czech utilizes her slice really well, and it often allows her to turn defense into offense, which could help against a player like Kuznetsova.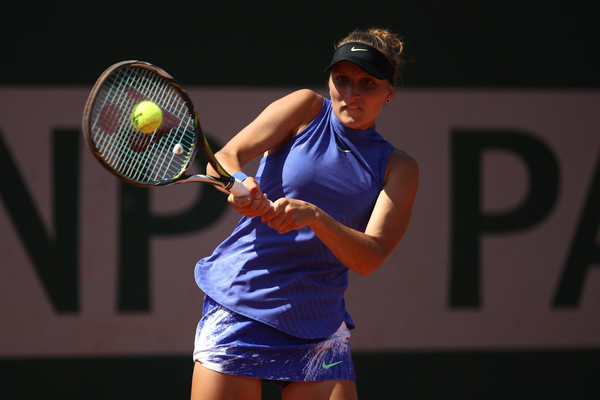 The Russian would definitely have to be aggressive when it matters especially since being passive proved costly in her previous matches. Against such a powerful player like Vondrousova, Kuznetsova has to try and dictate play with some solid groundstrokes and prevent herself from being overwhelmed by the Czech's power.
The world number eight must utilize the angles on her forehands and backhands, moving Vondrousova all around the court. Being a former Grand Slam champion in doubles as well, Kuznetsova could also go up to the net more often to kill off points there and also to limit Vondrousova's area of play. The Russian cannot afford to be erratic at any points during the match and she must be playing some of her best tennis in order to increase her chances to triumph.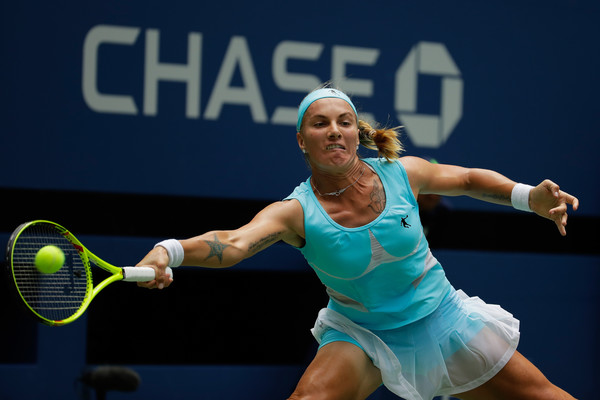 Final Thoughts
Vondrousova might still be nursing an elbow injury and has not been in action for quite a period of time. This could be a crucial factor considering that Kuznetsova is the more in-form player especially after reaching the quarterfinals in Cincinnati two weeks ago. It would be a battle between experience and youth, and the variety in Kuznetsova's game might just get her through this tough first round encounter.
Match Prediction: [8] Svetlana Kuznetsova d. Marketa Vondrousova in three sets