Ekaterina Makarova and Elena Vesnina has qualified for the WTA Finals as a team for the fifth consecutive year, having won the title here in Singapore last year and they now return to the Lion City as the defending champions. The reigning Olympics Gold Medalists and Wimbledon champion, the all-Russian pairing is definitely one of the most solid and consistent pairs throughout the past few years, reaching a total of 24 finals together as a pairing.
Their road to qualification
Makarova and Vesnina were able to put in some consistent results throughout 2017, thus proving why they are the second-ranked pair on the Porsche Race to Singapore leaderboard. In all but one of their tournaments this year, the Russians managed to reach the quarterfinals or beyond and solidifying their status as one of the best pairings in the world.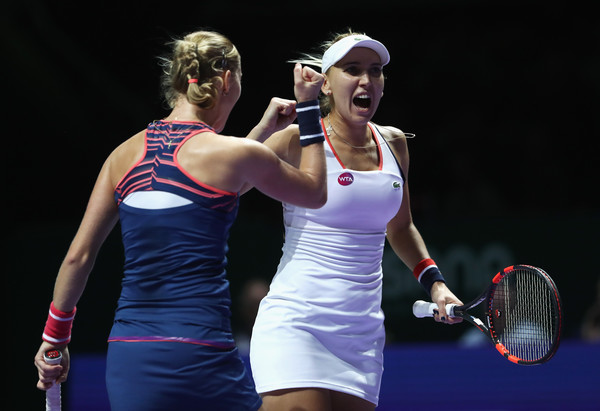 They reached a total of five finals this year and won three of them. Starting the year on a positive note, the Russian pairing stormed into the final of the Brisbane International but failed to cap it off with a win. A disappointing outing at the Australian Open was followed by an impressive triumph at the Dubai Duty-Free Tennis Championships.
They were not able to claim any silverware in the next few months until the Wimbledon Championships, where they capitalized on their chances and clinched the trophy with a historic double bagel victory in the final. Their winning streak was extended to 10 after Makarova and Vesnina won the title at the Rogers Cup without losing a set in the process. Originally being the top seed in Cincinnati, they were forced to withdraw due to Makarova's injury concerns and thus taking away their golden opportunity of claiming the Toronto-Cincinnati double.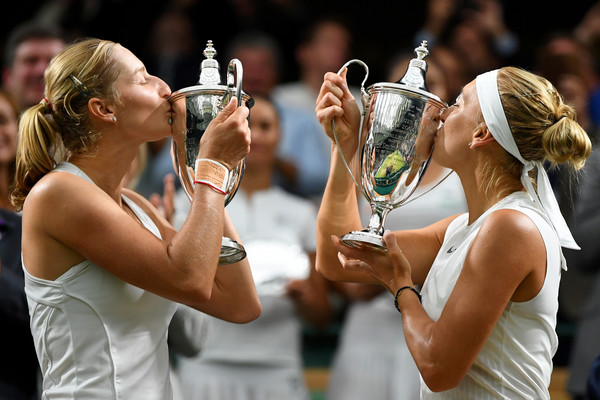 Reactions to their qualification
Vesnina mentioned that they were very happy and excited to return to Singapore and defend their doubles title. Certainly, after beating some top pairings last year at the Singapore Indoor Stadium, Makarova and Vesnina would surely have some fond memories of that arena and its atmosphere. "It was a very difficult tournament, but a big challenge for us to win this title, to check that off on our bucket list, and it's a great place. Our parents were with us last year, and it was just really special. We're excited to qualify again, and even more excited to go back." the pair mentioned.
"Elena and I love to play doubles together and winning the title last year in a tournament with the eight best teams in the world was so much fun," the win was certainly very memorable for the Russians, having been just the second all-Russian pairing to claim the title. The pairing also joked about how the ranking has a new sponsor, the Porsche Race to Singapore leaderboard, and discussed the possibility that the champion would receive a car along with the trophy to allow the interview to sound relaxed and humorous.