Denis Shapovalov's staggering summer continued this afternoon, with the Canadian qualifier making the fourth round at a Grand Slam tournament for the first time following Kyle Edmund's retirement at the US Open.
Shapovalov was back on the Arthur Ashe Stadium for the second time this week and was the favorite heading in, though dropped the first set to the Brit who was too solid in the early stages. The Canadian responded well to even proceedings up and continued to motor as Edmund began to start struggling with a neck injury which seemed to develop during the match. The qualifier eventually won 16 of the last 18 points of the match, with Edmund retiring with the score 3-6, 6-3, 6-3, 1-0 in the favor of Shapovalov after two hours and three minutes of play.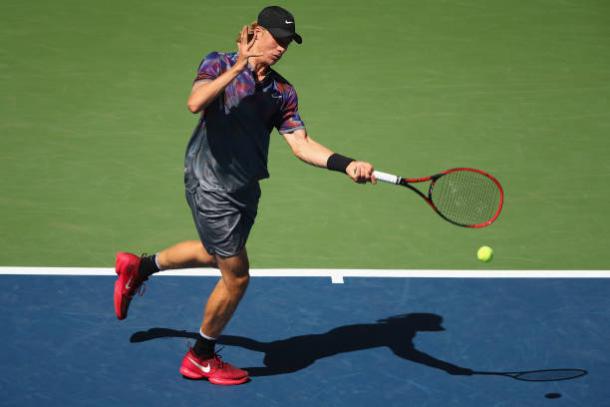 It is hard to give an overall assessment of Shapovalov's performance considering the unfortunate way in which the match ended, though his general turnaround after a below-par first set was undoubtedly impressive. He will face 12th seed Pablo Carreno Busta on Sunday for a place in the quarterfinals.
Shapovalov remains firm as Edmund's tournament ends in disappointment
Edmund undoubtedly knows how to play well in New York, reaching the fourth round last year and winning his opening two matches this year in straight sets, though his body, unfortunately, faltered, handing Shapovalov a rather bittersweet victory.
Edmund got off to an impressive start, taking advantage of some sloppy errors by the Canadian to take a quick 3-0 lead on the biggest stadium in tennis. Shapovalov immediately responded, breaking back and evened up proceedings at 3-3, though could not take advantage of that momentum, and the Brit proved too strong as he won the final three games and took the opening set. However, with some pressure now on him, the Canadian raised his level and raced to a 4-1 lead in the second set.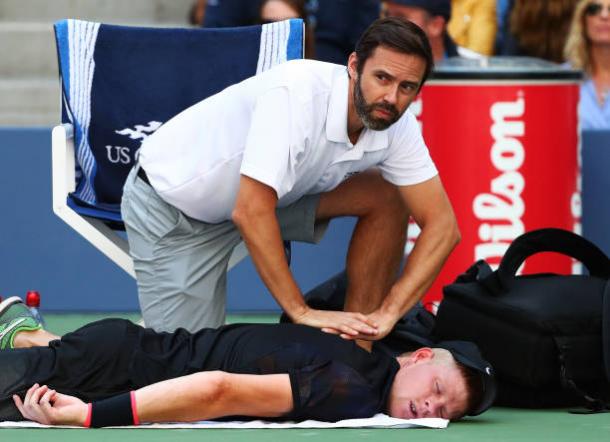 Shapovalov was still not hitting at his best, though was now looking much more like the player who beat Rafael Nadal in Montreal, and some solid tennis saw him take the second set following strong service holds by both men. Edmund was still playing well at this stage, though showed signs of discomfort in the fifth game of the third set, taking a medical time-out immediately afterward.
It was then that, with Edmund struggling, the Canadian began to pull away. Shapovalov took the next 12 points after the Brit's first treatment, with him having further treatment in the meantime. He was able to stop the rot in terms of points dropped, though could not stop his opponent breaking for two sets to one lead. Shapovalov comfortably held to love to start the fourth set, though that would be the final action as Edmund was forced to call it a day.