 The bottom half of the men's draw at the US Open is the most wide open section that we have seen in a Grand Slam for some time. We are guaranteed a first-time finalist in that part of the draw. Of the remaining eight men in this section, there are huge implications for any of them to reach the final or even win the title.
The eight remaining are Sam Querrey, Mischa Zverev, Paolo Lorenzi, Kevin Anderson, Denis Shapovalov, Pablo Carreno Busta, Lucas Pouille, and Diego Schwartzman. For any of these men, a final would be amazing. Should any of them win the title, they would book themselves for a spot in the ATP World Tour Finals even if they miss out on one of those top-eight qualifiers.
Sam Querrey
The American has had a strong season to date this year and hopes to add to it at his home Slam. Querrey made his first career Grand Slam semifinal this year at Wimbledon, falling to Cilic in four sets. The American also owns two titles this year, both coming in Mexico defeating Rafael Nadal and Thanasi Kokkinakis in Acapulco and Los Cabos respectively.
Querrey hasn't done particularly too well in Flushing Meadows, only reaching the fourth round twice (2008, 2010) before this year. Last year, he went out in the first round but looks like a strong favorite to make it to the final out of the bottom section.
Mischa Zverev
There were thoughts that there would be a Zverev making a deep run. However, most people pictured Mischa's younger brother, Alexander, to be the one to make the deep run. Once again on the hard courts, Mischa has outgunned his little brother, just like he did in Australia (quarterfinal for Mischa while Alexander went out in the third round). With little brother going out in the second round, Mischa had to overcome to five set matches and 10th-seeded John Isner to get to this point.
The German faces American Sam Querrey in the fourth round as he looks to equal his best showing at a Grand Slam this year by making a second quarterfinal. The 23 seed made one final this year in Geneva, losing to Stan Wawrinka in three.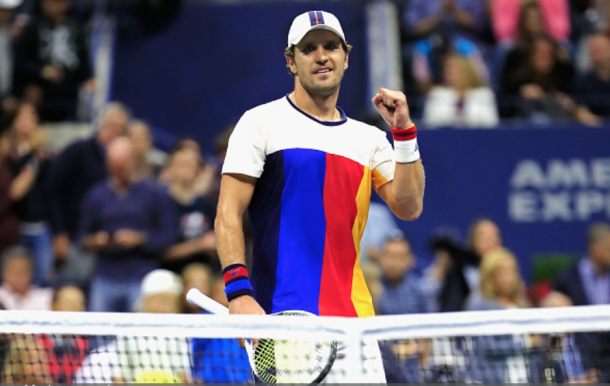 Paolo Lorenzi
The Italian, who has been known for his prowess at the Challenger Tour in his career is using the twilight years of his career to make his name known to the tennis world. Lorenzi had a decent draw, getting through Joao Sousa and 19th-seeded Gilles Muller in four sets before taking out countryman Thomas Fabbiano in straights.
His fourth round showing here at Flushing Meadows is his best career showing at a Grand Slam, one upping his third round showing here last year. The Italian has two finals to his name this year, losing in both. He now wants to extend it further as he faces Kevin Anderson for a spot in the quarter.
Kevin Anderson
After a 2016 season where he was plagued with injuries, Anderson has shown signs of form which took him to a career-high rank of ten. The South African has really picked it up this summer, making the finals in DC and the quarterfinals in Montreal.
The 28 seed has found his best Grand Slam tennis in New York, with his best showing coming in 2015 after he made the quarterfinals, coming off a huge upset of Andy Murray. The South African has been consistently good at all the majors, making at least the fourth round of every Slam. He should be favored against a tricky Paolo Lorenzi for a spot in the quarterfinals.
Denis Shapovalov
The 2016 junior Wimbledon champion has shot to stardom over the past year. Last summer after his junior Wimbledon title. He took out Nick Kyrgios in his opening match of the Rogers Cup last year before going out to Grigor Dimitrov. This year in Montreal, the Canadian saved match points against Rogerio Dutra Silva in his opener before going on to take out Juan Martin del Potro, Rafael Nadal, and Adrian Mannarino before falling to eventual champion Alexander Zverev.
At 18 years old, the Canadian is trying to become the first teenager since Nadal to win a Grand Slam title, and the fifth-youngest to win a Grand Slam title. There's no pressure on this young Canadian since it's been years since we've seen a teenager make the Grand Slam breakthrough. The lack of pressure could mean we continue to see his smart, yet still, aggressive tennis which has seen him pick up victories over Daniil Medvedev, Jo-Wilfried Tsonga, and Kyle Edmund.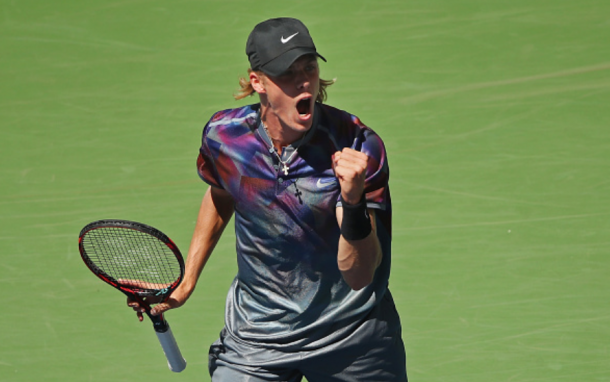 Pablo Carreno Busta
Carreno Busta is the highest seeded player left in this section of the draw which may be a surprise to some. However, he is seeded 12th, coming off the back of an Indian Wells semifinal and a French Open quarterfinal so far this year. The Spaniard's big breakthroughs this year has shown there is still a future to Spanish men's tennis after the likes of Nadal and Ferrer retire.
He'll face Denis Shapovalov for a spot in the quarterfinals. Carreno Busta is one of three players, along with Querrey and Pouille who would become ranked 10th with a finals showing. With a title, the Spaniard can shoot all the way to sixth in the world.
Lucas Pouille
The Frenchman has had a quietly solid year so far. His Grand Slam results have been subpar this year as the US Open is his first second week showing at a major this year. He has two titles this year in Budapest and Stuttgart as well as a final in Marseille and seems to have found his form in New York.
He made two quarterfinals in Grand Slams last year at Wimbledon and the US Open and will battle the wily Diego Schwartzman for a spot in the quarters.
Diego Schwartzman
The "Little Argentine That Could" has shown he can fight with the best of them and his run to the fourth round of the US Open has proved that. The 29 seed has two Masters quarterfinals this year in Monte Carlo and Montreal. He also has some huge wins this year against Dominic Thiem and Marin Cilic, with the latter coming here in Flushing Meadows. He was also close to taking out Novak Djokovic too at the French Open, leading two sets to one,
No matter the opponent, Schwartzman is gonna battle hard. He will be a pest to try and knockout of this bottom half of the men's draw.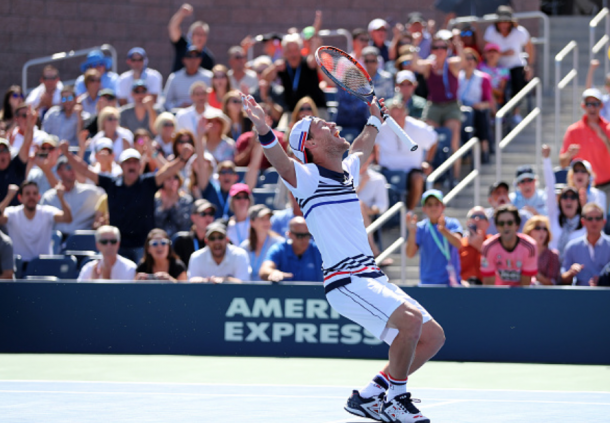 Potential Rankings
Below is a table of the eight players in this section of the draw. This table shows their current ranking, potential rankings in the finals and title as well as points as they progress through the tournament. Shapovalov easily makes the biggest jump with a finals showing or a title, moving up 40+ spots either way. Pouille, Querrey, or Carreno Busta could crack inside the top-ten if they win a title.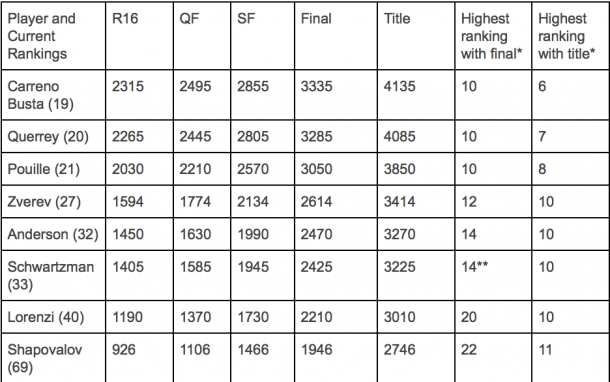 *Rankings are subjective to other results
**Schwartzman will own the first tiebreaker of most points earned at Grand Slams and Masters events over Isner (both will own 2425 points)