This is Don Han saying so long, and do come back to VAVEL for more quality pieces from both the men's and women's competition! See you again! 
The next women's semifinal match will be at 7 pm ET, with Madison Keys going against qualifier Kaia Kanepi in the first match of the night session. Keys will be looking to be the fourth American to progress to the semifinals. 
Meanwhile, Karolina Pliskova will not be the world number one on the rankings next week. Failure to defend her finalist points from last year will result in her falling the FOURTH in the rankings and Garbine Muguruza will rise to the top spot!
Coco Vandeweghe progresses to her first ever US Open semifinal and second Grand Slam semifinal of the year! She is the THIRD American into the final four and Madison Keys will have the golden opportunity to make it four out of four! This is also Vandeweghe's second win over the top-ranked player after her win over Kerber in Melbourne.
Game, Set and Match: Karolina Pliskova 6-7 3-6 Coco Vandeweghe
AD-40: Great forehand down-the-line from Vandeweghe and it is yet another match point!
40-40: Pliskova saves a match point as Vandeweghe nets a forehand!
AD-40: MATCH POINT! Great defense from Pliskova but the American closes the point out eventually
40-40: A running forehand from the Czech goes into the net and Vandeweghe is two points away
30-40: BREAK POINT for Pliskova! Vandeweghe sends another backhand into the net
30-30: Clutch forehand from Vandeweghe as it just narrowly clips the line! 
15-30: Amazing forehand down-the-line winner from Pliskova!
15-15: Longest rally of the match as Pliskova prevails! Vandeweghe sends a shot into the net and the Czech is alive
15-0: Three points away as Pliskova sends a backhand wide
Pliskova 6-7 3-5* Vandeweghe: Hold our nerves as Vandeweghe is serving for the match!
40-0: Another return long and it is three game points for Pliskova!
30-0: ACE for the Czech!
15-0: Vandeweghe sends a return long
Pliskova serving to stay in the match
NOTE: If Pliskova loses one of the next three games, Garbine Muguruza would be the new world number one next Monday.
Pliskova 6-7 *2-5 Vandeweghe: The American edges closer to the HUGE upset 
40-30: The Czech comes up with a forehand return winner!
40-15: Pliskova has no rhythm right now...
30-15: Vandeweghe follows up her strong serve with a forehand winner
15-15: Vandeweghe sends a backhand wide 
15-0: Pliskova stops play mid-point, and challenges a call. However, the call went against her and she is now 0/5 on her challenges today
IF Vandeweghe wins this match, it will be three American women in the semifinals with Keys to play later
Pliskova 6-7 2-4* Vandeweghe: Vandeweghe BREAKS BACK and regains the lead after passing Pliskova at the net! 
30-40: GREAT wide serve by the Czech
15-40: COSTLY error at the net from Pliskova and the American has another two break points
15-30: Vandeweghe has a look at a break as she comes up with a good, aggressive return
15-15: A double-fault from Pliskova
15-0: Great body serve from the Czech!
Pliskova 6-7 *2-3 Vandeweghe: Pliskova BREAKS BACK with some good backhands! 
40-AD: Backhand into the net and Pliskova earns her THIRD break point!
40-40: ACE to save break point! Pressure really seems nothing to Vandeweghe at the moment!
40-AD: A COSTLY big forehand miss from the American and Pliskova earns a second break point!
40-40: Clutch forehand winner from Vandeweghe and she saves the break point
30-40: BREAK POINT for Pliskova out of nowhere! 
30-30: Great serve saves the American from the brink
15-30: Vandeweghe nets a backhand and Pliskova has a look at another break!
15-15: Unexpected double-fault from Vandeweghe
15-0: Pliskova sends a backhand cross-court wide
Pliskova 6-7 1-3* Vandeweghe: Powerful return from the American forces Pliskova to send the following shot long, and Vandeweghe draws first blood in the second set. Edging closer to the huge upset 
15-40: Another shaky forehand from the world number one and two break points to Vandeweghe
15-30: A backhand slice sent long from Vandeweghe gives Pliskova a lifeline!
0-30: Costly double-fault from the Czech there and she gets herself in deep trouble
0-15: Pliskova mishits a forehand
Pliskova 6-7 *1-2 Vandeweghe: Every Pliskova service game is a must-hold for her right now as she cannot create an impact on the return
40-30: Double-fault on game point 
40-15: Vandeweghe's serves just too good for the Czech right now
30-15: Smart sliced backhand from the American!
15-15: Excellent deep forehand from Pliskova which just lands on the line
15-0: Ace from Vandeweghe once again
Pliskova 6-7 1-1* Vandeweghe: The Czech keeps herself in contention after a relatively comfortable service hold
40-15: Big forehand return winner down-the-line from Vandeweghe!
40-0: Easy put-away at the net for Pliskova and it is three game points!
30-0: Big 110 mph serve from the Czech which wins her the point as Vandeweghe fails to send the return in
15-0: Encouraging start to her service game for Pliskova
Pliskova 6-7 *0-1 Vandeweghe: Quick service hold for the American and the Czech is in huge trouble if she doesn't hold her serve here
40-0: Another return error from the Czech and it is three game points going to Vandeweghe
30-0: 116 mph ace from the American
15-0: Pliskova absolutely has no idea what to do on the return here, looking all over the place
Second set, Vandeweghe to serve
STAT: Their last three meetings all had a tiebreak in the first set. But it is something worrying for Pliskova as the winner of the tiebreak went on to take the win in straight sets
FIRST SET: Karolina Pliskova 6-7 (4) Coco Vandeweghe

Pliskovaunable to find the rhythm on the return at all, and she wastes a set point as Vandeweghe serves out the first set 7-6 after 54 minutes of play
Pliskova 4-6* Vandeweghe: TWO set points 
Pliskova 4-5* Vandeweghe: A forehand down-the-line for the American goes wrong and Vandeweghe will now win the first set if she wins her next service points
Pliskova *3-5 Vandeweghe: GREAT serve from the Czech!
Pliskova *2-5 Vandeweghe: Pliskova is in some HUGE danger here now
Let's see if the changeover could bring some help to the top seed
Pliskova 2-4* Vandeweghe: The world number one has absolutely no answers to the American's bullet serves
Pliskova 2-3* Vandeweghe: Another error by the American gifts Pliskova with another free point
Pliskova *1-3 Vandeweghe: A long forehand from Vandeweghe allows Pliskova to get on board in the tiebreak
Pliskova *0-3 Vandeweghe: GREAT serving from the American as she opens up a three-point lead
Pliskova 0-2* Vandeweghe: The Czech sends another return long
Pliskova 0-1* Vandeweghe: GREAT return from Vandeweghe!
Pliskova 6-6 Vandeweghe: First-set tiebreak we head towards!
40-15: A forehand return just goes long from Pliskova, confirmed by Hawk Eye, and two game points for Vandeweghe
30-15: GREAT running backhand shot by Pliskova which forces an error from the American
30-0: A big serve down the tee and Pliskova fails to send the return in 
15-0: A routine service point for Vandeweghe 
Pliskova 6-5* Vandeweghe: Comfortable hold for the Czech and Vandeweghe is forced to serve to stay in the set once more!
40-15: The American sends a 76 mph second serve return long
30-15: Vandeweghe mishits her return
15-15: Deep return from Vandeweghe forces an error from Pliskova
15-0: Service winner from the Czech!
Pliskova *5-5 Vandeweghe: IMPRESSIVE backhand down-the-line winner from the home favourite and she saves a SET POINT to hold! 
AD-40: Vandeweghe comes up with the impressive wide serve from the deuce court once again
40-40: A backhand with a huge swing goes long for the American
AD-40: The crowd is hyped up! Vandeweghe wins the point at the net and she earns another game point!
40-40: Great aggression from Pliskova here but the American just gets herself out of trouble
40-AD: Vandeweghe makes another costly error and Pliskova earns her first set point!
40-40: This would have hurt. Double fault on game point and Pliskova has another chance to earn a break point
40-30: A forehand NARROWLY just long from the Czech which could have earned her set point, but now it is a game point for Vandeweghe!
30-30: Forehand sent into the net from the American. Can Pliskova break for the set here?
30-15: Lovely play from Vandeweghe as she hits an easy forehand winner at the net
15-15: Vandeweghe's backhand continues to be inconsistent as she nets another one of those
15-0: Great serve from the American
Vandeweghe serving to stay in the first set
SCORE UPDATE: Over on Grandstand, Strycova and Safarova clinched the first set 6-3 over Dabrowski and Xu. 
Pliskova 5-4* Vandeweghe: Another great net play by the world number one and she takes the lead for the first time since the opening game!
40-30: Excellent wide second serve from Pliskova and she prevails in yet another baseline rally
30-30: Great volley winner after a strong serve! 
15-30: Some great groundstrokes from the Czech and Vandeweghe sends a backhand slice into the net
0-30: First double-fault from Pliskova and she is in danger once again
0-15: Pliskova mishits a forehand and a loud "Come On!" comes from Vandeweghe
Pliskova *4-4 Vandeweghe: Pliskova BREAKS back! She produces an impressive return followed by an incredible forehand which was well-angled!
40-AD: Pliskova getting more solid on her groundstrokes and it is her second break point
40-40: A deep backhand from the American causes Pliskova to lose the break point
The new balls seemed to have worked well for the Czech!
40-AD: TWO consecutive double-faults and Pliskova earns a break point out of nowhere!
40-40: First double-fault in the match for Vandeweghe
40-30: Ace! Game point for Vandeweghe
30-30: Great serves coming to the rescue of the American as another return lands in the net
15-30: Good wide serve from Vandeweghe and Pliskova sends the return into the net
0-30: The American gets impatient during a long baseline rally and sends a forehand long, Pliskova gets a look at a break here!
0-15: Vandeweghe sends a big backhand long
New Balls are in play!
This would be Vandeweghe's second Grand Slam semifinal this year if she were to keep overpowering the Czech
Pliskova 3-4* Vandeweghe: Quick service hold for the defending finalist and she lessens the deficit to just one game
40-0: Great sliced serve from the Czech and it is three game points for her
30-0: Pliskova controls the rally from the first stroke and finishes off the point at the net
15-0: Vandeweghe sends a return directly into the net 
Pliskova *2-4 Vandeweghe: The unheralded American continues to stroll through her service games
40-15: Pliskova sends an inside-out forehand wide and the American has game points
30-15: Pliskova has been failing to pounce on the second serve returns thus far, and Vandeweghe is moving her around without any problems
15-15: A forehand from Vandeweghe just touches the net and lands on her side of the court
15-0: The American is dominating play on her serve thus far
13 minutes, and we are already 5 games into this quarterfinal match
Pliskova 2-3* Vandeweghe: The Czech keeps the scores tight with her good serving
40-30: Pliskova goes for a smart forehand down-the-line but it lands in the net
40-15: Great serve from Pliskova who has two game points now
30-15: The 20th seed sends a return long 
15-15: Pliskova is troubled by the depth of Vandeweghe's groundstrokes and she hits yet another unforced error
15-0: Vandeweghe sends a backhand wide 
Pliskova *1-3 Vandeweghe: The American easily consolidates the break to love and the Czech is in trouble now
40-0: No rhythm on the return for Pliskova at all
30-0: Coco serving really well currently
15-0: Great 118 mph serve followed by a good follow-up from Vandeweghe
SCORE UPDATE: Pliskova's compatriots Lucie Safarova and Barbora Strycova leads 3-1 in their doubles quarterfinal over Gabriela Dabrowski and Xu Yi-fan
This start is worrying for Pliskova, who has to reach the final to remain in the top spot of the rankings
Pliskova 1-2* Vandeweghe: Vandeweghe draws first blood after yet another return winner which landed on the line, confirmed by Hawk Eye!
15-40: First ace of the match from Pliskova!
0-40: The American controlling play and she earns three break points
0-30: Impressive backhand return winner from Vandeweghe off a second serve!
0-15: Pliskova sends a forehand into the net
Pliskova *1-1 Vandeweghe: Clean hold for the American, who throws in two consecutive aces
40-15: 113 mph ace from Vandeweghe!
30-15: Powerful forehand return which forces the error from the American
30-0: No first serves yet, but no problem for Vandeweghe as Pliskova sends another return long
15-0: A backhand return sent wide by the world number one
Pliskova 1-0* Vandeweghe: Strong 112 mph serve from the Czech and she seals the opening game
40-30: Good return from the American
40-15: GREAT hands at the net for the Czech! Vandeweghe hits a powerful return off a drop shot but Pliskova hits another impressive volley winner
30-15: Good 105 mph serve from Pliskova which allowed her to be aggressive and win the point
15-15: Great defense from the Czech forces Vandeweghe to hit an extra shot, which she hits into the net
0-15: Pliskova sends a backhand into the net
Karolina Pliskova to serve, ready? Play
SCORE UPDATE: Lucie Safarova and Barbora Strycova are currently up against Gabriela Dabrowski and Xu Yi-fan in the doubles quarterfinal over on Grandstand. The Czechs won the opening game
The roof is closed for the match as there is a 100 percent chance of showers later on
Match Prediction: [1] Karolina Pliskova in three sets
Update: We are now just minutes away from action!
We are approximately one hour from this thrilling encounter! Do stay with us for this live commentary and updates! 
Do return at 12 pm ET for the live commentary of this exciting match-up! This will be the first match for Day 10 of the tournament.
This is definitely going to be a tight contest dominated by strong and well-placed serves coupled along with solid groundstrokes. It is interesting to see who would prevail in this encounter with the win being very important for either of them.
Ranking Implications: Vandeweghe

Vandeweghe is currently 16th in the live rankings, a new career-high ranking for the American. However, she could go even higher up with a win against the number one as she would enter the Top 15 for the first time in her career unless her compatriot Madison Keys also progresses to the semifinal.

Vandeweghe also has an outside chance of qualifying for the year-end WTA Finals with her current standing of 11th on the leaderboard, being 1000 points away from the eighth position. However, if she could reach her first Grand Slam final here, she could find herself in the top eight after the fortnight.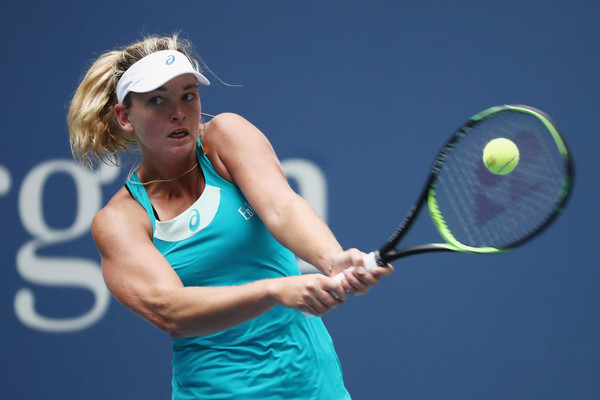 Ranking Implications: Pliskova

The scenario is pretty simple for Pliskova: Reach the final and she gets to keep her number one ranking.

Currently, Pliskova is in the fourth position of the live rankings but a win against Vandeweghe will bring her to third. To get past Halep and Muguruza and the top, she needs to return to the final once again, defending her points from last year. A win in this encounter would also bring Pliskova up to number two on the Porsche Race to Singapore leaderboard.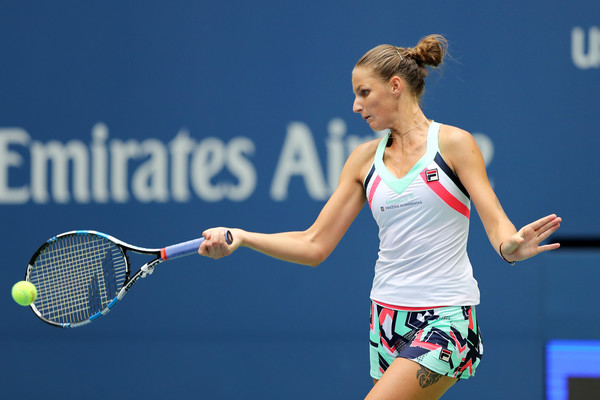 Head to Head: Pliskova 2-2 Vandeweghe

This pair has met on four occasions in the past, with the honors shared evenly. Their last meeting on hard courts came at the 2016 Dubai Duty-Free Tennis Championships where Vandeweghe triumphed in straight sets but their most recent meeting came at the Porsche Tennis Grand Prix back in April, with Pliskova taking the win in straight sets.

It is worth noting that none of their matches went the distance and their three most recent meetings had a tiebreak in the first set.
Against Lucie Safarova, a player whom she has a 1-3 head-to-head record against, Vandeweghe was simply playing some of her best tennis as she took the win against the unseeded Czech in 99 minutes having won an incredible 66 percent of points behind her second serve.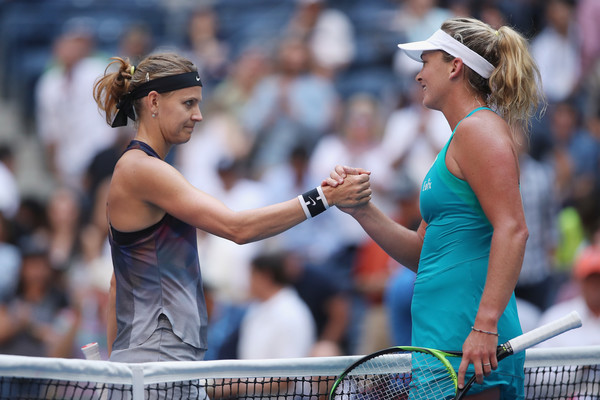 Vandeweghe was then part of a thrilling contest against 10th seed Agnieszka Radwanska, triumphing against the crafty Pole in front of a supportive crowd. Breaking down the stubborn defense of Radwanska, the American eventually won with a scoreline of 7-5 4-6 6-4.
Starting off her US Open campaign was a very tough win over compatriot Alison Riske in the first round, recovering from a first set loss to prevail in three sets. An appearance on the Arthur Ashe Stadium followed as she excelled in front of her home crowd, defeating the dangerous Ons Jabeur in straight sets having saved a couple of set points in the first.
Vandeweghe reached the quarterfinals for the first time at the US Open defeating opponents who have an average rank of 49. The American spent an average of two hours on court each time she played, which was certainly reasonable considering the quality of her opponents.
Let us take a look at Vandeweghe's path to the quarterfinals

R1: d. #49 Alison Riske 2-6 6-3 6-4 in two hours and one minute
R2: d. #99 Ons Jabeur 7-6 6-2 in an hour and 34 minutes
R3: d. #11 Agnieszka Radwanska 7-5 4-6 6-4 in two hours and 56 minutes
R4: d. #37 Lucie Safarova 6-4 7-6 in an hour and 39 minutes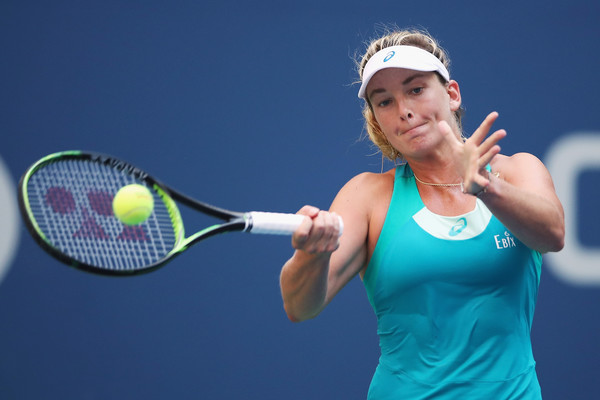 Pliskova finally played some impressive tennis in the fourth round when she faced the surprise package in Jennifer Brady, steamrolling through their encounter in only 46 minutes. She spent an average of 92.75 minutes on court for each match, which is understandable due to her fast pace of tennis. Furthermore, Pliskova's average opponent rank is 79.
The Czech seemed headed towards an early exit when Zhang Shuai led by a set and a break in their third round meeting and even earned a match point along the way. However, Pliskova came back from the brink once more to triumph, recovering from a 0-2 deficit in the final set as well.
Pliskova then had her first scare of the tournament against the qualifier and home favorite Nicole Gibbs, coming from a set down to prevail in three tough sets, finding her best serves at the crucial moments.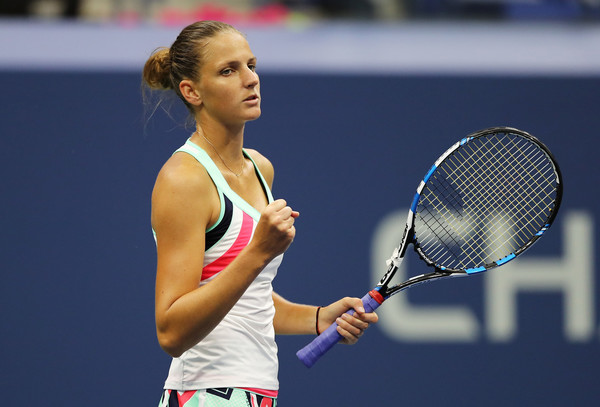 Despite having a stroll in her opening round match against Magda Linette, the scoreline could be deceiving because Pliskova was often troubled on her serve and certainly did not play her best tennis. However, unlike her opponent, she took advantage of all her opportunities and took the win in straight sets, losing just three games in the process.
Let us take a look at Pliskova's path to the quarterfinals:

R1: d. #72 Magda Linette 6-2 6-1 in an hour and 18 minutes
R2: d. #127 Nicole Gibbs 2-6 6-3 6-4 in an hour and 47 minutes
R3: d. #26 Zhang Shuai 3-6 7-5 6-4 in two hours and 20 minutes
R4: d. #91 Jennifer Brady 6-1 6-0 in 46 minutes (!)
However, she was unable to back up her run as she fell in the opening round of the Rogers Cup to 10th seed Agnieszka Radwanska before losing a rematch of the Stanford final against Madison Keys, who is coincidentally also in the quarterfinals of the US Open and could be a possible semifinal opponent, in the first round of the Western and Southern Open.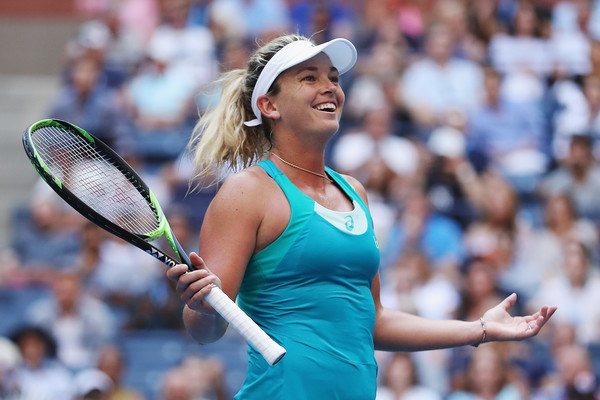 Her great run continued when she eased to the final of the Bank of the West Classic without losing more than three games in each set, steamrolling past all her opponents in straight sets. Up against good friend and compatriot Madison Keys, Vandeweghe was unable to match-up in terms of consistency and eventually fell in two tight sets with only one solitary break deciding the outcome of the match.
The American then went 10-8 in her next few months before another deep run at Wimbledon came out of nowhere. Being a former quarter-finalist at the All England Lawn Tennis and Croquet Club back in 2015, Vandeweghe replicated the run this year as she strolled to the quarterfinals without losing a set, defeating world number six Caroline Wozniacki along the way.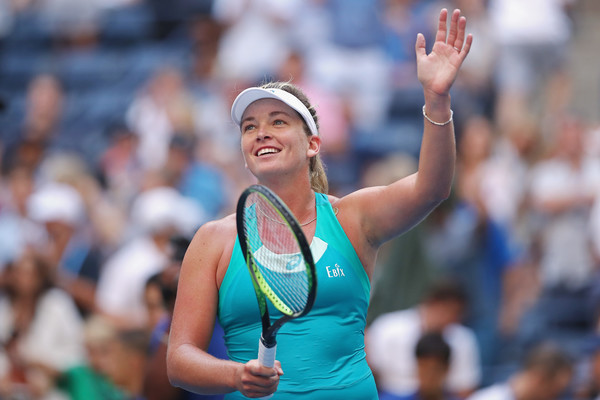 Vandeweghe reached her first Grand Slam semifinal Down Under, defeating Eugenie Bouchard and world number one Angelique Kerber before totally outclassing Garbine Muguruza in straight sets to progress to the last four. Despite leading by a set against Venus Williams, Vandeweghe eventually fell in three sets and failed to make her first-ever Grand Slam final.
Coco Vandeweghe is having a surprisingly consistent season thus far, especially reaching the quarterfinals at three of the four Grand Slams this year. This also pushed her up to a career-high ranking of 19 earlier in May.
Being the defending champion in Cincinnati, Pliskova knew that she had to progress deep in the draw to keep her top spot entering New York. The pressure seemed to be a total stranger to the Czech as she strolled through her opening matches to reach the semifinals, exacting revenge over Wozniacki in the process. However, she was simply outclassed by the in-form Garbine Muguruza in straight sets, who went onto clinch the title against Simona Halep in a one-sided final.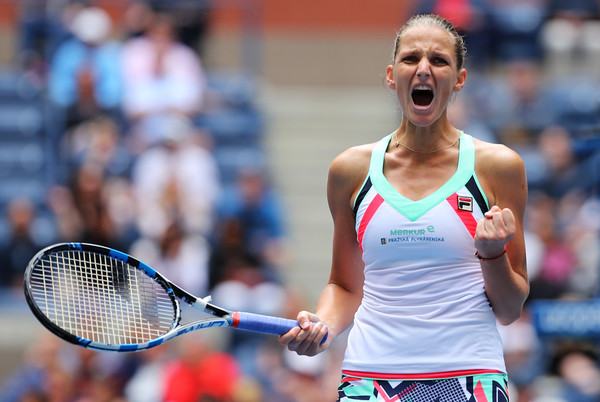 Playing her first tournament as the world number one at the Rogers Cup, Pliskova got past tough opponents in Anastasia Pavlyuchenkova and Naomi Osaka before falling to the eventual finalist Caroline Wozniacki in a rain-filled quarterfinal match where the Czech failed to capitalize on her opportunities.
Starting off the season with a title, it has truly been a dream nine eight months for the Czech who seemed unbeatable at a point of time. Pliskova had the consistency she was unable to find before this year, reaching an impressive 12 quarterfinals out of 16 tournaments.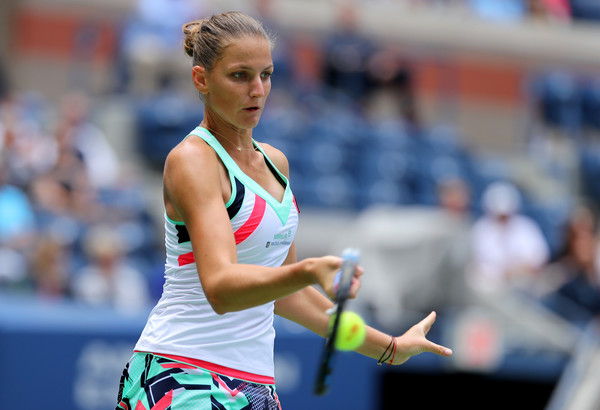 World number one Karolina Pliskova has had an amazing season thus far, winning three Premier titles and ascending to the top spot in the rankings after the Wimbledon Championships.
It is a blockbuster meeting between world number one and defending finalist Karolina Pliskova and local favorite Coco Vandeweghe in the quarterfinals of the US Open. After getting past some quality opponents in the first week of the draw, these two hard-hitters would face off for a place in the semifinals at Flushing Meadows.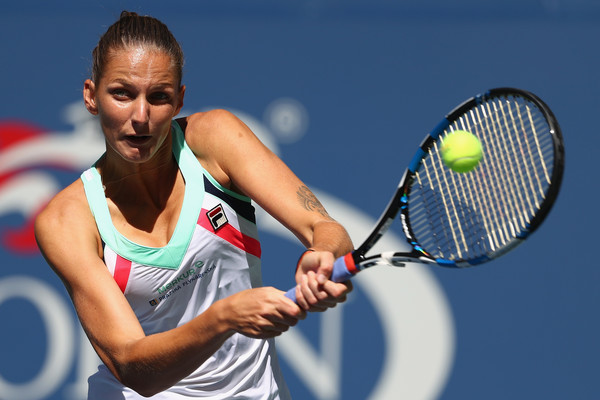 Welcome to the live coverage of the US Open quarterfinal match between Karolina Pliskova and Coco Vandeweghe! My name is Don Han, and I am happy to be bringing you point-by-point coverage of this encounter here on VAVEL. From now until the match begins at 12 pm ET, news, and notes will be above to get you up to speed. Be sure to return at match time for point-by-point updates!