Top seed Rafael Nadal booked his place in the semifinals of the US Open with an emphatic 6-1, 6-2, 6-2 demolition of the 19-year-old Russian Andrey Rublev. The Spaniard broke the exuberant Russian seven times over the course of just 97 minutes on the Arthur Ashe Stadium to set-up a mouthwatering semifinal showdown with Roger Federer on Juan Martin del Potro.
Rublev, who has claimed scalps over both Grigor Dimitrov and David Goffin this week, threw his all at the world number one but Nadal's guile proved instrumental. 43 unforced errors were unleashed from the Russian's racket as the Spaniard wore him down in typical fashion.
Quick out the blocks
It didn't take long for Nadal to seize the initiative as he broke Rublev in his very first service game. Quickly the Russian was being forced to familiarize himself with his surroundings as the Spaniard continued to mount pressure with his trademark topspin forehands.
Rublev recovered the break for 2-1 but it was to be a false dawn for those expecting the Russian to go toe-to-toe with the 15-time major winner. Nadal dusted himself off and broke to 15 with a glorious backhand pass from mid-court.
And the Russian would be forgiven for experiencing a sense of deja vu when Nadal broke for a 5-1 advantage. Having won only one of the previous eight points he threw in an untimely serve and volley. The Spaniard read his intentions and floated a backhand into the open court.
The set was wrapped up with a love hold after 23 minutes and Nadal, as stern-faced as ever, went back out to work in set two.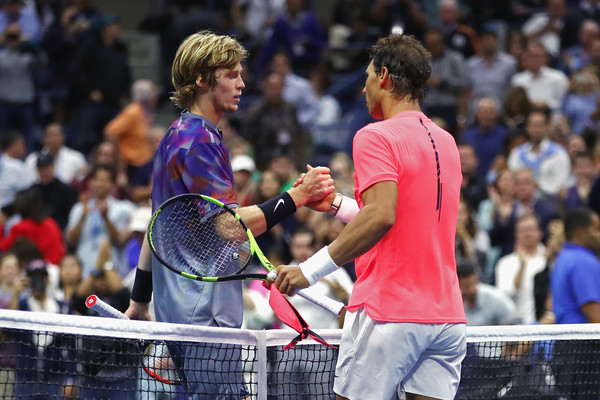 Relentless pressure
Rublev began with a hold to love as he began to dictate points on his own deal with his pulverizing forehand. However, the wave of sustained pressure arrived in the third game as he staved off a pair of break points to hold for 2-1 but it wouldn't be long before Nadal made his presence felt in the second frame.
The Spaniard broke in consecutive games and moved within a set of his third Grand Slam semifinal of the year with a menacing forehand from the baseline. Rublev scrambled but he could not retrieve it and he retreated to the chair with a puzzled expression on his face.
He cut the figure of a man backed into a corner and he was broken to love to open set three as Nadal raced towards successive straight sets victories. Six break points were salvaged in the fifth game but the Spaniard didn't loosen his stranglehold, converting the seventh that came in his direction. Rublev held for 5-2 to force his childhood hero to close out the win.
He didn't pass the opportunity as he extracted one more backhand error from the 19-year-old to seal his place in the last four.