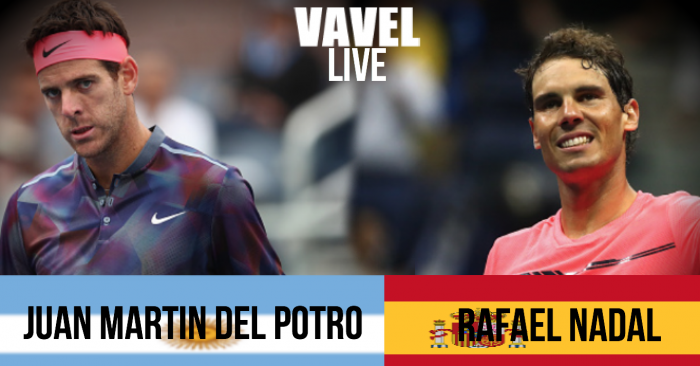 Nevertheless I've been Craig Vickers and it's been a pleasure. Stay tuned to VAVEL USA over the weekend for coverage of both the women's and men's finals.
Kevin Anderson awaits in Sunday's final as Nadal bids for his second Grand Slam of the year and his first hard court title since Doha in 2014.
He won 109 points to del Potro's 78. The Argentine can be forgiven for feeling mentally drained after a tough week.
Utterly ruthless from Nadal after a shaky opening set, dropping only five games in the interim.
NADAL WINS 4-6, 6-0, 6-3, 6-2!!!!!
Two match points....
30-15...
30-0....
15-0....
Nadal 4-6 6-0 6-3 5-2* del Potro: The Argentine holds and forces Nadal to serve for a place in the final.
Nadal 4-6 6-0 6-3 *5-1 del Potro: 17 of the last 21 games have swung the way of the 15-time major winner. Can he break one last time?
Nadal 4-6 6-0 6-3 4-1* del Potro: Nadal now two games away and playing at an immensely high level.
...Unbelievable backhand return forces an error from del Potro and he has the all-important double break.
Three break points for Nadal...
Nadal 4-6 6-0 6-3 *3-1 del Potro: Nadal consolidates.
Nadal 4-6 6-0 6-3 2-1* del Potro: The Spaniard grabs the vital break.
...Aaaand he breaks. Such precision on the drop volley.
Two break points for Nadal...
Nadal 4-6 6-0 6-3 *1-1 del Potro: Nadal responds with a love hold. Serving well.
Nadal 4-6 6-0 6-3 0-1* del Potro: The Argentine starts set four in fine fashion with a hold to 15.
21:55 - Nadal takes the third set 6-3 and is a set away from the US Open final.
...And he takes it! Two sets to one lead as the clock ticks towards two hours.
Set point Nadal...
Nadal 4-6 6-0 5-3* del Potro: Crucial hold for the Argentine. Nadal had his chances but he'll serve for a two sets to one lead.
...Gets his forehand into rallies and saves both.
...One saved.
Two set points for Nadal...
Nadal 4-6 6-0 4-2* del Potro: Love hold for the Argentine.
Nadal 4-6 6-0 *4-1 del Potro: del Potro shows flashes but Nadal remains resolute to hold.
Nadal 4-6 6-0 3-1* del Potro: The Argentine stems the bleeding despite offering up break points.
...del Potro salvages both.
Another two break points for Nadal as he bids for the double break...
Nadal 4-6 6-0 *3-0 del Potro: Nadal consolidates the break with a comfortable love hold. Nine straight games.
Nadal 4-6 6-0 2-0* del Potro: The Argentine is under the cosh now as Nadal breaks. The 31-year-old is unstoppable at the minute.
...Unbelievable. Vintage Nadal as he breaks for a 2-0 lead.
Two break points for Nadal...
Nadal 4-6 6-0 *1-0 del Potro: Seven games on the spin for the Spaniard. He's moving with elegance.
21:12 - One-set all on Arthur Ashe Stadium as Nadal takes the second set 6-0.
...And he bagels the South American to level the match at a set-all.
Set point #2 for Nadal...
Nadal 4-6 *5-0 del Potro: Complete turnaround as Nadal consolidates the second break of serve. A game away from the bagel.
Nadal 4-6 4-0* del Potro: A procession towards the second set for Nadal.
...And del Potro clubs a forehand long of the baseline as Nadal confirms the double break.
Two break points for Nadal...
Nadal 4-6 *3-0 del Potro: And a love hold from Nadal consolidates the break. In full control of set two.
Nadal 4-6 2-0* del Potro: Could we be saying a lull from the Argentine akin to his one from the other night?
...And a wild forehand secures the break for an animated Rafa.
First break point of the evening for Nadal. Supreme defense.
Nadal 4-6 *1-0 del Potro: Confident start to the second frame from the 31-year-old.
20:45 - del Potro takes the first set 6-4 in 50 minutes.
...And a pulverizing cross-court forehand later del Potro secures set one in the men's semifinal.
...One goes begging
...Two set points
del Potro ripping backhands. Yes, backhands - and even down the line.
Nadal *4-5 del Potro: Nadal continues his streak of landing first serves to force del Potro to serve out the opening set.
Excellent exchange in the forecourt from both players and the crowd are on their feet.
Nadal 3-5* del Potro: A first (and timely) love hold for the Argentine as he forces Nadal to serve to stay in the set. Cue the 'Delpo' chants.
Nadal *3-4 del Potro: Convincing hold to 15 from Nadal to sustain the pressure on his opponent.
Nadal 2-4* del Potro: A lengthier service hold after the Argentine throws in an errant dropshot but he holds.
Can del Potro consolidate the break?
Nadal *2-3 del Potro: The Spaniard digs himself out of a love-30 hole but an excellent return sets up break point and it's first blow to the Argentine.
...And he converts, albeit with a net chord!
Break point del Potro...
Nadal 2-2* del Potro: Nadal gets to 30-all but a wicked forehand down the line edges the game in the Argentine's favour.
20:11 - Tiger Woods in attendance.
Nadal *2-1 del Potro: First signs of vulnerability for Nadal but he hangs on. On serve through 13 minutes.
Composed from Nadal as he staves off del Potro's advances. Deuce.
And a first break point of the evening for the Argentine as Nadal sends a backhand long.
First rendition of 'Ole Delpo!' around Arthur Ashe Stadium.
Nadal 1-1* del Potro: Shorter service game this time as del Potro holds to 15. He's fired up, for sure.
Nadal *1-0 del Potro: The Argentine rips one of his trademark forehand winners but Nadal holds with relative comfort.
(* denotes server)
19:54 - Nadal will serve first.
19:50 - Umpire calls one minute as Nadal and del Potro go through their service drills.
19:43 - The lights are dimmed and both players take to the court to rousing ovations.
The first semifinal is in the book as Anderson prevails, 4-6, 7-5, 6-3, 6-4. Stay tuned.
We could be close to getting proceedings underway as Anderson has taken a two sets-to-one lead over Carreno-Busta. The South African is a set away from his first Grand Slam final.
Morning all! Friday is upon us and it is just nine and a half hours -- depending on the length of the preceding semifinal -- until players step onto court. Stay tuned.
Nevertheless, be sure to join us at VAVEL USA when play commences on Friday as both men slug it out for a place in the 2017 US Open final. See you all then!
del Potro has the raw power, the gut-wrenching forehand that can damage the very best, but his backhand remains a glaring weakness and he will be stretched to cope with Nadal's heavy topspin forehand into his backhand corner.
Both men garner tremendous support considering their service to tennis over the years and a Friday night under the lights on Arthur Ashe Stadium promises nothing less than a spectacle.
The winner will meet Kevin Anderson or Pablo Carreno-Busta in the final.
del Potro got the better of him in three out of four meetings in 2009 and few can forget their entertaining battle in the final of the BNP Paribas Open in 2013.
Nadal leads 2-1 at majors but del Potro famously blitzed the 31-year-old off the court in semifinals of the US Open en route to his only Grand Slam title in 2009.
He dismissed the Spaniard in straight sets in Shanghai in 2013 before their memorable encounter at the Olympic Games in Rio last summer. del Potro battled back from a set down that evening to set-up a gold medal contest with Andy Murray.
Nadal leads their head-to-head 8-5 but the South American has won their previous two meetings.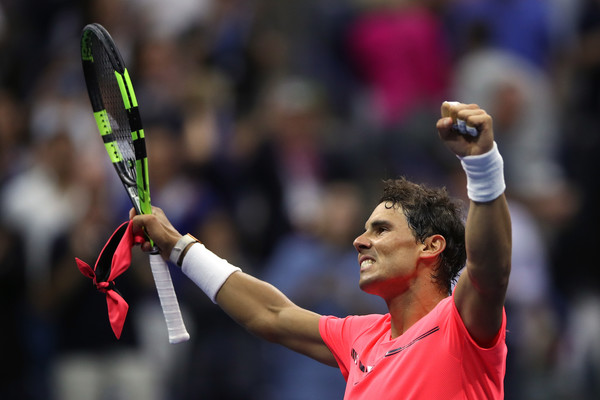 His kryptonite this year has been Federer which will surely sharpen the 31-year-old's focus with the Swiss now out of proceedings in New York.
There he reached his first major hard court final since the Australian Open in 2014 and he backed it up with a run to the final in Miami.
Few could have predicted such consistency from the Spaniard on hard courts this year considering the injuries he has sustained in the past few years but he lay down a marker with his performances in Melbourne at the start of the year.
The Spaniard has tasted Grand Slam success this year at the French Open and he will be looking to split the major haul with Federer with his first victory here since 2013.
The Russian won only five games in 97 minutes and the alarming signs that were apparent during his wins over Taro Daniel and Leonardo Mayer have disappeared into the distance.
Nadal, in the meantime, has gone from strength to strength in the past week and was ruthless in his destruction of Rublev in the quarterfinals.
But he is playing with intensity and he appears to have shaken off the sickness bug that threatened to derail his major bid.
He hasn't fared so well on the Grand Slam front in 2017, however, skipping the Australian Open before being sent packing from the French Open in the third round and from Wimbledon in round two.
Del Potro's injury struggles have been well-documented but he did record a quarterfinal appearance in New York last year when he fell to eventual winner Stan Wawrinka in the last eight.
In fact, many had forecast the Argentine's downfall in round three when he met the flat-hitting Roberto Bautista-Agut. Instead he was dismissed in straight sets.
Del Potro was reportedly suffering from flu and he registered only three games before he awoke from his slumber to oust the Austrian. He credited the spectators in attendance -- many of an Argentine persuasion -- for spurring him on and a similar atmosphere was prevalent inside Arthur Ashe Stadium on Wednesday.
His victory carried extra significance considering the Argentine was on the cusp of bowing out of the tournament as he stared at a two sets to love deficit against Dominic Thiem.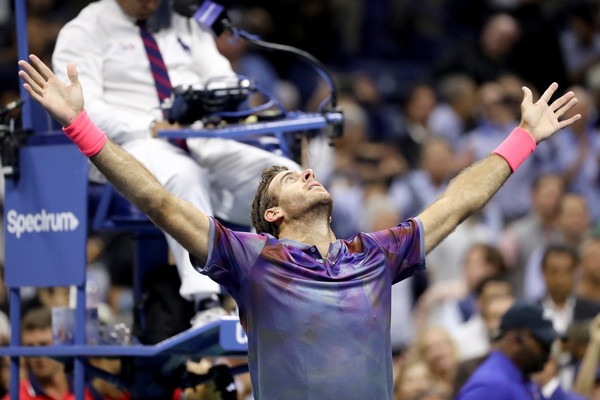 But the biggest story manifested itself on Wednesday night when del Potro defied the odds to end Roger Federer's quest for a third Grand Slam title of 2017.
Marin Cilic was disarmed by the diminutive Diego Schwartzman while David Goffin limped through the opening four rounds before being dismantled in straight sets by 19-year-old Andrey Rublev.
Then Grigor Dimitrov, champion in Cincinnati the week prior to the tournament, fell in the second round. Alexander Zverev, too, failed to progress to the second week despite a strong summer.
Reigning champion Stan Wawrinka ruled himself out alongside Novak Djokovic, Kei Nishikori, Milos Raonic and belatedly Andy Murray.
Both men have tasted success in the Big Apple -- Nadal's two to del Potro's one -- and they will fancy their chances of going all the way considering the star power that has fallen before them.
Hello all, I'm Craig Vickers and welcome to VAVEL USA's live inline commentary of the men's US Open semifinal between two heavyweights of the sport: Rafael Nadal and Juan Martin del Potro! The match is set to begin no later than 5:30 PM EST as these two titans face for a spot in the final.