 This is Don Han saying so long, and this match marks the end of the thrilling fortnight of women's tennis! What a way to end it! Lessons could be learned from this match: Determination, perseverance, class, and respect. Kudos to both players!
Congratulations to both Sloane and Madison! Such incredible stories especially after their career-threatening injuries! Take a look at the recap of the match here done by Noel Alberto!
This is why they are such close friends: So respectful and gracious towards one another! Sloane also talked about how she would not believe anyone if they told her that she will be the 2017 US Open champion back in January after she completed her foot surgery.
Displaying class and respect, Madison talked about her comeback after her wrist surgeries and praised her opponent and good friend for the incredible performance. 
STAT: 2 of 4 Grand Slam champions this year were unseeded!
Friendship: Madison and Sloane are sitting side by side while the trophy ceremony is being prepared! 
Absolutely gutted for Madison Keys, who is obviously very emotional now especially coming into the Championship Match as the huge favourite
Sloane Stephens will now be the new world number 17 despite being just ranked 957th just a month ago! 
What a hug at the net! Great sportsmanship by Keys, who was gracious in defeat. 
60 minutes: 6-3, 6-0. What a performance by Sloane Stephens. Absolutely dominant
Ladies and gentlemen, Sloane Stephens is your US OPEN CHAMPION!
Game, set, match and championship: Madison Keys 3-6, 0-6 Sloane Stephens
40-AD: What an angle on the forehand from Stephens and it is a third CHAMPIONSHIP POINT!
40-40: A backhand goes into the net, and we are back to deuce
AD-40: Great play from Keys and she earns a game point!
40-40: A LENGTHY rally and Keys pulls the trigger, hitting a powerful forehand winner to end off the point!
40-AD: Another CHAMPIONSHIP POINT! Keys hits a backhand wide once again
40-40: Stephens sends a forehand into the net
30-40: CHAMPIONSHIP POINT! Great return from Stephens
30-30: Keys sends a BIG backhand wide
30-15: Good serve from Keys
15-15: Keys sends a forehand long 
15-0: Excellent hands at the net from Keys
Keys 3-6, *0-5 Stephens: Keys will serve to stay in the match after missing three break points
AD-40: Once again, great net play from Stephens!
40-40: Great point played by Keys!
AD-40: Keys sends a return into the net
40-40: What a rally! Stephens eventually closes out the point with yet another volley winner!
30-40: BIG forehand winner for Stephens!
15-40: Great backhand winner at the net from Stephens
0-40: Stephens sends a backhand wide and Keys earns her first break points!
0-30: Keys finding a breakthrough here
0-15: Some inspired play from Keys!
Keys 3-6, 0-4* Stephens: Double break for the underdog as Keys throws in a double-fault
30-40: Excellent backhand winner from Keys!
15-40: Great serve 
0-40: Keys has to quickly find some solutions to Stephens' counter-punching play 
0-30: Great down-the-line winner from Stephens!
0-15: Keys' 24th unforced error today
The huge favourite coming into the match, Madison Keys, with so many acclaimed pundits tipping her for the trophy, is just three games away from defeat. Could she make an improbable comeback here?
Keys 3-6, *0-3 Stephens: From 3-3 in the first set, Stephens won six games in a row
40-30: Keys hits a return wide
30-30: Some great hands at the net from Stephens!
15-30: Great aggressive play from Keys!
15-15: Keys sends another return into the net
0-15: Finally something going right for Keys as a net cord goes in her favour
Keys 3-6, 0-2* Stephens: Another AMAZING passing shot from Stephens and she leads by a set and a break!
30-40: Keys' first ace since the first game of the match!
15-40: Some solid groundstrokes from Keys here
0-40: What a passing shot! Stephens earns three break points after passing Keys at the net
0-30: A clear put-away at the net goes wide and Keys finds herself in some deep trouble 
0-15: NOTHING going right for Keys today as she sends a backhand wide
This is a very disappointing performance for Keys especially on the return
Keys 3-6, *0-1 Stephens: Stephens has a narrow service hold
AD-40: However, she fails to keep the momentum going as another return goes into the net
40-40: A big forehand return helps Keys to earn the point! Deuce!
40-30: Keys blasts a forehand return into the net
30-30: A mishit by Stephens sends the ball long
30-15: Stephens hits a backhand unforced error
30-0: Stephens just strolling through this thus far
15-0: Good attempt but Keys nets a forehand volley
Second set, Stephens to serve
First set statistics:

Keys --> 10 winners, 17 unforced errors, 55 percent first serve points won, 56 percent second serve points won

Stephens --> 2 winners, 2 unforced errors, 86 percent first serve points won, 67 percent second serve points won. Lost just four points on her serve
FIRST SET: Madison Keys 3-6 Sloane Stephens
40-AD: Second set point for Stephens as Keys hits a backhand wide
40-40: Back to deuce! Keys hits another forehand into the net
AD-40: First deuce game of the match and Keys gets the first advantage with the help of a powerful forehand winner!
40-40: Nerves? Stephens hits just her SECOND unforced error 
30-40: Stephens' backhand lands on the line, confirmed by Hawk Eye! Set point!
30-30: Another bad error on the forehand wing for Keys
30-15: Incredible power on Keys' groundstrokes
15-15: A backhand down-the-line goes into the net for Keys
15-0: Another volley winner by Madison!
Keys *3-5 Stephens: Stephens hangs onto her lead and Keys will serve to stay in the first set
40-30: A big forehand return winner down-the-line!
40-15: Great volley winner by Keys!
40-0: The unforced errors keep coming in for Keys...
30-0: Yet ANOTHER big forehand sent wide by Keys
15-0: Keys sends a return into the net
Stephens lost just two points on her serve up till now
Statistics so far:

Keys --> 6 winners, 12 unforced errors
Stephens --> 2 winners, 0 unforced errors
Keys 3-4* Stephens: Keys has a narrow service hold and lessens the deficit to just one game. 20 minutes and seven games played!
40-30: Great hands at the net from Keys
30-30: Keys is too erratic today and she hits her 12th unforced error
30-15: Great serve out wide!
15-15: Big serve from Keys
0-15: A forehand winner from Stephens lands just on the line!
Keys *2-4 Stephens: Stephens consolidates the break!
40-30: Stephens stays solid during the baseline rally and Keys eventually sent another forehand into the net
30-30: A forehand by Keys goes straight into the net
15-30: The 22-year-old produces a good return and takes charge of the rally from then on
15-15: Keys finally wins her first return point with a strong forehand winner!
15-0: Keys hits a forehand long while charging towards the net
Keys 2-3* Stephens: First break goes to Stephens as Keys plays a very loose game, committing a couple of unforced errors
15-40: A backhand goes long and we have our first break points of the afternoon!
15-30: What a backhand by Keys which just barely clipped the line!
0-30: Pressure getting to Keys? Another forehand error
0-15: A big forehand goes into the net from Keys
Keys *2-2 Stephens: Second love service game from Stephens! Did not lose a point on her serve yet
40-0: A net cord goes against Keys and Stephens earns three game points
30-0: Another return goes into the net
15-0: Keys sends another backhand long
Statistics so far:

Keys --> 4 winners, 2 unforced errors
Stephens --> 1 winner, 0 unforced errors
Keys 2-1* Stephens: Another quick service hold for the 22-year-old! 
40-15: Stephens sends a return long
30-15: 118 mph serve followed by a powerful forehand winner from Keys!
15-15: Keys dictating play well!
0-15: Great angle on the forehand from Stephens which forces the error from Keys!
Keys *1-1 Stephens: Another comfortable service game as Stephens gets on board!
40-0: Keys sends a backhand return just wide
30-0: Great one-two punch from Stephens!
15-0: Keys sends a return long
Keys 1-0* Stephens: What an excellent service hold for Madison!
40-15: ANOTHER ace!
30-15: Excellent serve out wide which ends up as an ace!
15-15: Great 110 mph serve down-the-tee!
0-15: Nerves for Keys? Sends a big forehand into the net
Madison Keys to serve, ready? Play.
In an interview with the WTA Insider, Singapore's sole Olympic Gold Medalist in history, Joseph Schooling, has picked Madison to triumph in this final
Eva Asderaki-Moore is our umpire for the women's final! 
With the ball boys and ball girls helping to carry the players' tennis bags, both players have walked out on court receiving some loud cheers from the crowd!
Both players are having their in-corridor interviews now!
STAT: This is a battle between two first-time Grand Slam finalists

The last time it happened? Compatriots Flavia Pennetta and Roberta Vinci in 2015. 
It is very sunny in New York right now! And thus, the roof will not be in action today!
Take a look at the preview of the final done by Susan Regisford!
Match Prediction: Madison Keys in three sets
Players are expected to be on the court in 20 minutes, stay tuned!
Welcome to the live commentary and updates for the Women's Singles Final between Madison Keys and Sloane Stephens! Once again, I'm Don Han!
Do return at 4 pm CT for the live commentary and updates of this interesting clash! Who will bring back their first Grand Slam trophy today? Is it Madison or Sloane? Stay tuned!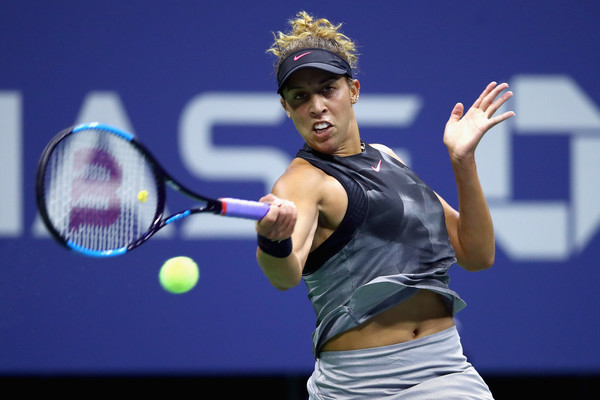 This encounter means that we will have the first American Grand Slam champion not named Serena or Venus since 2002. 
Head to Head: Sloane Stephens 1-0 Madison Keys

Their only meeting thus far came in the second round of the Miami Open back in 2015, with Stephens triumphing with a rather straightforward scoreline: 6-4, 6-2.
Stephens next faced the legendary Venus Williams for a place in the final and unexpectedly triumphed despite being the underdog in the encounter. After serving a breadstick (6-1 set) in less than 25 minutes, Venus was able to fight back and clinched the second set 6-0 within a blink of an eye.

The third set was much more competitive with both players giving their all, but Stephens recovered from a     break down and played what could be the best tennis of her career at 4-5 30-30, winning seven straight points and eventually claiming the impressive win.
The American's tightest matches came in the quarterfinals and semifinals. In the last eight, Stephens had to face Anastasija Sevastova, who reached her second consecutive quarter final in Flushing Meadows and just recently defeated the former world number one Maria Sharapova. Coming from 1-3 and break points down in the final set, Stephens unexpectedly managed to complete the incredible comeback as she sealed the win in a final-set tiebreak.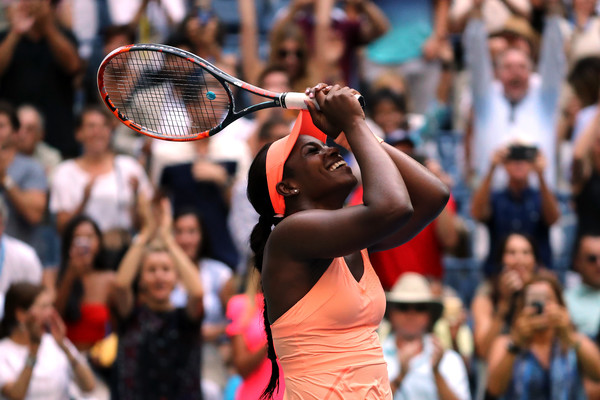 Her third round opponent was Ashleigh Barty, against whom she earned a straightforward victory as the Australian failed to capitalize on her opportunities in the second set. In a rematch of their Cincinnati quarter-final, Julia Goerges looked to exact revenge but failed to do so as Stephens proved to be too strong for the German.
Stephens first faced 2015 finalist Roberta Vinci in the first round before going up against the world number 10 Dominika Cibulkova, prevailing in both matches as she gave herself the golden opportunity to progress deep in the draw.
STAT: Stephens had only faced players in the Top 50 this year!
Sloane Stephens had the toughest draw out of anybody in the draw, with her opponents all hailing from the Top 50 in the rankings. Nonetheless, the American still continued her hot streak against them as she improved to 14-2 against them on hard courts this year.
Road to the final: Sloane Stephens





Average rank of opponents: 26.5
Average time spent on court: 1 hour and 51 minutes
Ironically, her quarterfinal and semifinal matches were the most straightforward wins as compared to the earlier rounds, defeating qualifier Kaia Kanepi, who is a five-time Grand Slam quarterfinalist earlier in her career, in the quarterfinals before outgunning good friend and compatriot Coco Vandeweghe in the last four, losing only a mere three games in the process.
Against the Russian, Keys battled from a set down and had to save six break points in the second set which prevented her from trailing by a set and a break. Facing the fourth seed Svitolina, one of the title favorites here in Flushing Meadows, but Keys hyped up all the crowd as she recovered from a 2-4 deficit in the deciding set to eventually triumph in three tough sets.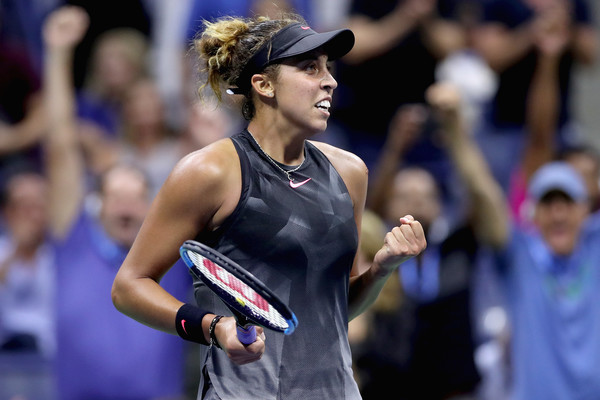 Madison Keys had a tough first-round opponent as she narrowly defeated Elise Mertens in straight sets but her toughest challenge during the fortnight thus far came against Top 20 players Elena Vesnina and Elina Svitolina.
Road to the final: Madison Keys




Average rank of opponents: 93.7 (29 without Kanepi)
Average time spent on court: 1 hour and 31 minutes
Sloane Stephens relied on her Protected Ranking to enter the main draw and was unseeded with her current ranking of 83. Nonetheless, she looked on fire throughout the fortnight and stormed to the final with her excellent counter-punching play, defeating a couple of hard-hitters along the way.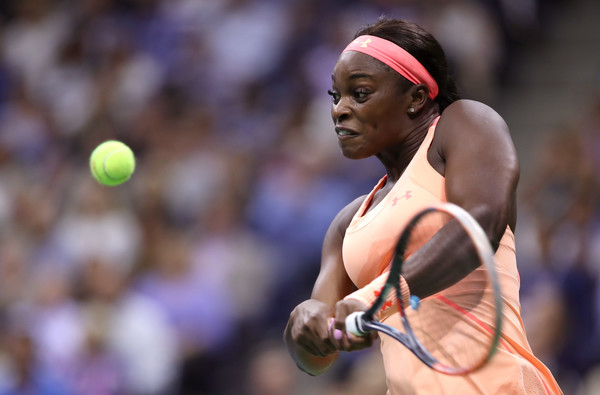 Coming into the US Open, Madison Keys was the 11th favorite to claim the title but no one would have placed a bet on her considering her inconsistency.

However, she proved everyone wrong when she came up with some of the best tennis she has ever played, looking more matured and solid than ever.
Unexpectedly, she reached a second consecutive semifinal at yet another Premier 5 tournament, outgunning Petra Kvitova for the second time in as many weeks, and also getting past the in-form Safarova and Ekaterina Makarova along the way before falling to world number two Simona Halep in straight sets.

Her impressive runs pushed her back into the Top 100 despite being ranked outside the 900s just two weeks before.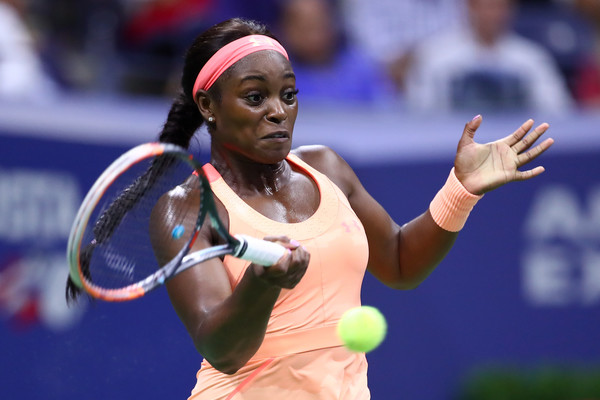 Losing the first two matches of her comeback, Stephens made the following comment at the Citi Open, "Eventually I will beat someone."

She did.

A week after the Citi Open marked the start of her amazing month as she stormed to the semifinals of the Rogers Cup, defeating former world number one Angelique Kerber and saving three match points against Lucie Safarova in the process.
What an incredible story it has been for Sloane Stephens.

With her leg being in her cast after a foot surgery, Stephens was only able to start walking normally back in April this year. Three months later, she made her return to professional tennis with an appearance at the Wimbledon Championships.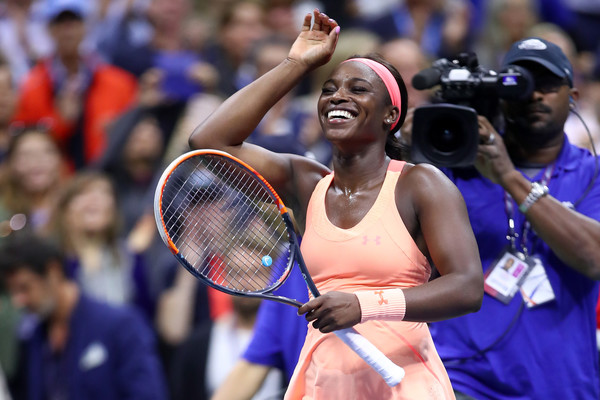 Withdrawing from Toronto to prevent herself from overplaying, Keys came back at the Western and Southern Open where she defeated good friend Coco Vandeweghe in the first round, a rematch of their Stanford final. Impressively blowing Daria Kasatkina off the court in straight sets, Keys lost just three games in the process.

Keys had a chance for yet another victory over Muguruza but failed to convert a match point as the Spaniard eventually won on to clinch the title and the number one ranking weeks later.
In front of a supportive home crowd at the Bank of the West Classic, whose field featured the likes of Maria Sharapova, Petra Kvitova, and Garbine Muguruza, Keys stormed to the title for her first ever WTA silverware on hard courts. Along the way, Keys defeated the top seed and recent Wimbledon champion Muguruza, breaking her nine-match winning streak.
What an incredible story it has been for Madison Keys.

The American had to go under the knife twice this year for her right wrist injury and was lingering outside the Top 100 of the Porsche Race to Singapore leaderboard for the majority of the year until her impressive US Hard Court results came in.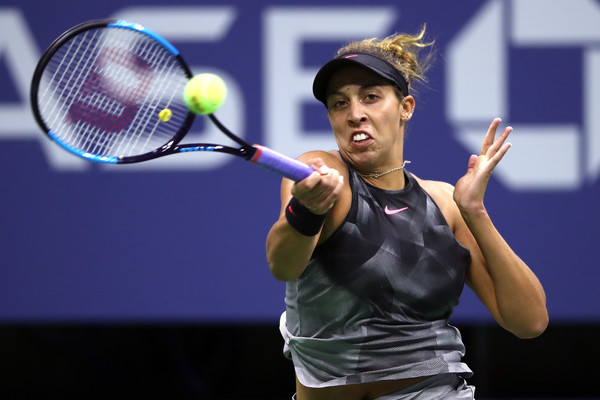 Found those last two names familiar? Yes, they will be our finalists for the 2017 US Open Women's Singles Final! After what seemed like an incredible run from both players, the two good friends will meet in their first ever Grand Slam final and will be looking to clinch their maiden Major.
Inspiring stories surfaced as the tournament progressed such as the incredible run of former Top 20 player Kaia Kanepi, the world number 418 qualifier aforementioned. Petra Kvitova's return to a Grand Slam quarterfinal after her horrific knife attack, Maria Sharapova's impressive comeback, Sloane Stephens' perfect run in the last month and Madison Keys' successful US Open series.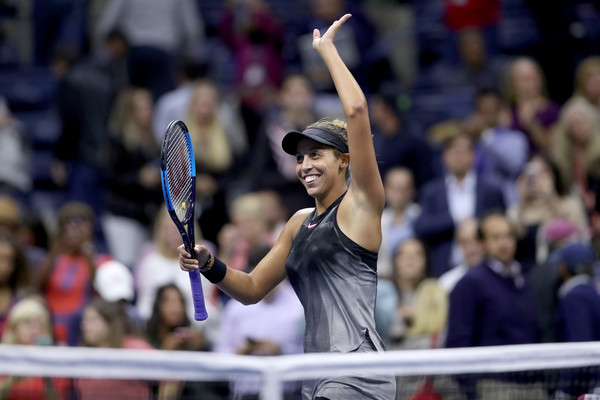 From a thrilling Day 1 clash between Maria Sharapova and Simona Halep, which was originally considered the Match of the Tournament, the fans were treated to more blockbuster matches such as Shelby Rogers' marathon win over Daria Gavrilova in the second round, which broke the tournament's record for being the longest women's match, and Venus Williams' three-set win over Petra Kvitova in the quarterfinals.

Without a doubt, there are way more high-quality encounters which took place over the fortnight.
After two weeks of exhilarating action in the city that never sleeps, it all comes down from 128 to 2. Top seeds Karolina Pliskova, Simona Halep, Garbine Muguruza and Elina Svitolina all fell before the semi finals which gave the lower-ranked players a chance to make a breakthrough.

Only one top eight seed (Pliskova) reached the quarterfinals and the average rank of the quarter-finalists is at an incredible 72.5, with a qualifier ranked 418th in the world being part of the elite eight.
Welcome to the live coverage of the US Open final match between Madison Keys and Sloane Stephens! My name is Don Han, and I am happy to be bringing you point-by-point coverage of this encounter here on VAVEL. From now until the match begins at 4 pm ET, news and notes will be above to get you up to speed. Be sure to return at match time for point-by-point updates!