What a comeback it has been for Madison Keys. After months out from professional tennis due to a wrist injury, the American recorded the best result of her career: A final appearance at the US Open, her first Grand Slam final in her career. Having to undergo two surgeries in the past year, Keys overcame some early struggles before finally finding her best tennis.
Her first tournament back
Madison Keys made her comeback at the BNP Paribas Open, easily getting past Mariana Duque-Marino in her first match. Strolling to a comfortable win over Naomi Osaka in straight sets, Keys' run came to an end in the fourth round after falling to Caroline Wozniacki 4-6, 4-6.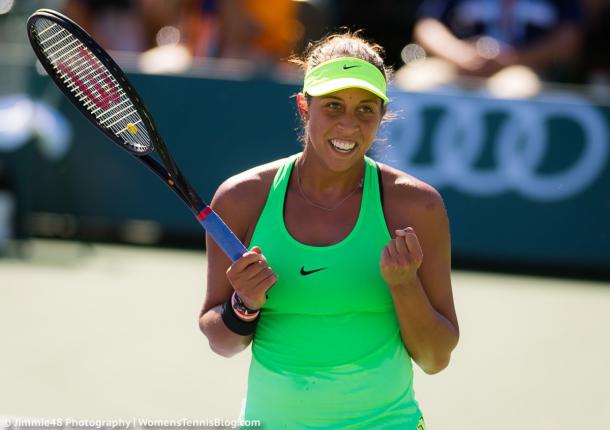 The American was full of optimism after her career-best performance in Indian Wells, telling the WTA Insider that "Obviously it sucks, but I'm happy I could play three matches. Caroline played well tonight. I thought it was pretty tight for someone who has played 20 matches this year and I've played three."
She came into the BNP Paribas Open having very low expectations, saying that if she could have gotten a set it will make her happy enough. "It's always tough to come back and everyone is in the middle of their season. I definitely had really low expectations, which is probably why, when I was up there and serving for the match in the first round, I was, like, 'Oh, this is exciting. I didn't think this was going to happen.'" Certainly, her fourth-round finish exceeded all the expectations she had for that week.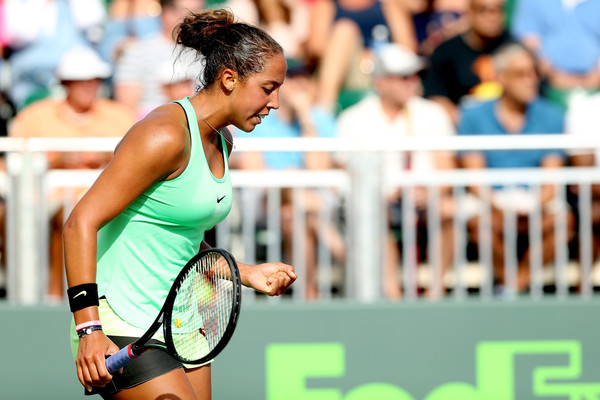 Injury originated in 2015
It was found out through the same interview that Keys actually sustained the injury back at the 2015 US Open, ironically, considering what she achieved there two years later. She actually managed to play through the whole 2016 WTA Tour with the wrist injury but felt the real effects at the 2016 Wimbledon Championships, where she fell in the quarterfinals despite leading by a set and a break against Simona Halep.
Originally planning to have the surgery after the US Open, she realized she was in the ninth position in the Race to Singapore leaderboard and decided to give her all to qualify for the WTA Finals. Keys recently mentioned that in Beijing, she cried almost after every match, win or lose, due to the tremendous amount of pain which bothered her. Nonetheless, Keys managed to produce some incredible results and eventually became one of the elite eight in Singapore.
Keys fell to the world number four Simona Halep and the world number one Angelique Kerber before earning her first ever win at the WTA Finals after blowing off eventual champion Dominika Cibulkova in straight sets during her debut appearance in Singapore.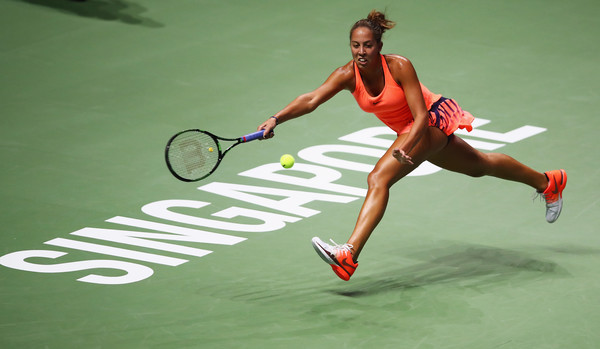 Returning to the United States a couple of days later, Keys went for the surgery immediately. "For the longest time, I still couldn't turn my steering wheel and I couldn't use my left hand doing this and that. It was tough, and it was really stressful." After the cast on her left wrist was removed, she had a huge scare when her left hand was unable to tend to her daily activities.
Keys often wondered if she would be able to play tennis once again, but her team constantly offered her support during this tough period of time. During her layoff, ex-coach Lindsay Davenport also rejoined her coaching team.
It was also the golden opportunity for Keys to improve on her game, mentioning that she "worked on my slice a ton, obviously, because I had months where I couldn't do anything else and also, I got to work with Scott [Byrnes, her trainer] for the longest period of time without a tournament coming up. We worked on a lot of just little things we haven't been able to."
"We do get to do what we love. I think that's really special, and I think sometimes we get really caught up in the winning and the losing and rankings and all of that. At the end of the day, we get to play a sport that we love for our jobs, and just this whole time has made me realize how truly blessed I am to be able to do that." Keys ended off the interview with some wise words, reflecting her matured thinking and mentality.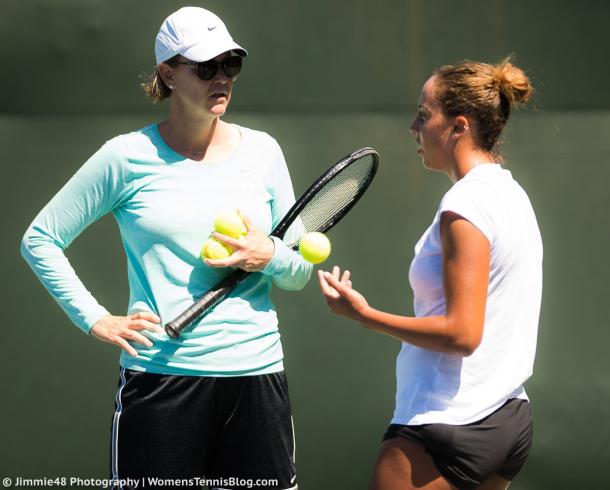 Results which followed in the clay court season
After an opening round win in Miami, it was a four-match losing streak which followed as Keys failed to find her form at the start of the clay season. In an interview done with the WTA Insider at the Mutua Madrid Open, she mentioned that her primary focus currently is on her mentality. "What I did so well last year was I stopped thinking about results and winning and losing. I was so good at thinking, ok, this is what I have to do, I'm going to do it. If it's not working, it's ok. So I have to get myself back to that." Slowly, Keys is definitely progressing to be one of the top stars of the next generation despite being 22-years-old and is tipped to lead American tennis along with her several compatriots in the future.
Keys fell in the opening round of the Internazionali BNL D'Italia to Daria Gavrilova despite leading by a set, and she finally broke the duck when she defeated the unheralded Ashleigh Barty at the French Open. However, everything went wrong for the American in her next match as she felt the pain in her wrist once more. "It solidified for me in Paris after I won the first set [against Petra Martic in the second round] and I was up in the second set. I hit a ball and it hurt so much and mentally, it just tapped me." Keys went on to lose the match 6-3, 3-6, 1-6 against Petra Martic, having called for a medical time-out during the encounter for her wrist problems.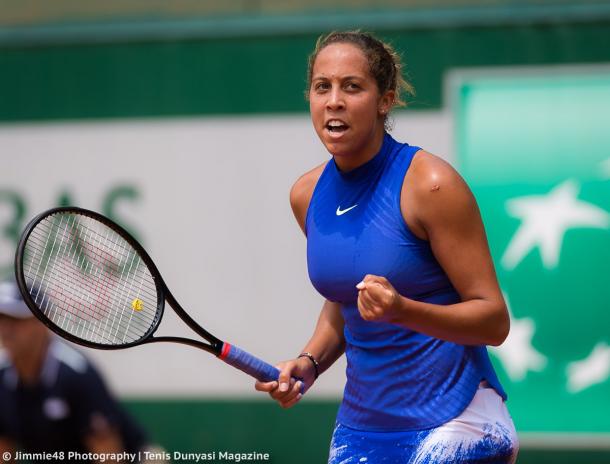 Following the tournament, Keys opted to go for another surgery as soon as possible. "I had been playing in pain for so long, since the 2015 US Open, and I looked at Lindsay [Davenport] and I almost started crying. It was just devastating. In that moment I didn't think I was making [the pain] up or making it out to be worse than it was. That was the moment I thought I couldn't do this anymore. I need to fix this. I don't care if it's the middle of the season."
In her interview, she also mentioned that the doctor wondered "how was she even playing tennis" with her terrible injury plaguing her. Nonetheless, Keys was eager to return to the court after the surgery as she waited for the day that her stitches could be removed, with those 10 days being kept at home and unable to do any exercises being "insane" for her.
People around Keys originally thought that Wimbledon was out of the question for her, but she was so determined to play on her favorite surface, "The first couple of days after the surgery, everyone was assuming Wimbledon was off the table. I was like 'Hold up'. If I was grinding through red clay and I miss the grass season, I'm going to kill everyone. I was in lots of pain on clay, it's my least favorite surface, and I didn't do very well. And now you're telling me that I'm going to miss my favorite surface? Not happening."
Eventually, Keys managed to get on the plane for the All England Lawn Tennis and Croquet Club! "So everyone agreed to let me try with the agreement that, if we get there and you can't hit backhands and it's hurting, you'll pull out. I was like, sure! That sounds like a great plan! But we can go, right? So I had 7-8 days straight of working out and hitting, and then we were on the plane."
Wimbledon is certainly Keys' favorite tournament out of all, saying that, "This is one of my favorite places to play. You would have to steal all my racquets. I would probably just call Wilson and ask for more. You would have to come up with so many ways to keep me away." Entering Wimbledon, Keys had no expectations at all, mentioning that she was really happy to play pain-free and healthily. Eventually, the American achieved a second-round result there, falling to Camila Giorgi in a tight three-set encounter.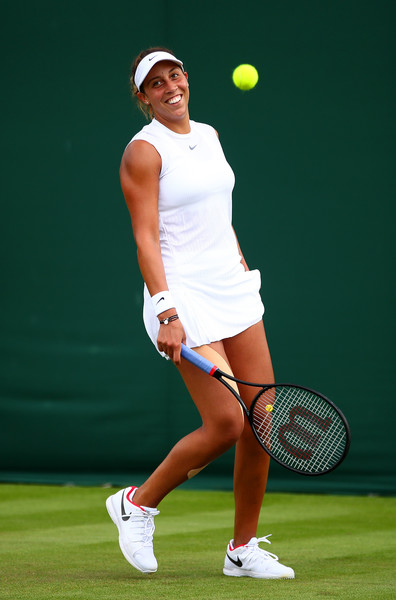 Start of an impressive summer
Madison Keys had an excellent start to the US Open Series, claiming the title at the Bank of the West Classic out of nowhere. Defeating top seed and Wimbledon champion Garbine Muguruza in the semifinals, breaking her nine-match winning streak, the American went on to defeat good friend and compatriot Coco Vandeweghe in the final for her first ever WTA hard court title, sealing a dream tournament for her, something that she would not have expected at the start of the week.
Once again, the WTA Insider caught up with her and Keys was absolutely delighted with her scintillating win, "Finally, I feel like I'm on a good path and everything is coming together. It's absolutely amazing." Keys also credited her mentality for her triumph, about how she kept her focus on each point and play smartly, staying composed throughout the whole week and keep expectations low.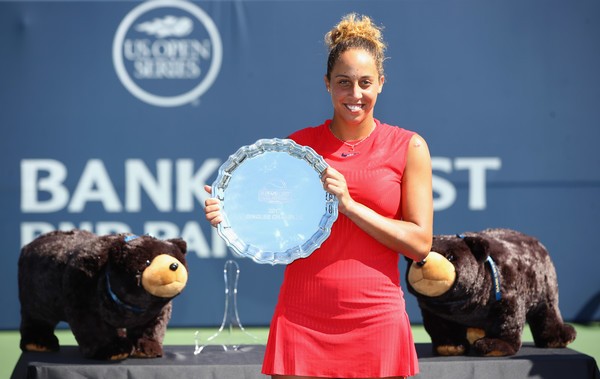 Playing in her home country, there were definitely lots of support for Keys but it was her coach, Lindsay Davenport's words which helped her the most. Definitely, the Davenport-Keys partnership seems to be doing very well!
Withdrawing from the Rogers Cup to prevent any overplaying, another good result followed as she reached the third round at the Western and Southern Open. Outgunning Vandeweghe in a rematch of their Stanford final, Keys defeated Daria Kasatkina in 50 minutes losing just three games in the process as she set up another meeting with Garbine Muguruza. This time, she earned three match points but failed to convert any as the Spaniard went on the claim the title later in that week. Nonetheless, it was an impressive performance from Keys yet again.
US Open run
Keys' US Open run could not be described with any superlatives. It was just simply, amazing. Her path to the final was relatively difficult, having to defeat three seeded players along the way. Facing one of the most dangerous floaters in the opening round, she fended off the tough challenge of Elise Mertens in straight sets.
More impressive results followed for the American after she ousted 17th seed Elena Vesnina and fourth seed Elina Svitolina in three sets, coming back from a 2-4 deficit in the decider against the higher-ranked Ukrainian. Keys played some of her best tennis in her career in the latter stages of the tournament, defeating Kaia Kanepi in 69 minutes and Vandeweghe for the third time this year in just 66 minutes to reach her first ever Grand Slam final.
Nerves got to her in the biggest match of her career against Sloane Stephens, losing eight consecutive games from 3-4 to fall in straight sets as she was unable to find her rhythm at all. Nonetheless, it has been an incredible run for Keys, who said that she would not have believed anyone who told her that she would be the runner-up at the US Open just before her second wrist injury.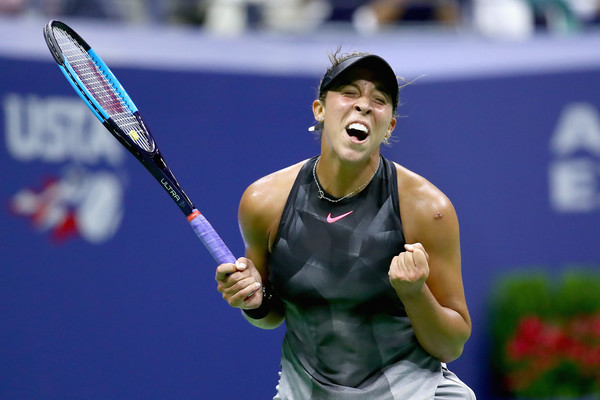 Speaking about her loss, Keys was optimistic about the future, "I think I mostly learned that I'm a fighter. No matter what, I can figure things out. In a couple of days, I will be really happy, but right now still a little bit disappointed." From being a young teenager who was exposed to the limelight back in 2013 after a win over Li Na, Keys is now a Grand Slam finalist four years later speaking with so much maturity and confidence.
Despite losing in the final, Keys mentioned that she was really happy for her good friend Sloane Stephens, "We have known each other for so long and we have been through so much that we wanted to share that moment with each other. To be able to share my first Slam experience with a really close friend when it's also her first Slam is a really special moment. Again, if there was - there's no one else in the world that would have meant as much as it did." The American showed great sportsmanship and her words were the perfect representation of class and respect.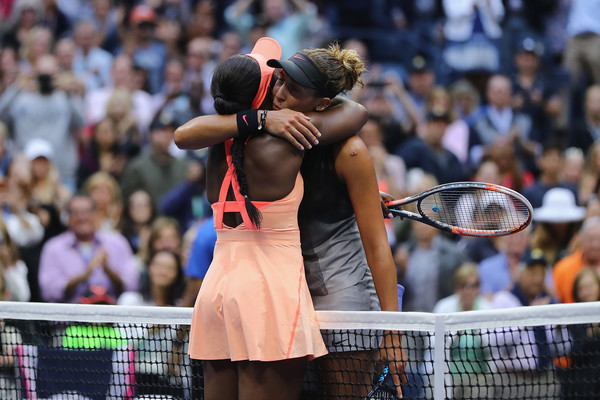 Certainly, what a comeback it has been for Madison Keys. With her impressive summer run, she is up to 12th in the rankings and is currently 14th in the Porsche Race to Singapore leaderboard, allowing her to be in pole position to qualify for the WTA Elite Trophy at the end of the year. From being unable to use her left wrist for her daily activities to reaching the final at the US Open in just a mere two months, that could just summarize how unbelievable her comeback was.
Can Keys be considered as a comeback player? Perhaps. Can she follow up her results? Perhaps. All these questions are things we are uncertain about, but the only thing we know is that: This girl is going somewhere with her strong and positive mentality.