The Brazilian Guilherme Clezar has been fined for an offensive gesture he made during Brazil's Davis Cup World Group play-off tie with Japan in Osaka.
The world number 244 directed a racist gesture towards a line judge after successfully contesting a line call during his opening singles rubber against Yuichi Sugita.
The International Tennis Federation (ITF) fined Clezar $1,500 for "unsportsmanlike conduct" after TV cameras had spotted the remark.
Written apology
"The incident was reported after the match and the TV footage was then reviewed by the tie referee," read a statement from the ITF.
"Clezar issued a written apology. The ITF condemns all forms of offensive behaviour."
Clezar, who lost the tie 6-2, 7-5, 7-6(5), formally apologised via the Brazilian Tennis Confederation's Facebook page.
He said: "We have been extremely well received here and I have an excellent relationship with all tennis players from many different countries in the circuit.
"Even though I didn't mean any prejudice, I recognise the gesture doesn't ring true with the attitudes of respect, enthusiasm, solidarity, emotion and many other things that sport means to us and I want to express my regret and my most sincere apologies.
"I want to underline that I never had the slightest intention to be aggressive, racist, prejudiced or anything of the type against Asian people."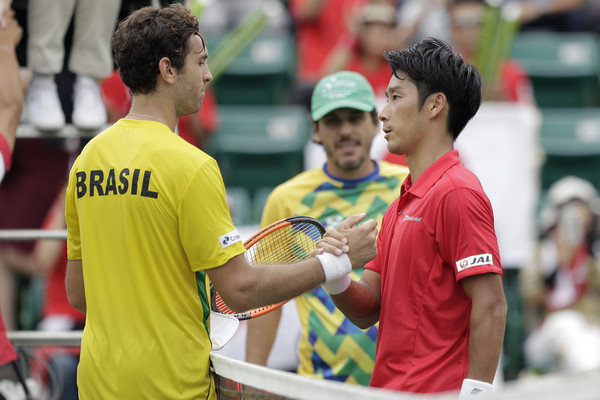 Perfectly poised
Earlier this month Italian number one Fabio Fognini landed himself in hot water when he slung derogatory remarks towards a female umpire at the US Open.
Go Soeda rubbed salt into Brazilian wounds when he outlasted Thiago Monteiro, 3-6, 6-4, 6-3, 6-7, 6-4, to double Japan's advantage later in the day.
Bruno Soares and Marcelo Melo will aim to reduce the arrears for Brazil when they face Ben Mclachlan and Yasutaka Uchiyama in the doubles rubber.
Should Brazil pull one back Sugita will have the chance to seal the tie for Japan against Monteiro.