It was a cool Monday morning when Steven de Waard arrived at the Hollyburn Country Club to make last-minute preparations before hitting the court for his first-round match at the Odlum Brown VanOpen in Vancouver. De Waard, a 26-year-old Australian doubles specialist born and raised straight out of Brisbane, had arrived just days earlier from another ATP Challenger in Aptos, California, when he met up with compatriot Marc Polmans in Vancouver, his long-time friend and partner for the week.
For two days, preparations couldn't have gone any better: de Waard had settled into living with his housing family for the week—a cheaper and more practical alternative to hotels for players who are looking to save a few bucks on accommodations—and he and Polmans were looking back to their clinical best in practice heading into the tournament as the number three seeds.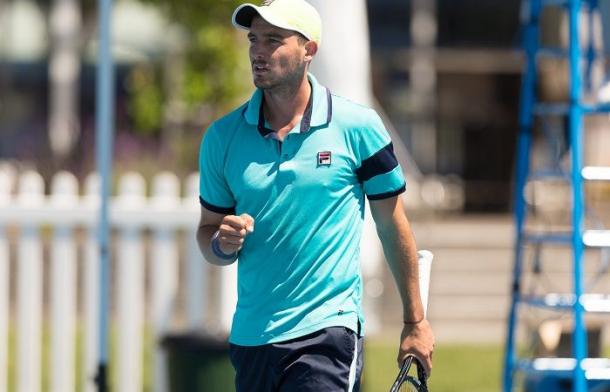 And then the pain started: a dull, localized pain in the right lower quadrant of his abdomen.
At first, it seemed to only present itself in mild bouts, with de Waard passing it off as nothing but a simple stomach bug that would probably subside overnight when he went to bed on Sunday.
With the match the first thing on his mind the next day, de Waard was given a rude awakening with the same stomach pain, which had neither improved nor worsened with a good night's sleep, but still opted to have a normal breakfast before heading to the Country Club. "When I arrived at the centre, I knew I wasn't feeling right but decided to try and hit anyway," he recalled. "I felt fine when I was moving but immediately felt the stomach discomfort once I had finished."
With a couple hours left to kill before his match, de Waard felt it would be best to "lay low" until it was time to warm up with Polmans, but only seemed to feel increasingly nauseous, which inhibited his ability to eat prior to the match. A visit to the tournament doctor revealed he showed general symptoms of early-onset appendicitis, but the doctor felt he showed more signs of a common stomach virus.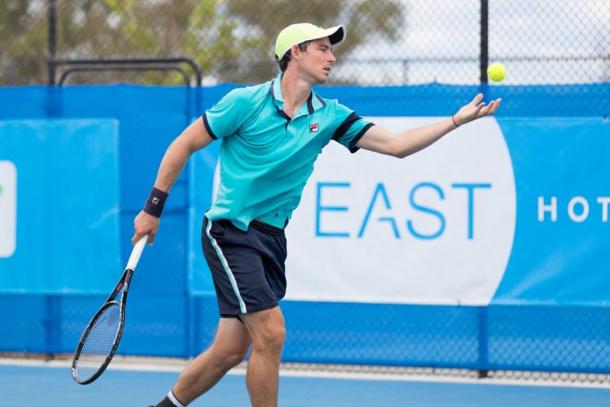 Because of that, de Waard would take to the court that day in a significant amount of discomfort, but much to his delight, he and Polmans were able to power their way to an easy victory in just 52 minutes, sparing him the stress of battle that day. Interestingly, it was on the court where de Waard experienced the most comfort he felt in days, only to later realize it was likely just his adrenaline that was keeping his mind off his stomach and deteriorating health.
But once he left it, reality began to set in—and it was far from pretty. Feeling increasingly nauseous as the day progressed, de Waard would return to the tournament doctor the next morning in considerable pain and was immediately diverted to the Emergency Room at Royal Columbian Hospital, where preliminary tests revealed what had initially been suspected: appendicitis.
Due to the progression of the illness and the amount of obvious discomfort he was in, surgeons felt it would be best for de Waard to go under the knife that evening, as he explains. "Basically, my appendix had become infected and that it was starting to become inflamed," he said. "If left untreated, the appendix can rupture under this pressure and spread infectious materials into the abdominal cavity; which, if left untreated, can be fatal."
Thankfully, the surgery went smoothly without any complications, meaning that the Australian was able to start his recovery the next morning out of the hospital, which was some of the best news he heard in days. The bad news? Since he was unable to afford any travel insurance before hitting the road, de Waard was left with a medical bill that totalled more than $14,000 CAD, which was—in his own words—"almost as difficult to stomach as the pain from the surgery."
With his mind already set on recovering as soon as possible in order to return to his biggest source of income, de Waard turned to an unlikely source for support, which has in turn given him a boost and further motivation to get back on the court. "I was extremely lucky that the organizing committee at the Odlum Brown VanOpen created a GoFundMe account to help raise funds for my medical bill," the 26-year-old explained. "I am extremely thankful for their support as I am not one who likes to ask for money, however, in this circumstance I feel as though I may have gone down the same path regardless."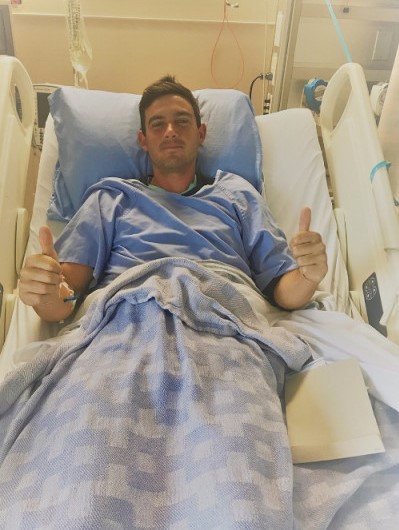 "As a tennis player who is not sponsored and does not come from a wealthy family, all of my prize money goes straight back towards my tennis—be it travel, hotels, restringing costs, apparel, food, grips, et cetera," he continued. "Unfortunately, these are all things I must look out for and the cost quickly adds up—this is why I didn't have medical travel insurance [in the first place]. I just didn't have the funds to consider acquiring it!"
Without the help of the GoFundMe page, de Waard says there would be no way to pay the bill off himself without needing to go back on tour full-time, especially with more than $9,000 in debt left to pay off on his credit card. Despite being unsure of how many people would actually consider donating to his cause, the Australian has—with the help of his friends, fellow players and some very generous fans—raised more than $7,000 since opening the page just on August 29, which is almost halfway to his goal of raising enough to cover his entire bill.
With the comfort of knowing he has earned the support of numerous fans, de Waard has since been dedicating all of his time and energy to his rehabilitation. After his housing family generously allowed him to stay five days after his emergency operation, de Waard has since returned to Australia and is preparing for a return next month, gradually working his way back into the sport that has been a huge part of his life for the last 18 years.
Now five weeks after his operation, de Waard is finally back on court full-time and has begun to do basic training in the gym, without putting too much stress on his abdomen yet, in the hopes of returning by October 2nd at an ATP Challenger in either Kaohsiung, Taiwan, or Monterrey, Mexico.
Looking at de Waard's story, one might wonder how someone, who has admittedly yet to fulfill his potential and truthfully struggled to break even throughout his career, would have the passion and motivation to travel from city to city week in and week out and perform well in the hopes of accumulating enough ranking points and prize money just to get onto the ATP World Tour, let alone even think about winning matches on the main tour.
For de Waard, his answer is quite simple, knowing that he is still a long way from where he wants to be: "Being a professional tennis player is my dream, and I'm going to do everything in my power to turn it into reality."
Help Steven turn his dream into a reality by donating to his GoFundMe page today by clicking here.