After losing six finals earlier in the season, Caroline Wozniacki's quest for a first WTA title of 2017 came to an end on Sunday, with the former world number one beating Anastasia Pavlyuchenkova in straight sets to successfully defend the Toray Pan Pacific Open title.
Wozniacki, who also won her first title of 2016 in Tokyo, had failed to win a set in any of her finals previously this season, though bageled Pavlyuchenkova in the opening set and then broke at the end of a tougher second set to seal a 6-0, 7-5 victory in an hour and 13 minutes and take the 26th WTA title of her career.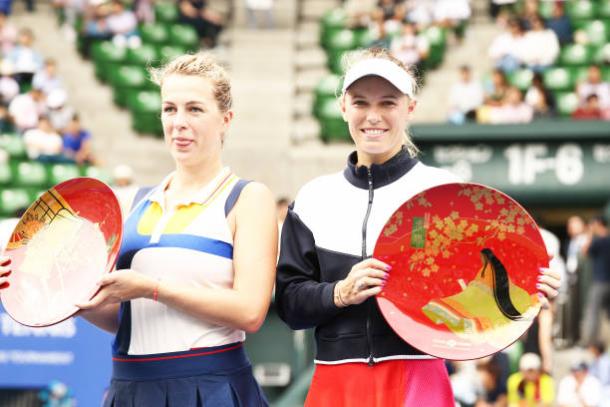 The victory in Tokyo is fairly significant for the Dane, with Wozniacki in an increasingly strong position to qualify for the WTA Finals, which is just four weeks away, whilst a good run for the Russian increases her chances of playing at the Elite Trophy in Zhuhai. Both her and Pavlyuchenkova are next set to play in Wuhan, which takes place next week.
Wozniacki eases past Pavlyuchenkova to keep Tokyo crown
The third seed beat unseeded Naomi Osaka in the final last year and faced another unseeded player in Pavlyuchenkova today. After six losses in finals this year, there were doubts that whether Wozniacki would fail to win a title for the first time since 2007, though the Dane impressed today to extend her title-winning run to ten consecutive seasons.
The former world number one got off to the perfect start, breaking in the Russian's opening service game and remaining solid on her own serve to take an early 3-0 lead. Pavlyuchenkova was not playing as well as she had to beat Angelique Kerber in the semifinals, and the Russian continued to struggle as the defending champion took two more games to take a 5-0 lead. Pavlyuchenkova was continuing to struggle, and a superb passing shot by the Dane saw her convert her first set point.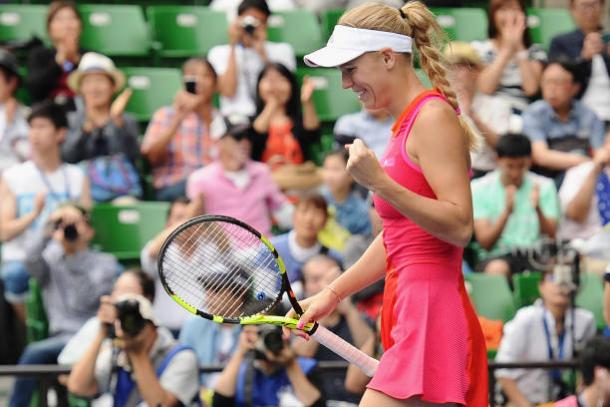 Wozniacki had cruised through the first set, though there was a sense that the second set could be a lot tougher when the Russian held for the first time to get on the scoreboard. Despite being tested a little more with Pavlyuchenkova playing fairly well now, the defending champion was extremely solid on her own serve, not facing a break point throughout the whole match, and forced a championship point when Pavlyuchenkova was serving down 4-5. The Russian managed to save that, though the Dane applied the pressure once again and converted a third championship point two games later to win the title in Tokyo for the third time.
The Dane put together a well-rounded performance, winning 73 percent of points in her own service games and also managed to win 48 percent of points on Pavlyuchenkova's serve; the Russian won just 27 percent of points when Wozniacki was serving, whilst the Dane won more than 70 percent of points on both her first and second serves Wozniacki's run this week puts in a good position for the rest of the season, and potentially a first WTA Finals berth since 2014.