Playing for a title is never easy; playing for your first title is even more difficult. Experience favored Fabio Fognini; however to claim his sixth singles title required that he was physically fit enough to withstand the challenge of Damir Dzumhur. The Bosnian was clearly nervous; however, it's probably fair to say they were both nervous as each struggled to hold their opening service game. Dzumhur would be under more pressure in his second service game and he fought off three break points before Fognini finally got the break lead. The Italian looked comfortable despite his heavily taped left knee. Serving to stay in the first set, the Bosnian lost his focus and was broken to give the first set to his opponent.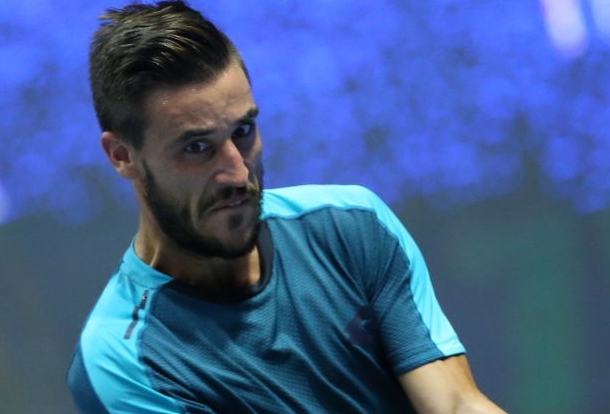 How would Dzumhur respond in set two?
He started the second set much cleaner, holding his first two service games relatively easy. Fognini, in contrast, did not capitalize on the energy of winning the first set, perhaps the result of his injured knee. In the fifth game, he double-faulted twice and Dzumhur grabbed his first break of the match. If Fognini wanted to win this match, it was imperative to do so in straight sets, his injury would not allow him to be victorious in another three-set battle. He broke back immediately; however, it was evident that he was struggling to push off on his leg and his serve was adversely affected. On the ninth game, Dzumhur's defensive skills paid more dividends and he got an insurance break.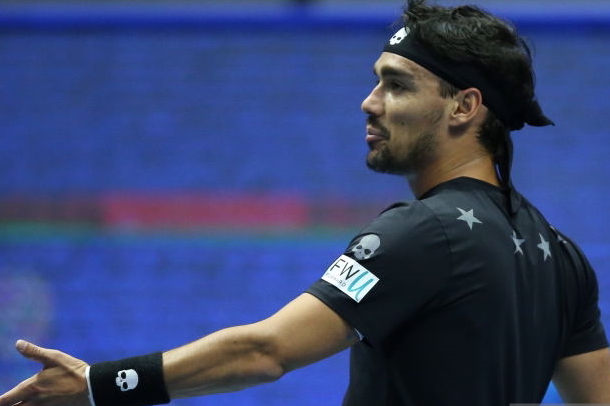 Fognini no match for the determined Bosnian
His injury was now a factor and the Italian despite not retiring physically, was no longer mentally present. After a visit from the trainer and leaving the court, he returned with little enthusiasm. There was no belief that he could come back from this deficit and it showed in the effort put forth. He was broken in his first service game and it was inevitable that he was going to lose the match. His only hope was the mental collapse of his opponent and the Bosnian was not about to oblige. In the seventh game, Fognini was 40-15 up; yet, he managed to lose serve. That was the crucial break the Bosnian needed.
Would nerves play a role in the end?
The match was on his racquet. Now more than ever Dzumhur was feeling the pressure of the occasion; however, there was no evidence on nerves from the Bosnian though and it also helped that there was very little resistance from his opponent in the final game. He served it out with ease and won the match 3-6, 6-4, 6-2 to claim the St. Petersburg Open title and deny Fognini this title once again. Would it have been a different outcome if Fognini was not injured? Perhaps!