Chinese number one Peng Shuai thrilled her home crowd at the Wuhan Open on Monday, battling past defending champion Petra Kvitova in a thrilling opening round contest in which every set was decided by a tiebreak and turned out to be the longest WTA match of the season so far.
Taking place on Centre Court, Shuai saved multiple set points to edge the opening set and went a break up in the second set, only for Kvitova to rally back and take the match to a deciding set. The Czech, who has won the tournament twice in its three-year history, was twice a break up in the final set and broke when Shuai served for the match, though the Chinese proved too strong as she prevailed 7-6(7), 6-7(5), 7-6(3) after a staggering three hours and 34 minutes.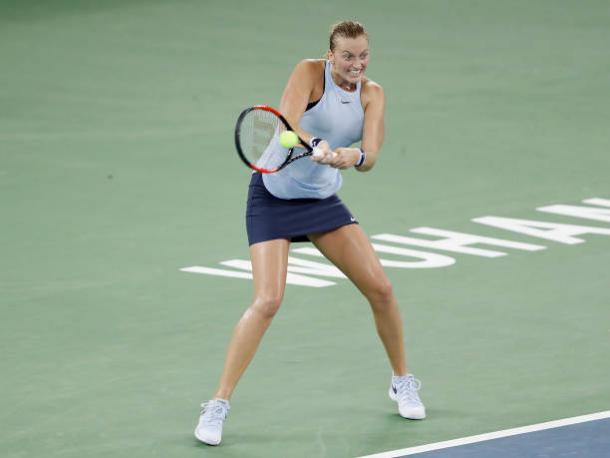 Shuai, who has won a title on home soil this year, back in Nanchang earlier in the summer, now faces a quick turnaround, with the Chinese set to face Monica Puig on Centre Court tomorrow afternoon. Meanwhile, Kvitova will now head to the China Open in Beijing where she will look to bounce back from this week's early loss.
Shuai edges past defending champion in mammoth battle
There was a sense before Shuai and Kvitova took to court that this would be a tight encounter, though very few could have predicted that it would be one of the longest matches in recent years.
Kvitova got off to the best start, breaking early on with for a 3-2 lead, though it did not take too long for Shuai to break back and even up proceedings. With very few chances throughout the remainder of the set, the first of three tiebreaks ensued, and it was the Czech who took control, securing an early minibreak and holding three set points at 6-3. However, the Chinese took six of the next seven points, taking it 9-7.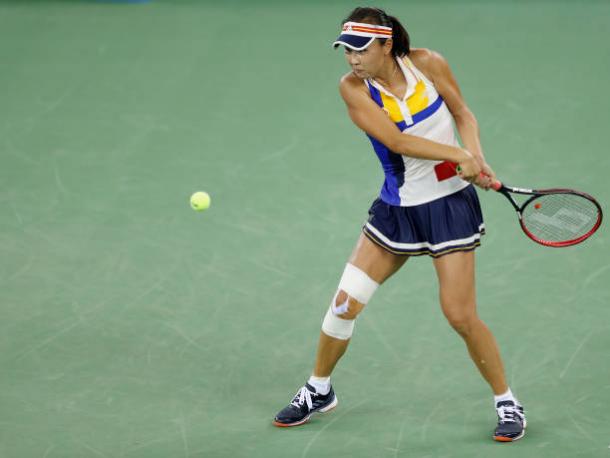 After such an impressive end to the second set, Shuai was undoubtedly the more confident heading into the second set, and that showed as she broke and was just two games away from victory at 4-2. It was Kvitova's turn to rally this time, taking three games in a row to get back on serve and eventually she forced another tiebreak. Just as in the first set, she secured an early mini-break, though this time held on, converting a third set point to take the match to a decider.
The final set proved to be extremely nervy on, with Kvitova breaking twice only to be immediately broken back by Shuai both times; it took Shuai a seventh break point in one game to level up. It was the Chinese who took the initiative breaking for the third time and she served for the match at 5-3, though Kvitova broke back and eventually a final tiebreak ensued. This time it was the Chinese who got the best start, and eventually, she pulled through for one of the best wins of her career.