 The highly anticipated encounter at the Wuhan Open between world number one and Wimbledon champion Garbine Muguruza and French Open champion Jelena Ostapenko did not disappoint, with the latter prevailing in three sets to reach the semifinals.
The match was not always high quality, with the two combining to hit well over 50 unforced errors, though there was plenty of drama, with Ostapenko rallying from a poor first set and then a break down in the final set to seal a 1-6, 6-3, 6-2 win in an hour and 57 minutes. The Latvian won the final six games to record her first ever win over a world number one player.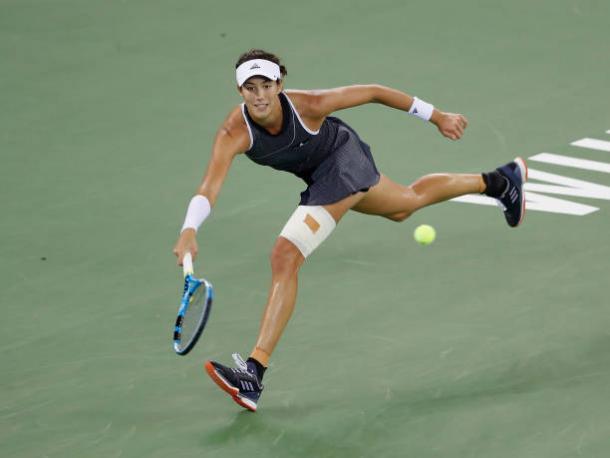 The loss will undoubtedly be disappointing for Muguruza, whose quest for a first title as the world number one will continue at the China Open next week, though the Spaniard cannot say she had no opportunities, having dominated the opening set and missing an open court at 2-0, 30-30 in the final set which would have handed her a point for a double break. In contrast, Ostapenko, who has now won her past eight matches following her run in Seoul last week, will be impressed with how she finished the match and is now arguably the favorite for the title; the Latvian will face Ashleigh Barty for a place in the final.
Ostapenko struggles early on but fights back for impressive victory
There was undoubtedly a lot of interesting in this match, with the two having not met since Ostapenko's French Open triumph or Muguruza's triumph at Wimbledon, though it was the eighth seed who was able to maintain her fine run of recent form.
The early stages, however, suggested it would be Muguruza who would be in complete control. The top seed broke early for a 2-1 lead, and with Ostapenko spraying errors all around the court, the Spaniard was able to secure a double break lead and holding for a commanding 5-1 advantage. The eighth seed was not able to deal with the consistency the world number one fought against her with and was broken for a third time as Muguruza sealed the opening set in fine style.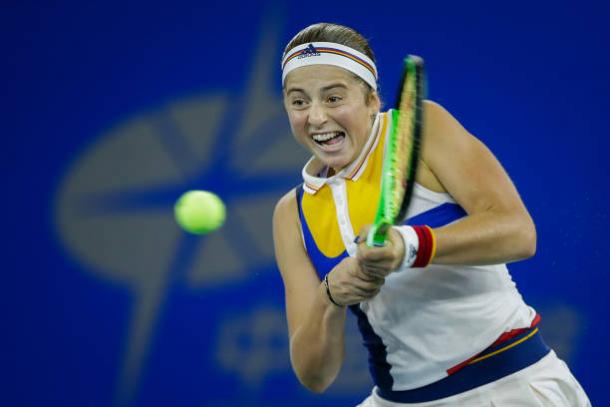 A quick response was needed from Ostapenko, and she was able to get that as she held for a 3-1 lead in the second set after three opening breaks. Muguruza, perhaps buoyed by her performance in the first set, was able to break back and even up proceedings at 3-3, though the Spaniard was no longer playing as well as she had in the first set and was immediately broken once again. Ostapenko consolidated for 5-3 and decisively applied the pressure as she broke to send the match to a decider.
The Latvian was not able to maintain her momentum early on in the third set, falling down a break, and may have fallen a double break down had it not been for that shocking miss by the Wimbledon champion in the third game. Ostapenko was able to hold there and then began to raise the pressure as she then broke twice in a row, holding each time to secure a 5-2 lead. Muguruza was now struggling with the improved Latvian and though she was able to save one match point serving to stay in, she could not save a second as a ferocious forehand clinched Ostapenko a semifinal berth.