 Two hard-hitting lefties from the same country faced off in the opening round of the China Open held in Beijing as the former world number two Petra Kvitova ousted compatriot Kristyna Pliskova in straight sets, losing just a total of 16 points behind her serve today. The experienced former Wimbledon champion was very impressive behind her first delivery, claiming 87 percent of points off her first serves as compared to just 71 percent for Pliskova.
Tight start to the match
Kvitova made the risky decision to start the match serving as she looked shaky in the early stages, spraying out unforced errors but still managed to clinch the service hold in the first game. Pliskova then followed suit with another comfortable hold of serve, which soon became a norm in this encounter between two big servers. Coming into this contest, most already predicted this to be a tight match with both looking for loopholes on the return to make a breakthrough. It turned out to be the exact same case, with no breaks of serve in the opening five games.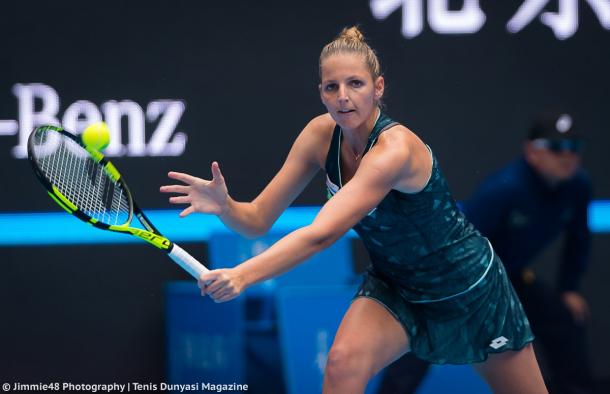 Kvitova clinches the first set
Nonetheless, Kvitova finally found the first breakthrough in the sixth game as the elder Pliskova twin failed to find her first serves in that game, losing all the rhythm on her serve. Kvitova, being the aggressor she is, brutally punished those second serves and jumped out to a 4-2 lead. The higher-ranked Czech then easily consolidated the break, placing herself just one game away from winning the first set.
Fending off two set points, Pliskova provided some tough fight and narrowly held her serve to stay in the set, forcing Kvitova to serve it out. Just as her serve has been like throughout the encounter, Kvitova had no problems serving it out and eventually clinched the first set 6-3 after 35 minutes of play.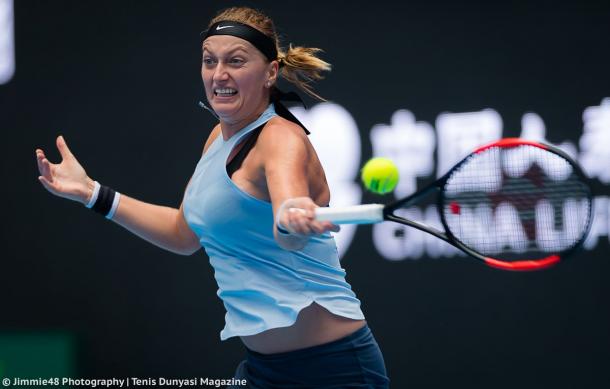 Pliskova overcomes early struggles
Pliskova had a very shaky start to the second set but managed to produce some great serving to ultimately seal the service hold and embarked on her pursuit for a third set on a positive note. Kvitova still remained more solid than ever on her serve, having lost just seven points in six service games. A rare exchange of service breaks followed as both players suffered a slight disrupt to their rhythm before it went back to the way it should have been: consecutive service holds.
Kvitova claims the win
The younger Czech saved a break point in the seventh game with six straight holds of serve to see the scores tied at 5-5. However, Pliskova failed to remain composed at the most crucial moment of the match, being broken in the 11th game of the set with a net cord going against her. Kvitova earned the chance to serve out the match, and successfully sealed a place in the second round with a straightforward 83-minute win over her compatriot.