British number four and current world number 108 Daniel Evans has been suspended from professional tennis for one-year by the ITF dating back to April 23rd. The 27-year-old will be available to compete once again on April 24th, 2018.
Cocaine mixed with washbag
According to the ITF decision announced on Tuesday, Evans said "leftover" cocaine had accidentally mixed with permitted medication in the "same pocket of his washbag".
He said he took those tablets daily from 20 April 2017 to 24 April 2017, the date on which he provided his sample.
It was successfully proven by Evans' expert, Dr. Pascal Kintz, that the amount of cocaine ingested by Evans was no more than 1‐3 mg - a quantity "inconsistent with knowing ingestion and consistent instead with inadvertent contamination".
ITF statement
"A sample was found to contain cocaine and its metabolite," a spokesman said from the ITF.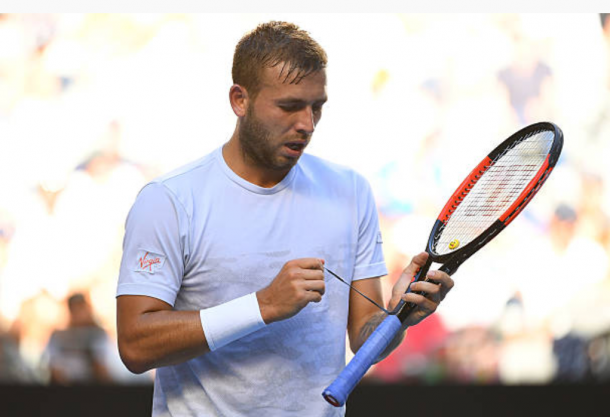 "A decision has been issued under the Tennis Anti-Doping Programme that Daniel Evans has committed an Anti-Doping Rule Violation under Article 2.1 of the Programme. It was agreed that a period of one year's ineligibility should be imposed, commencing on 24 April 2017.
"The ITF accepted Mr. Evans' account of how the cocaine got into his system and that he bears no significant fault or negligence for the violation."
"I made a mistake"
Evans had accepted the charges that came his way and also regretted his action by saying "I made a mistake and I must face up to it and serve my punishment."
Birmingham-born Dan Evans enjoyed his best run at a Grand Slam by defeating Marin Cilic en-route to making the last 16 down under in Australia in January.
In 2015, he helped the Great Britain team win the Davis Cup as well as being ranked a career-high of number 41. But, the Brit hasn't played a professional match since June of this year at the Surbiton Challenger and has struggled with a number of off-court issues.