 Alexander Zverev blew past Fabio Fognini, 6-4, 6-2, in the last 16 of the China Open. The 20-year-old needed only an hour and 12 minutes to seal his route to the quarterfinals in Beijing where he will face the talented 19-year-old Russian Andrey Rublev.
Fognini was visibly discomforted by a shoulder problem but he made a fist of the contest during the opening set. Crucial errors, however, plagued his performance and Zverev ran away with the match in set two. The German dispatched Fognini en route to his Masters 1000 title in Rome earlier this year and he will be hoping his victory over the mercurial Italian is another promising omen.
Topsy-turvy
Almost immediately Zverev had Fognini on the ropes as he carved out a triple break point opportunity. The Italian staved all three off and his offensive capabilities were on show as he threatened during the German's opening service game.
Zverev required five minutes to equal at 1-1 and the pair appeared to be settling into a rhythm just as the German sized up his opportunity. Pounding Fognini off both wings, Zverev fashioned a break point and converted with aplomb: approaching with an intelligent slice that the Italian could only dump into the net.
He consolidated with a hold to 30 but Fognini rallied, bringing the crowd to their feet with an exhibition of A-grade tennis. A well-crafted lob forced Zverev into the tweener shot which the Italian punished at the net. But the energy he invested in recovering the break mattered little when he gifted Zverev the initiative in the ninth game. An errant forehand - when it appeared easier to miss - opened the door for the 20-year-old and he grabbed the crucial break with an untimely double fault from his opponent.
The curtain was drawn on set one after 41 minutes and the second frame saw Zverev move from strength to strength.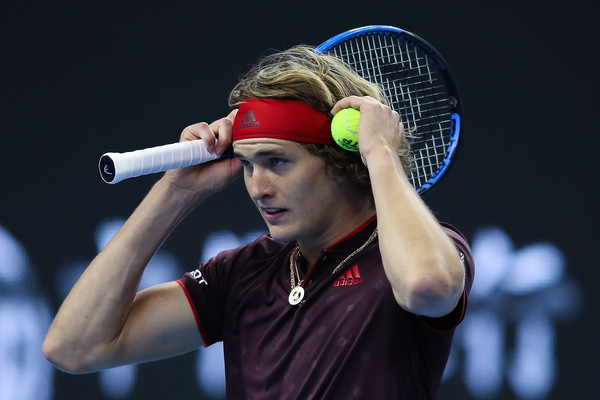 All business
On serving until the third game Zverev was grinding the 30-year-old down with his menacing groundstrokes before break points arrived on Fognini's serve. He squandered the first two to his visible displeasure but he gobbled up the third, dragging the St. Petersburg finalist from pillar to post before he netted a backhand from the doubles lines. Fognini saw no route back.
The Italian yet again crumbled facing break point in the fifth game before Zverev held confidently for a 5-1 buffer. The Italian fired out an emphatic hold to love to force the German to serve his way into the last eight and Zverev, with commendable professionalism, took up the offer. The superlatives have been churned out for the 20-year-old all year but no-nonsense displays like today only heighten the sense of anticipation around him.