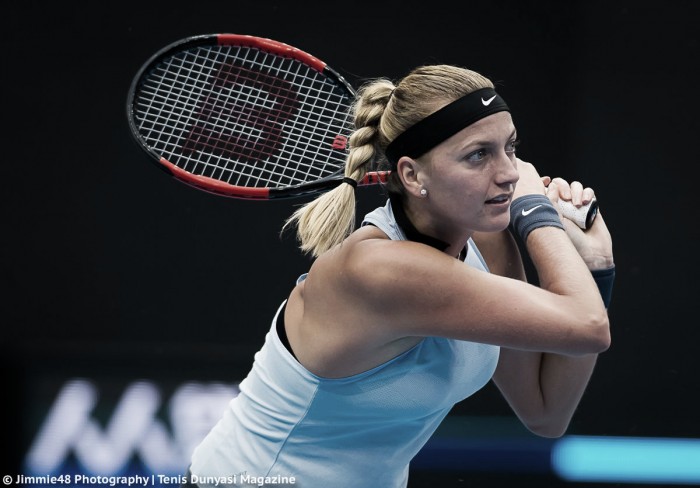 Petra Kvitova lived up with the good form showed so far at the China Open, defeating 6-3, 6-4 Barbora Strycova. Kvitova has still to drop a set in Beijing, and she's coming from a very important win against Tokyo champion Caroline Wozniacki.
The Czech didn't show a performance as good as the one against the Dane, nevertheless, she never lost control of the match, and never did give her opponent a concrete chance to turn the tables.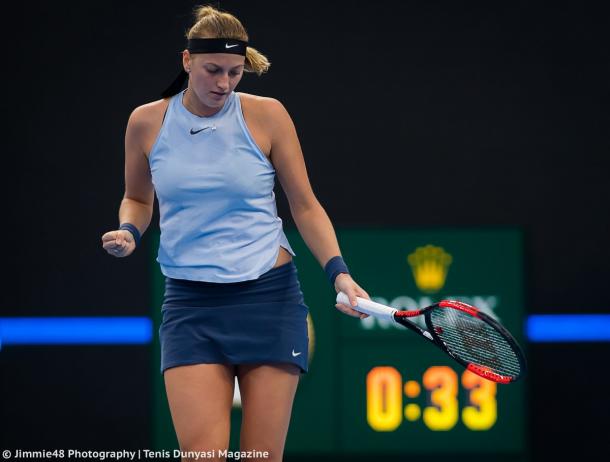 Kvitova clinches an early lead
The first set saw both players quite comfortable in their service games, but while Kvitova didn't give any chances until the end of the set, her opponent couldn't be quite as consistent, losing her serve in the second game, and consequently gifting Kvitova an early lead.
The players from then on stayed solid on their serves, and despite Kvitova couldn't show a great consistency - often alternating good first serves with too many double-faults, and hitting unforced errors - she still managed to succeed - as in the seventh game, in which she hit two double-faults, but still managed to hold for a 5-2 lead.
Serving to stay in the set, Strycova struggled again, and her opponent gained a first set point; Kvitova couldn't convert it, and Strycova managed to recover and hold to stay on track.
Serving for the set, Kvitova suffered a moment of a scare, in which she hit a double-fault and two errors from 30-0 up to give the fellow Czech the first break point of the match, and an opportunity to level the score. She saved it with a good first serve, and then signed two forehand winners to finish the game and the set, with the score of 6-4.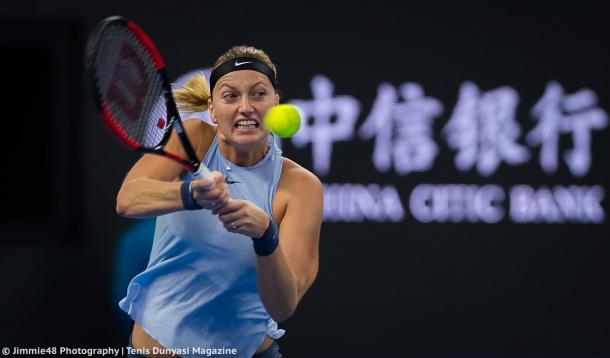 Kvitova survives scare, claims the match in straights
Strycova scored a better start in the second set, holding to 15 to lead for the first time in the match. Kvitova easily held as well, and then played a flawless game on return, opening up the court with deep shots and aiming at the lines to find a break point. She converted it to take the lead. A hold to 30 (only bothered by two double faults, the eighth and ninth of her match) secured the score to 3-1.
She was clearly in full control of the game, as she played another solid game on return, gaining another break point; she converted it opening up the court to hit the winner, and booked a double-break lead.
In the following game, she wasted a 30-0 lead with a double-fault and two backhand errors to give Strycova a chance to get one of the breaks back. She saved it with an ace, but another error gave her opponent a second one. With the eleventh double-fault overall (the first on a crucial point), Kvitova dropped her serve for the first time in the match.
Kvitova played a disastrous game on return and let Strycova hold; nevertheless, she found better consistency on her own serve, holding to 15 to interrupt the negative streak.
Strycova held to love for the first time, but it hadn't been enough at that point; serving for the match, Kvitova converted her second match point without giving any more chances, and booked the semifinal ticket with a final 6-3, 6-4 scoreline.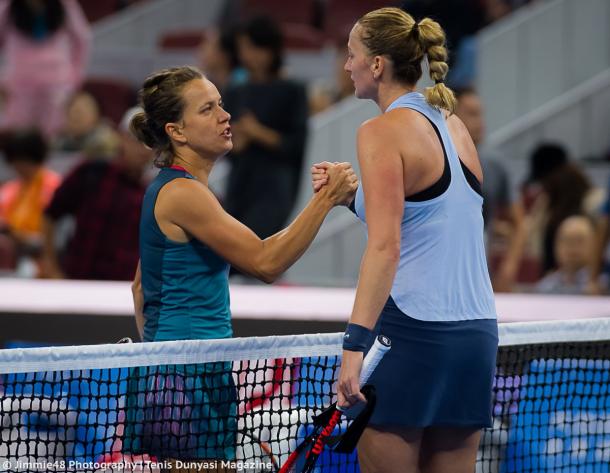 With both up and downs, it had been Kvitova who controlled the flow of the match; she hit 33 winners to Strycova's 8, but on the other hand, she has a record of 43 unforced errors to Strycova's 14, and 11 double-faults. Despite that, she seldom found herself in a real danger, being able to dictate the points with both first and second serve, staying aggressive to force her opponent to defend from behind the lines, and to open up the court to hit winners, giving her little chances to battle back.
Petra Kvitova will meet either Elina Svitolina or Caroline Garcia for a place in the final; she leads 6-1 the head-to-head with the Ukrainian, (who has only won their very first meeting, in Cincinnati in 2014), and she's leading 3 to 2 against Garcia - with a straight-set win in their last meeting, at 2017 US Open).