Australian Bernard Tomic ranked number 144 is more than likely needing a wildcard to enter the Australian Open come 2018. The 24-year-old has reached the second week on three occasions, 2012, 2015 and 2016. Following a bad year, Tomic has dropped rapidly in ranking and may not enter directly into Melbourne.
Bernard Tomic's decision lies with Lleyton Hewitt and Wally Masur
Now, his fate lies with Davis Cup captain Lleyton Hewitt and Tennis Australia Performance director Wally Masur to take a call about it. Speaking on the matter about whether he would need a wildcard, Craig Tiley said, "that's a good question, we have a long way to go ... there is still quite a bit of tennis to play before the end of the year. That's a bridge we will cross when we come to it. But, obviously, a lot has to happen in the next couple of months.' On ten appearances in the first Grand Slam event of the year, Tomic played qualies only in 2008, when he was 15."
Tomic, earlier this year opted out of representing the Green and Gold of Australia in Davis Cup this year and Hewitt hoped the one-time Wimbledon quarterfinalist could revive his career.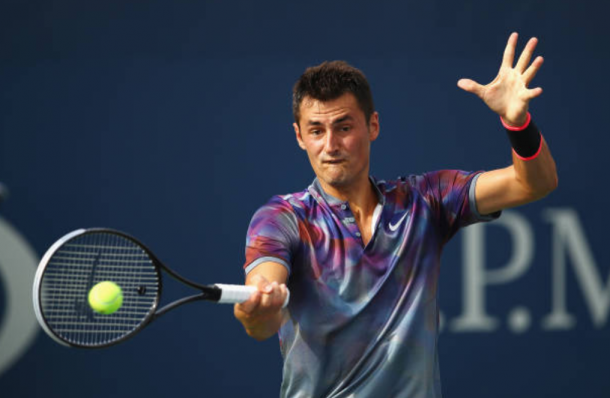 "I've had a few chats with him, so have a few people from Tennis Australia as well. I get along really well with Bernie," Hewitt said.
"Obviously I really tried to help him out a lot last year, in 2016, and it's been disappointing. It's pretty much been 12 months since about September 2016 that he's really struggled.
"I think the tennis community, especially Tennis Australia, would really love him to get back there because he's a quality top-20, top-25 player easily and his goal should be to try and get into the top 10 someday."
Craig Tiley expects Nick Kyrgios to be on top form
Tiley is expecting a lot from Nick Kyrgios, who recently reached the Beijing final, losing to Rafael Nadal in straight sets. "I was with him in the Davis Cup in Brussels and the Laver Cup [Prague] and he was brilliant. He was phenomenal. The type of tennis, the shots – I have been around tennis for a while – and I have never seen shots like Nick did", Tiley said.
"Obviously, he has to be consistent with that. We know that he loves playing in front of the Australian crowds. It's always going to be [the way with] Nick – I think we can expect the unexpected and I think that is what is exciting about his tennis.
But, certainly, the last month, how he has played, has been his best tennis."