 Karolina Pliskova looked in great form after she started her quest for the WTA Finals title in the best possible way, ousting Venus Williams 6-2, 6-2 in just over an hour. The Czech was booming with confidence and she now stands a good chance to qualify for the semifinals, as she is currently the top in her group based on the percentage of games won.
Nerves not a problem for Pliskova
Having benefitted from the experience last year, where she fell in the Round Robin stage on her debut, Pliskova mentioned that she was "feeling so much better than last year". Last year, the Czech was scheduled to start her campaign on Monday night, whereas this year she was scheduled to kick off the tournament alongside the legendary Venus Williams.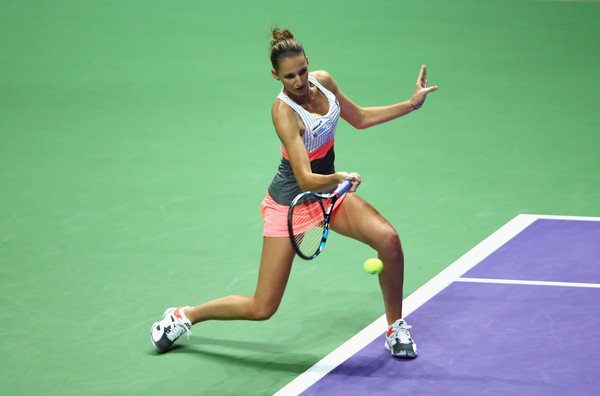 Just before the match, Pliskova claimed that "I wasn't sure about how I'm going to feel, if nervous or not, because still we are the first match on", but in her post-match press conference, she mentioned that she felt "pretty good".
Pliskova adapting well to the surface
Inevitably, a new surface would be relatively difficult to adapt for players who are making their first appearances in Singapore, such as Venus. Many players have particularly mentioned that the courts in Singapore are slow and it would be challenging for them to adapt quickly, but Pliskova had learned from her experience last year. "I think I had quite advantage from that she was not playing for last few years in WTA Finals, so I felt like a little bit more calm on the court than maybe she was. I don't know how she felt, but I think I was trying to take that advantage that I was here last year, you know, that I had some matches, I had some good practices this year. So like I said, I felt pretty confident. Even though we had two tough matches against each other and was just 1-All head to head, I felt like I had a good chance to win."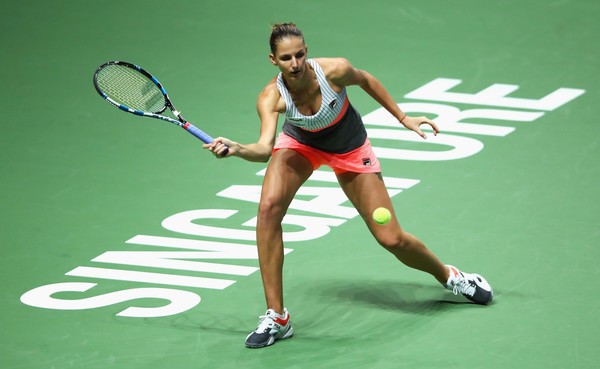 Pliskova pleased with her performance
It was a particularly impressive win for Pliskova, triumphing over the former world number one and seven-time Grand Slam champion 6-2, 6-2 in just over an hour, leaving most of the spectators shell-shocked as a tight match was expected. The Czech felt good about her victory and was pleased with her performance, thinking that "everything was fine with my game today". Certainly, Pliskova would have confidence in her game after that one-sided win which no one would have called before the match, claiming that "I think I was just little bit better today, even from the baseline, even on my service games, so there was no need to panic with anything in my game."
The win was relatively important, especially for such a format like the Round Robin stage. Furthermore, it would have given Pliskova the confidence in her next matches against Garbine Muguruza and Jelena Ostapenko. "So you always feel better -- I had the same last year, so you always feel more relaxed coming to the next matches that you have that one win so you don't feel that extra pressure that you have to get some wins, you know." Pliskova herself knew that the win was extremely important especially when past champions like Dominika Cibulkova and Agnieszka Radwanska claimed the title with a 1-2 win-loss record in their respective groups.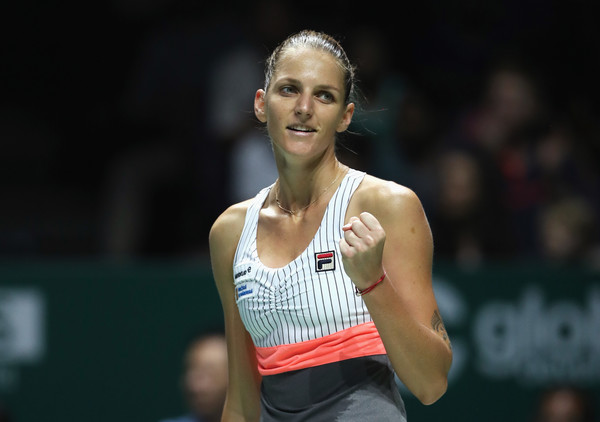 New coach: Stubbs look to provide some spark to Pliskova
However, the most notable event in Singapore concerning Pliskova was about her partnership was Rennae Stubbs. Pundits were in favour of this coaching relationship especially when Stubbs provided Pliskova with some good advice during their on-court coaching sessions, and mentioned that the Australian would be a good coach. Stubbs also worked on Pliskova's serve, with the Czech talking about it in her press conference, "Some different changes with my serve, different slice and some kick serves just to change the rhythm a little bit, which is basically -- that's the main thing for my game, so return and the serves. That's what we were focusing on."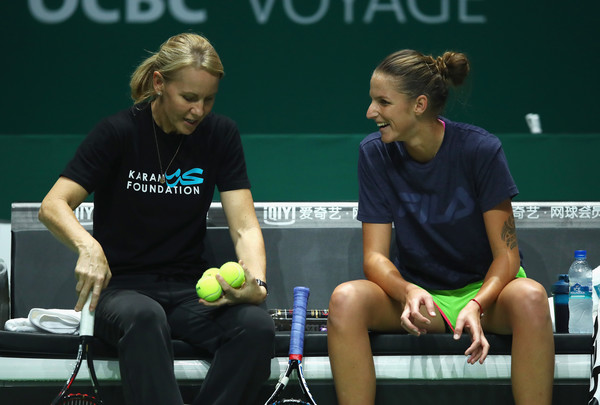 Pliskova was also full of respect for her legendary opponent, Venus Williams, who managed to qualify for the WTA Finals at the age of 37 for the first time since 2009. "I think they are both such big champions, you know. Even though Venus didn't get the Grand Slam this year, I think still she's on top of the game and she's playing -- you know, she got here, so she's one of the best eight players in the world." It was Venus' first appearance in Singapore but she faces a huge risk of facing elimination in the next round if she does not adapt to the surface quickly.
Next matches: Pliskova look to seal her place in the semifinals
The next round of Round Robin matches in the White Group will take place tomorrow, with the winners facing one another, while the losers of the opening day will look to get their first win of this year's tournament. Pliskova will go up against Garbine Muguruza while Venus goes up against Jelena Ostapenko.