 After dropping just four games in her opening round match, Karolina Pliskova was in impressive form once again, dropping just as few games as she eased past Garbine Muguruza and sealed her place as the first women through to the last four at the WTA Finals.
Pliskova and Muguruza have both been world number one in 2017, though it was Pliskova who was in control throughout this encounter, prevailing in just an hour and two minutes as she beat the Wimbledon champion 6-2, 6-2- the same scoreline she beat Venus Williams in her opening match of the tournament.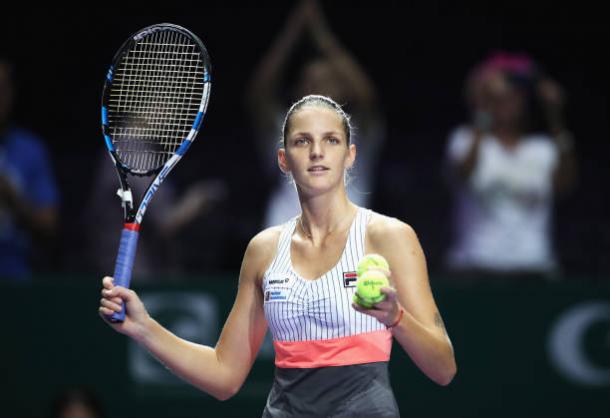 After a couple of months of inconsistent form towards the latter stages of the season, Pliskova is once again playing very well, and will be very happy with her level so far at the Finals. Losses to Agnieszka Radwanska and Svetlana Kuznetsova saw her crash out at the Group Stage last year, though after the best season of her career Pliskova is guaranteed a semifinal berth and will have nothing to lose when she faces Jelena Ostapenko.
Meanwhile, there is much more pressure on Muguruza. The Spaniard faces Venus Williams, who she beat in the Wimbledon final, on Thursday, with the winner set to finish in second place and join Pliskova in the last four.
Pliskova in control as Czech impresses once again
Both Muguruza and Pliskova had impressed in their opening matches, beating Williams and Ostapenko in straight sets respectively, though only Pliskova was able to bring the same level today, with Muguruza paying the price for putting in a sloppy performance.
It was Pliskova who took control in the early stages, breaking early and saving a break point as she eventually eased to a 4-1 lead in the opening set in Singapore. After losing the opening three games, the Spaniard had seemingly eased her way into the encounter, but failed to generate any more opportunities after missing that one break point, and was eventually made to pay; she handed Pliskova a set point at 2-5, and the Czech took it with a superb backhand return winner to seal the opener.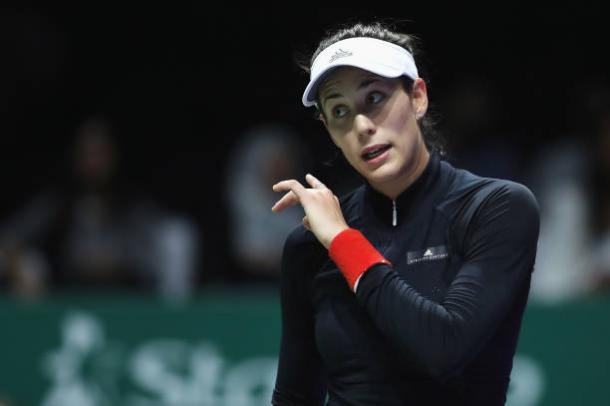 Muguruza needed a quick start to the second set and nearly got that as she forced a break point in the opening game, though Pliskova was able to save it and once again took control as she eased to a 3-0 lead. After slightly getting herself into the first set at this stage, the Spaniard was unable to do so this time, as a combination of some poor play by her and the Czech's high level seeing her fall 0-5 down. It was here that she showed some fight, saving three match points as she held and then broke the Czech, though that would be the last resistance as Pliskova broke to love to seal a 20th career top-ten win.