 Caroline Wozniacki continued her incredible run at the 2017 WTA Finals as she totally whitewashed world number one Simona Halep in straight sets on the fourth day of competition in Singapore, triumphing with a one-sided 6-0, 6-2 scoreline for her third win over a reigning top-ranked player in this year alone.
Wozniacki tops the group and enters the semifinals
Coming into the encounter with an excellent win over Caroline Garcia in her opening Round Robin match, Halep put in a lackluster performance today and was simply unable to find the momentum on her groundstrokes. Wozniacki defeated world number four Elina Svitolina in her first match, prevailing with the same scoreline as she played some incredible tennis in front of the enthusiastic crowd.
Tonight, the Dane continued to play her flawless counterpunching tennis, excelling in the Singapore Indoor Stadium as she all but sealed her place in the semifinals for the second time in Singapore. Wozniacki has now lost just four games compared to 24 games won in her two matches, showing how one-sided it was.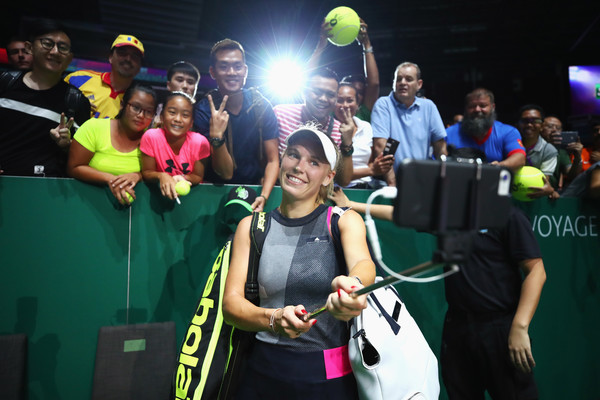 Great start for the Dane
Wozniacki came into the match firing and she opened the match with a confident service hold, carrying her momentum over from her first win. Halep's forehand looked impressive early on and she looked on course to get on the scoreboard, but a pivotal net cord winner at 0-1 30-30 by the Dane earned her a break point, which she converted after the Romanian sent a drive volley straight into the net. Wozniacki looked in great form, and she was able to consistently find her first serves as she easily consolidated the break for an early 3-0 lead after just a mere 15 minutes of play.
Halep's struggles continue
Trailing by three games within a blink of an eye, Halep started to get extremely frustrated with herself and let her emotions get over her as many unforced errors started to overwhelm the world number one, allowing Wozniacki to lead by a double break. The first set looked all to be over when the Dane held her serve to love, being just a game away from winning the set. Halep finally seemed to get on the scoreboard after she earned her first game point in the match, but Wozniacki was just too solid as she sealed the first set 6-0 against the current top-ranked player.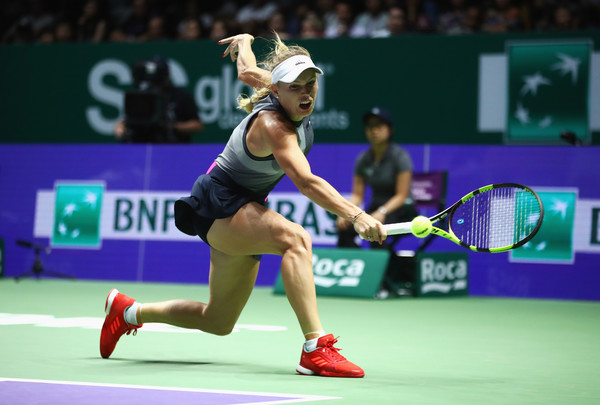 Wozniacki looking invincible on her serve
Fending off the tough challenge from the Romanian, Wozniacki maintained composed and kept her focus, calling for an on-court coaching session despite grabbing the bagel. She sealed an excellent hold of service in the opening game of the second set before Halep won a long-awaited game with a comfortable love hold. The Dane's serve continued to look untouchable, and she started to play some world-class selective aggressive tennis, having lost just six points on her serve in five games.
The world number six seals the lopsided win
The first breakthrough, expectedly, went in Wozniacki's favor as Halep was unable to find her groove and rhythm, with her movement simply failing to match up with the former world number one. Yet another forehand error got Halep into serious trouble, falling behind a set and a break. The deficit got larger after Wozniacki consolidated the break for a 6-0, 4-1 lead, with her tennis simply being invincible despite Halep's biggest efforts to earn a break point only to see it being erased by an ace from the sixth seed.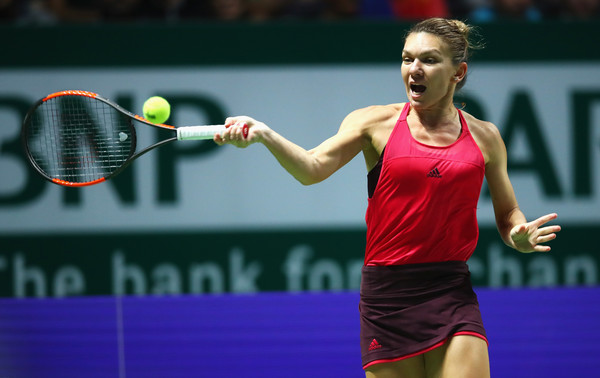 The set then went on serve until Halep had to serve to stay in the match at 0-6, 2-5 down. The scoreline was too unbelievable and it looked to be impossible to mount a comeback, and the Romanian was ultimately broken for the fifth time in the match, falling after just 63 minutes of play.