 Not many players could boast that they are able to end the year on a win, but Jelena Ostapenko is one of them after impressively defeating world number three Karolina Pliskova in her final match of the season at the 2017 WTA Finals. The Roland Garros champion triumphed with an incredible 6-3, 6-1 scoreline after just an hour and eight minutes of play, outhitting the extremely flat Pliskova in straight sets.
Ostapenko winless coming into this match
The Latvian was already eliminated from the tournament having lost her opening match against Garbine Muguruza and falling short in a three-hour thriller against Venus Williams, but this match was still relatively important as the win meant more money and ranking points. Meanwhile, Pliskova came into the match knowing that she has already qualified for the semifinals as the winner of the White Group regardless of today's results, but a win here could have been pivotal in helping her snatch the year-end number one ranking.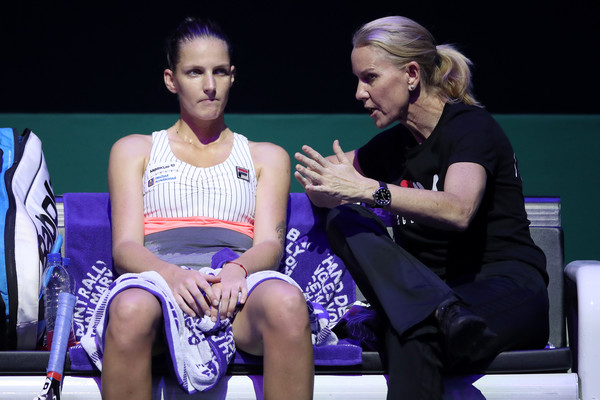 Early advantage goes to Ostapenko
Pliskova looked to have carried over the momentum from her previous wins and started her third Round Robin match in the best possible way, grabbing the opening service game before earning three break points in her first return game. However, Ostapenko learned from her mistakes in the past and she had a drastic improvement on her poor second serves, adding much more variety and spin to them. Surviving the marathon game, Ostapenko narrowly held serve before the Czech threw in several unforced errors to surprisingly go down an early break.
Inconsistency was once again the Latvian's biggest downfall as errors started to come off her racquet more often than ever, allowing Pliskova to break straight back before opening up a 3-2 lead. The sixth game was where the biggest momentum shift of the match occurred as Ostapenko comfortably held her service game, with her serve looking incredible. Pliskova's forehands were not working as well as it used to be, and she seemed to be out-of-sorts as Ostapenko managed to regain the lead.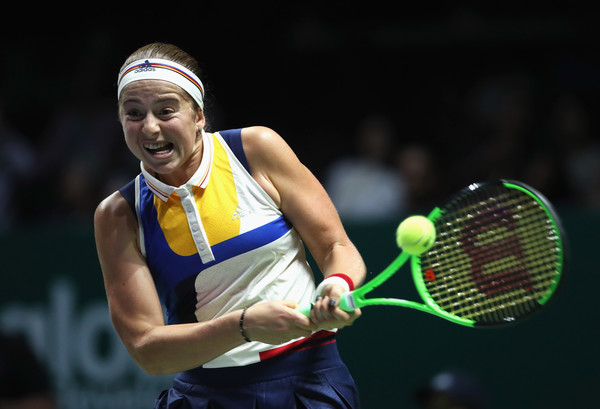 Ostapenko takes the first set 6-3
Looking for her first win in Singapore, Ostapenko put in an inspired performance as she managed to consolidate the break this time, being just a game away from winning the first set. Everything just did not work for Pliskova today as she was ultimately broken for the third time in the set, allowing Ostapenko to clinch the set 6-3.
Pliskova more erratic than usual
As her unforced error count increased, Pliskova became increasingly frustrated with herself and for the first time in awhile, she became the less powerful player on the court as Ostapenko started to blast winners after winners without facing any problems. Within a blink of an eye, she jumped out to a commanding 3-0 lead at the start of the second set.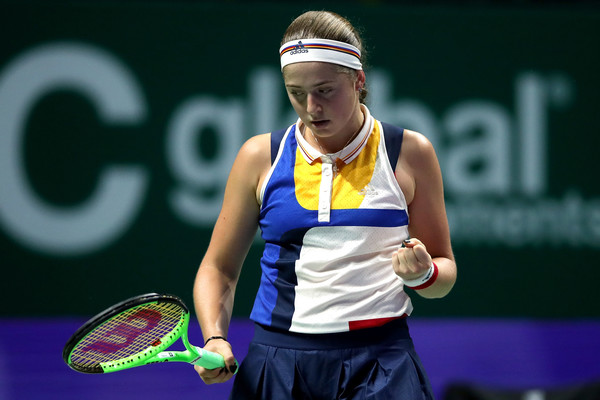 Ostapenko takes the win to end her season
Pliskova finally managed to get onto the scoreboard with a comfortable love service hold, but Ostapenko proved that she could do better when she also hung on for yet another love hold for a formidable 4-1 lead. Having lost just four games in each match against Williams and Muguruza, Pliskova's level of play certainly dipped, due to the fact that she found it "weird to be playing" when she knew she already qualified for the semifinals.
The match was all but over when Ostapenko saved a game point to break serve in the sixth game, earning the golden opportunity to serve out the match. Without any pressure, the Latvian closed out the match in some style, holding her serve to love as Pliskova sent another backhand wide, falling in just over an hour of play.