 Grigor Dimitrov meets home and crowd favorite Richard Gasquet in the second round of the Rolex Paris Masters in Bercy. The Bulgarian will be looking to build some momentum towards the ATP World Tour Finals in London in a couple of weeks while Gasquet is looking to finish his season on a high note after his 2017 campaign saw him struggle to win matches as well as battle injury.
Head-To-Head
Surprisingly, Gasquet leads this head-to-head 5-2, but since Dimitrov's major breakthrough in 2014, the head-to-head is even at two apiece. The Bulgarian has won the last two meetings in the last year, both in straight sets. Dimitrov defeated Gasquet in Shanghai last year and then routinely eased by him in the third round of the Australian Open this year.
Gasquet won their first five meetings from 2011 to 2015, starting in Dubai and ending at Wimbledon. Since then though, Dimitrov has taken the last two matchups.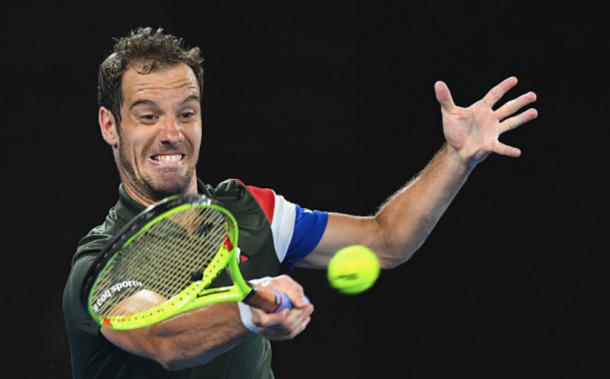 Analysis
The Frenchman has finally found some semblance of form in the last few months, claiming a Challenger title in Poland to get him back on track. He then won three matches in Shanghai, even pushing Federer the best he could in the quarterfinals and is coming off of another quarterfinal showing in Vienna.
Gasquet defeated countryman Benoit Paire in a highly-entertaining affair to start off his Paris Masters campaign and is looking to continue his strong end to the year.
The main talking point here is obviously going to be the battle of the one-handed backhands as both men boast two of the tour's best, with the slight edge going to Gasquet. After the backhand though, the Frenchman cannot really offer much against Dimitrov other than solid net play where both men are also quite strong.
In terms of the forehand, Dimitrov has the clear-cut edge in that department. Gasquet's forehands tend to be "loopy" at times and can easily be attacked while the Bulgarian can use his forehand for both attack and defense.
The key for Dimitrov in this matchup is to attack the Gasquet forehand and serve and to get him moving. As mentioned earlier, the Frenchman's forehand is the weaker of his two groundstrokes by quite a margin so getting away from his favored and more powerful one-handed backhand will be key. Dimitrov also has to attack the Gasquet serve which has been a liability at times. Attacking the serve will keep the points nice and short and should allow Dimitrov to play more freely should he break early on. Finally, if the six seed can get Gasquet on the run, it should open up spaces for him to attack.
In this match, the key for Gasquet is to mix-up his patterns as well as get Dimitrov forward. Gasquet will need to try and offer lots of variety from topspin to slice, trying to throw off Dimitrov. The Frenchman usually does not slice often but a couple more here and there will keep the Bulgarian on his toes. Also, if he can get Dimitrov at the net, that will allow Gasquet to either attack Dimitrov directly or get him with a pass. All in all, this should be a fun match to watch.
Prediction: Dimitrov in three sets