 Frenchman Julien Benneteau playing his final tournament in Paris at the Rolex Paris Masters claimed his second scalp this week in defeating David Goffin 6-3, 6-3 to book a quarterfinal place. Despite this, the Belgian has now qualified for the World Tour Finals due to other results.
Benneteau survives late comeback; claims first set
David Goffin got this third round match underway with a love service hold. Benneteau also followed suit to get on the board for 1-1 early on. The 26-year-old chasing a London spot raced through his second service game before then applying pressure to the home favorite. Locked at deuce in a lengthy game, Benneteau fired a double-fault to gift Goffin the first breakpoint at advantage.
With his serve letting him down a point ago, the serve then got him out of trouble but he was again forced to save a second breakpoint moments later as he scraped through the game to draw level at 2-2. This gave him confidence as he earned his first breakpoint, three of them a game later with excellent play on his return game from a second serve.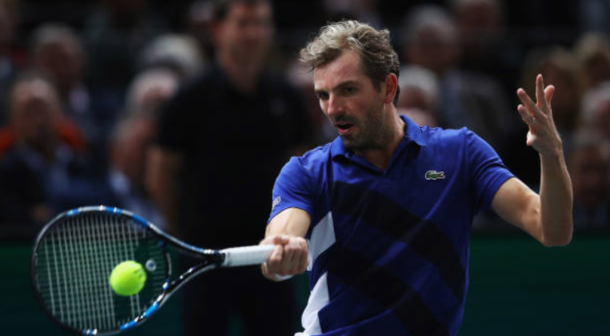 The seventh seed could only save two of the three breaks as the world number 83 fired ahead following passive play on his forehand. A strong, confident hold of serve gave the home favorite the break, much delight to the packed crowd on court two. Goffin's woes continued as Benneteau continued to grow stronger in the opening set.
The seventh game saw Benneteau earn a further two breakpoints with the world number ten firing a forehand wide of the mark. He did manage to bring the game to deuce but once again a forehand error was Goffin's downfall. The Davis Cup runner-up and current finalist broke back immediately, only for his opponent to earn a break/set point. An inpatient Goffin during a rally smashed a forehand into the net to fall behind 6-3.
Benneteau continues scintillating form; breaks early and finishes off Goffin
The Frenchman continued where he left off in the opening set. He served to begin the set and then grabbed an early breakpoint at 30-40, pouncing on a poor shot than using his doubles skills to guide his overhead. An error-filled Goffin continued his ways of being frustrated and fell behind a break early on. The 35-year-old with a full crowd gave them more to cheer about as he made it a comfortable 3-0.
The Belgique did eventually get on the board in the fourth game to avoid the unthinkable of a bagel. Just two games later, Goffin looked and hoped to get back into the match by taking a love-30 lead but the Frenchman wasn't having any of it as he won four straight points to stay ahead, take a 4-1 and keep the crowd as lively as ever.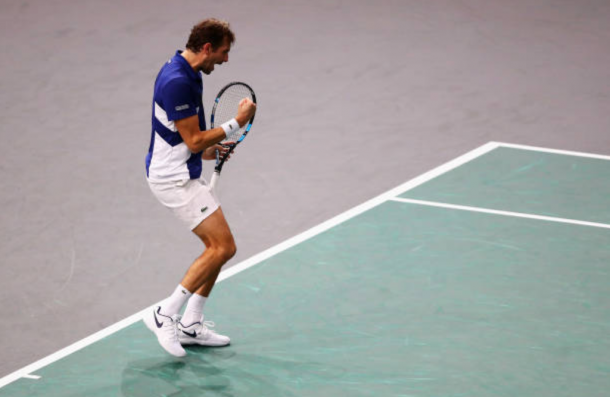 Both players then had comfortable service games, holding to love and with the match nearing its climax, Benneteau had the chance to serve for a surprise place in the quarterfinals up 5-3. Two match points arrived for the ten-times runner-up with Goffin once again unable to keep down the unforced error count.
Goffin saved the first match point in a long rally but the 35-year-old wasn't to be undone, sealing a memorable win 6-3, 6-3 to send the crowd into raptures on Court Two.