 Roger Federer had a lean year in 2016 as he was first forced to withdraw from several tournaments that usually count as his mainstays, before ending his season entirely post-Wimbledon. His comeback year, 2017, has been just as slim as he has shuffled around with his calendar tweaking it as he saw fit – instead of satiating assumptions about his preferences.
Some of Federer's choices may have then been surprising, including his recent decision about sitting out of the Paris Masters instead of playing out the two-horse race to finish the year as the world number one with his rival Rafael Nadal. However looking back at the way Federer's entire career, has fanned out in the near 20 years he has been around the ATP World Tour, a case could be well made that scheduling has been an indelible cornerstone in determining the Swiss' perpetuity.
Selective prioritising
Aside of the Majors, there are a few tournaments that Federer has played year-in and year-out. But, by and large, he has been picky with his scheduling, even if it meant bypassing tournaments where he had been previously successful. Case in point, the Miami Open.
Federer won his third Miami Open this year – which coincided with him completing the Sunshine Double for the third time in his career – but, it was also the first time he was playing the tournament in three years. In fact, back in 2015, commenting on the scheduling frenzy created by the consecutive nature of the two Masters tournaments, Federer noted, "The week in between Indian Wells and Miami is always a wasted week – in my opinion – for me. So, I would rather use that for some more time off, some more practice, maybe play another tournament."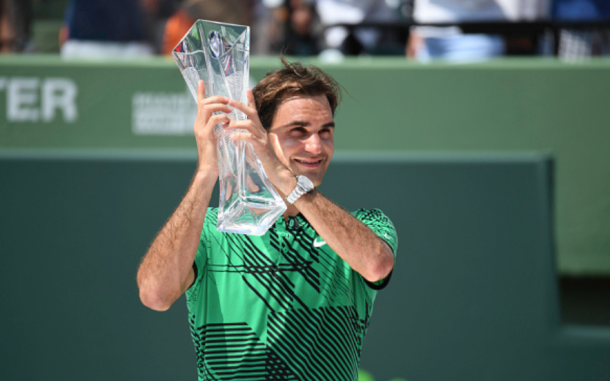 To a certain extent, this line of thought of Federer can be extended to his 2017 season. However, for most parts, this year has seen him err on the side of caution, even by his own standards. One could, then, hold his decision to skip the entirety of the clay season against him or even consider that as a factor in him missing out on the chance to end the year ranked as the numero uno ahead of Nadal. For Federer, though, it was all about conserving his best for the grass season, where not only did he go in as the favorite for the first time in a good few years, but where he was keen to re-assert his dominance – as in the years before.
Irrespective of his acuity in selecting his seasonal calendar, Federer's decision to play the Rogers Cup in Montreal – which has also been a tournament edition which he has skipped before – looked to be hasty. Not only was he forced to pull out of the Cincinnati Masters with a back injury that flared up in his final in Canada, he also had to play with a compromised game at the US Open which justifiably melds in with his decision to pause his winning run encompassing the Shanghai Masters and the Swiss Indoors.
"My body is asking for a break. I had five matches in six days. I feel sorry and sad for Paris," Federer said after winning his 95th career title in Basel. "I love to play at Bercy, it's a few times now that I've not played there. It's a tough one but they have to understand that it's for the cause of staying injury-free and healthy. I'd like to be fully fit for (the World Tour Finals) and for 2018," he added.
The 19-time Grand Slam champion's allusions weren't, then, hard to miss. For one, he had the earnestness that had prompted his 12-match winning streak during the grass season, which had him win two tournaments – in Halle and Wimbledon – without losing a set. Secondly, his words also hinted at longevity that abated – and defied – speculations running rife about his retirement.