 A relatively new participant of the Hopman Cup, Team Canada has once again been confirmed to compete in Perth after a two-year absence. With their past results all being Round Robin exits, the interesting pairing of Eugenie Bouchard and Vasek Pospisil will look to cause some huge upsets and come out of nowhere to grab the trophy for their own country.
Past Experiences
Bouchard has played in this competition on two different occasions, back in 2014 and 2015. The Canadian owns a 4-2 win-loss record in the singles rubber, with her most impressive win coming against the legendary Serena Williams, triumphing with a straightforward and unbelievable 6-2, 6-1 scoreline.
Pospisil also partnered Bouchard in the 2015 competition, and he was simply clinical as the Canadian clinched three straight-sets wins over higher-ranked opponents. However, his wins were not enough as they lost all three mixed doubles matches, eventually finishing second in their group.
Certainly, their experiences from that year will prove crucial and pivotal as Pospisil is an acclaimed doubles player having previously won Wimbledon back in 2014. He also achieved a career-high ranking of 4 in April 2015. Bouchard's volleying skills could also provide some help during the mixed doubles matches, but this will be the first time that they are experiencing the Fast4 format, which was only implemented this year.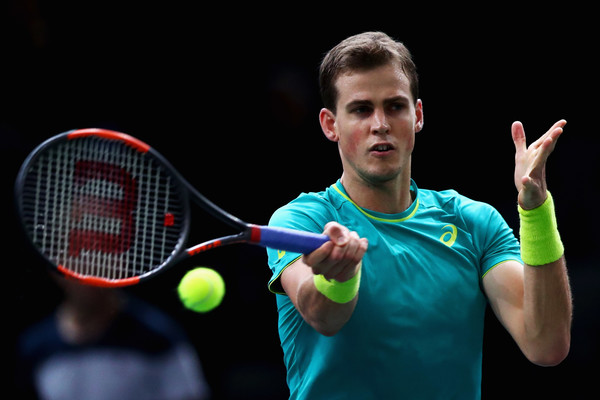 Bouchard and Pospisil look to start the year on a high
Pospisil had fallen out of the top 100 since last year but the highlight of his season was definitely his win over then-world number one Andy Murray at the BNP Paribas Open, triumphing in straight sets. However, lackluster results have caused him to fall out of the top 100 once again. Pospisil is currently the second lowest-ranked male player in this tournament.
Bouchard's rout continued in 2017 but her best result came at the Mutua Madrid Open, defeating former world number one Maria Sharapova and then-world number one Angelique Kerber. Bothered by a couple of injuries throughout 2017, the Canadian fell to the 81st position in the rankings and she will look to start her new season on a high with three matches against higher-ranked players for her to get the perfect preparation.
Canada will open their Hopman Cup campaign against home country Australia, with Bouchard kicking off play against Daria Gavrilova before Pospisil goes onto the court to welcome the challenge of Thanasi Kokkinakis. They are in the same group with Belgium, who has David Goffin and Elise Mertens as their representatives, and also Germany who is represented by the star pairing of Alexander Zverev and Angelique Kerber.