 The world number one team of 2017 Lukasz Kubot and Marcelo Melo qualified for the Nitto ATP World Tour Finals semifinals with a 6-4, 6-3 win over the Americans Bob and Mike Bryan, who now need to win their final round robin match in order to progress after notching one win in their opening match.
One break enough for Kubot/Melo
Both teams began with a comfortable hold of serve to get this contest underway. The top seeds for much of this year began to play lights out tennis and made a quick start in the third game, gaining two breakpoints by getting the better of the Bryans in a rally at the net.
Mike Bryan then felt the pressure down 30-40 when the Brazilian struck a backhand winner down the line to break. This was followed by a love hold from the impressive Pole as he and Melo took a 3-1 lead early on.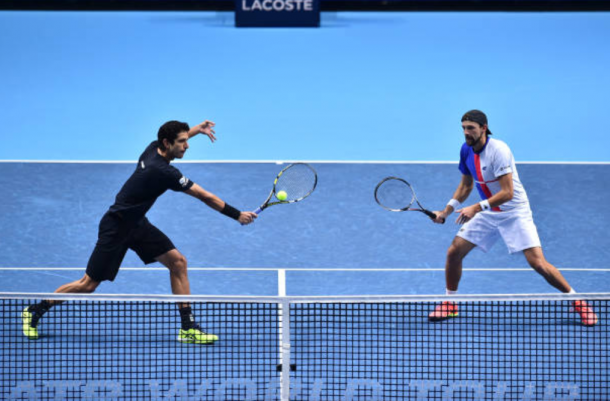 The four-time World Tour Finals champion were finding it tough against the form team of the year but continued to plug away and in the ninth game, they came from a 15-30 deficit to close out the game and force the top seeds to serve for the opening set thanks to an unreturnable second serve.
But Kubot/Melo wouldn't buckle under the pressure and created three set point chances for themselves as they attacked the middle of the net and forced a new style of play upon the Bryans to take the first set in spectacular fashion, 6-4.
Top seeds continue to cause problems; wins set and advances to semifinals
Down a set to the top seeds, the Bryans were serving first and was hoping to put some pressure on their opponents. They held their opening service game to love but were matched by the Pole who only lost the single point on his service game.
Both remaining players held and at the start of the second, they were locked at 2-2. But play began to open once more for Kubot/Melo who fashioned four breakpoints in the fifth game. Bob Bryan managed to survive with Melo's return placed comfortably into the path of Mike Bryan to hold for 2-3.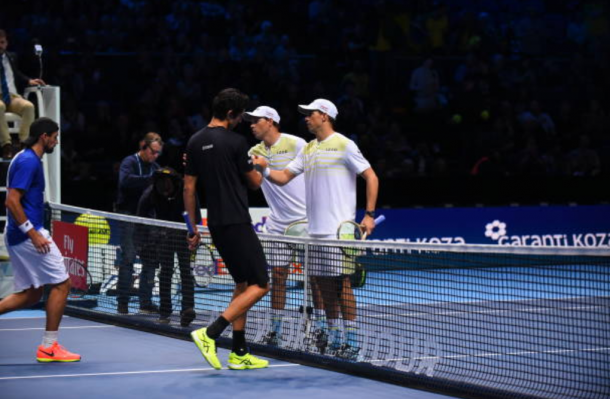 The top seeds grabbed four breakpoint thanks to the 34-year-olds pinpoint accurate return. The American twins forced a deciding deuce point but under threat, the top seeds got the crucial breakthrough with the 35-year-old Pole returning low with Melo then intercepting for a backhand volley winner.
A simple, easy hold to love put the top seeds 5-3 up and within a game of the semis. And at 15-40, three break/match points arrived. The Bryans denied the pair once with an unreturnable serve but Melo ended the contest to book his and Kubot's place in the semifinals.