 Jamie Murray and Bruno Soares dumped out Ivan Dodig and Marcel Granollers by defeating the seventh seeds 6-1, 6-1 in under an hour to keep their semifinal hopes alive at the Nitto ATP World Tour Finals. For the seventh seeds, they withdrew from their final match with Marach/Pavic replacing them.
Murray/Soares ease through the first set
It was Jamie Murray and Bruno Soares who made the better start to the match. In just the second game of the set, the seventh seeds fell behind three breakpoints. They saved two of them to send the game to a deciding deuce point but couldn't save a third as the Brit finished off the point following a mini-rally.
Murray/Soares consolidated the break to take a relatively comfortable 3-0 lead early on. The seventh seeds would eventually stop the rot to hold serve to love in the fourth game for 3-1.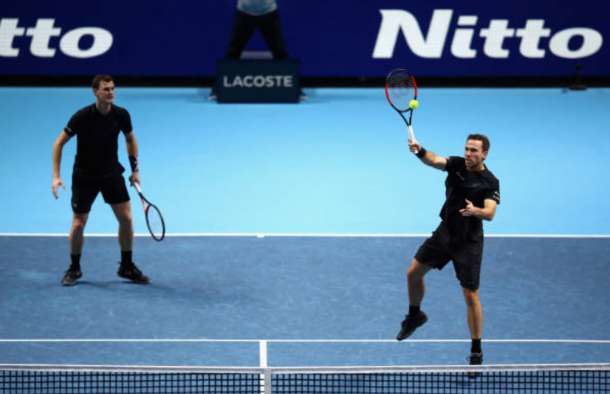 Struggling to match the Brit/Brazilian pairing, who made it 4-1, Dodig/Granollers were constantly being put under pressure and were taking to yet another deciding deuce point, also facing breakpoint.
Excellent play from Soares who had plenty of time on the ball forced Dodig to eventually play the error as he and Murray served for the first set up 5-1. Following an excellent first set, the fourth seeds would bring up three set points with a wonderful serve from the Brazilian. Despite having one saved, the pair took their second and clinched the set 6-1 in spectacular fashion.
Murray/Soares cap off a wonderful match to keep their chances alive
The fourth seeds would continue their form into the second set. All square at 1-1 in the second set, the Croatian, who had saved two breakpoints couldn't save a third as the Brazilian placed a wonderful return to Dodig's feet, before taking the server's reply and lobbing it over the Spaniard, forcing him into the error.
Despite the seventh seeds attempt to get back into the match, Murray/Soares got themselves out of a 15-30 deficit to consolidate and lead 3-1. They continued their scintillating play punishing the seventh seeds to earn three more breakpoints as Soares' return made it awkward for the 31-year-old to return back into court, sending the ball long.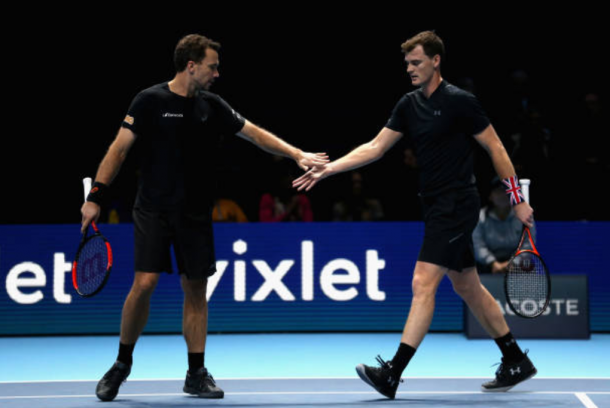 Once again, the seventh seeds found themselves in an awkward position to return the ball, this time Dodig flashing the ball long of the line to fall behind a double break, 4-1. Murray took a time-out for a minor back problem but it didn't stop him holding serve to 15 and going within a game of victory.
The fourth seeds played a perfect game to go love-40 ahead and earn four well-earned matchpoints. After 52 minutes played, the Brit/Brazilian closed out the match following an unfortunate double-fault from Dodig to serve up the double bagel.