 Ryan Harrison and Michael Venus finished the round-robin stage with three wins from three after defeating Jean-Julien Rojer and Horia Tecau 6-3, 7-6(5). This means they have topped the group and will await results from group Woodbridge/Woodforde to see who they will face.
Eighth seeds come from a break down to win the opening set
The beginning of the match saw all four players hold their serve with the scores tied at 2-2. In the fifth game, a first breakpoint would arrive for Rojer/Tecau after the Dutchman flashed a winner that landed just in of the baseline. A simply wonderful Tecau return did the job with he and Rojer breaking to 15.
The eighth seeds who have been playing superb tennis never gave in and fought back to bring up three break back points. The Dutch/Romanian pair denied the American/New Zealander twice but the pair broke with their third opportunity to draw level at 3-3.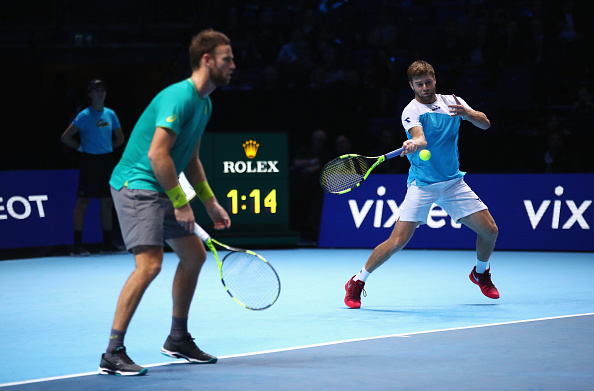 Harrison/Venus consolidated to go back infront, 4-3. With the momentum now switched, the pair fashioned another breakpoint chance, at 15-40. They needed just the one opportunity to break with Tecau sending a volley just beyond the baseline.
He and Rojer would then have the chance to break but the eighth seeds denied the pair and on their second set point, sealed the set and four straight games. The eight seeds seemed to have to much power especially with Harrison's serve and forehand, which dominated in key moments of the match.
Harrison/Venus win tiebreak and match
Just as the first set, the start of the second saw four consecutive holds with once again all four players holding their serve. This time, it seemed Rojer/Tecau had settled down after losing the first serve and held to love to make it 2-3.
The eighth seeds continued showing just why they won their first two matches, winning crucial points, serving well and using excellent forehands as they leveled for 3-3. Just two games later, the American/New Zealander was facing a breakpoint on deciding point as the Dutch/Romanian pair continued to look sharp in the set.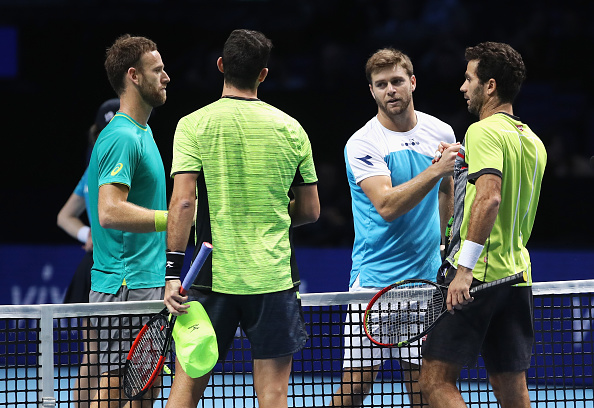 However, the break was quickly snuffed out and Harrison/Venus escaped 4-4. With both teams treating the crowd to a spectacle, a tiebreak was to decide the second set four games later. Rojer/Tecau raced away to a 1-4 lead in the breaker.
And though it looked like the third seems would force a decider, the Dutchman incorrectly let a Harrison volley go at 3-5, which landed in much to his regret. The American claimed two points on his serve to bring up a first match point. A lasered backhand sealed the contest, with the eighth seeds finishing unbeaten.