 One of the best WTA finals of 2017 featured a high-quality encounter between the best players of the clay-court season this year. Two-hours and 46-minutes were needed to decide a winner at the Mutua Madrid Open as Simona Halep prevailed in the marathon and successfully defended her title, claiming her first and only title of the year. It was a topsy-turvy encounter with both players giving it their all, but Kristina Mladenovic's lingering back issues were her downfall as she ultimately fell 5-7, 7-6, 2-6 and narrowly missed out on the biggest title of her career.
Halep steals the first set after recovering from early deficit
It was a nervy start to the final for the higher-ranked Halep, who entered the match with a losing head-to-head record against Mladenovic. If the first game were to be a sneak peek into what the match would be like — then it was highly accurate. A marathon 18-points game started the match as the Romanian threw in a couple of uncharacteristic errors to gift Mladenovic opportunities to break, and the Frenchwoman capitalized on them as she sent a bullet-like forehand winner past Halep to grab the early break.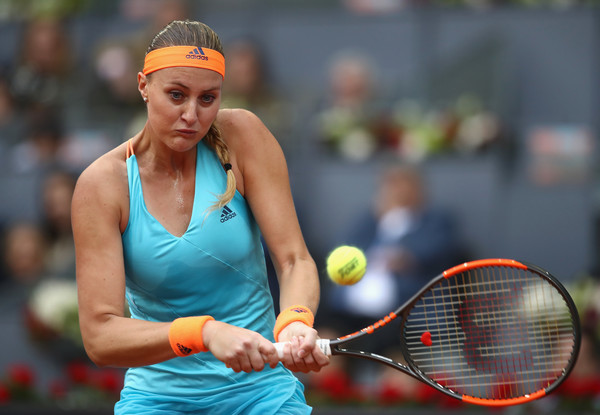 Mladenovic would go on to consolidate the break but was ultimately pegged back in the fourth game, and this time it was Halep who prevailed in the lengthy game as she took advantage of her opponent's inability to find her solid first serves, coming up with excellent returns and took the initiative to be aggressive during the rallies.
Despite losing three consecutive games, Mladenovic was not affected and instead conjured the exact same run, claiming 12 of the 13 points to regain a 5-3 lead, being just one game away from winning the set. Serving for the set in the tenth game, the Frenchwoman was unable to take her chances as Halep produced some impressive offensive tennis to break back, leveling the scores once more.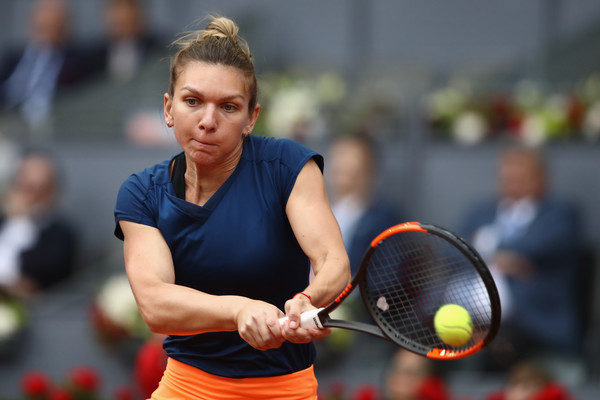 This encounter seemed like the survival of the fittest as another marathon 10-minute game followed, but Halep was able to control her nerves well and saved a break point to hold for a 6-5 lead. It looked like Mladenovic was plagued by unforced errors as she felt the pressure of serving to stay in the set, and Halep capitalized to steal the first set 7-5 despite not being at her extreme best.
Mladenovic fights back despite injury
Winning the first set certainly provided Halep with the confidence she needed, and she commenced the second set on the best possible note by grabbing an early 2-0 lead with the finishing line in sight. However, Halep started to completely lose the plot as Mladenovic stepped up her play and continued to fight despite being visibly hindered by a back issue, breaking straight back to keep herself in contention.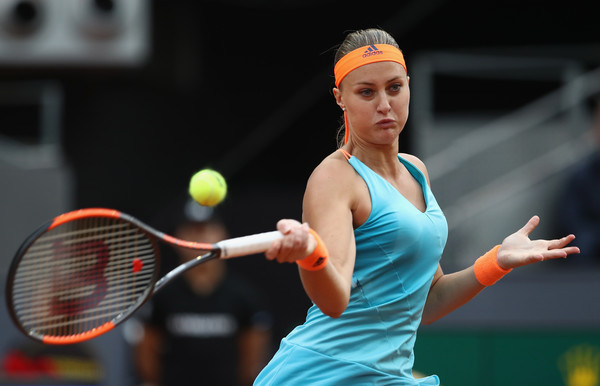 A drastic difference as compared to the first set, the second set was less messy and rather smooth-sailing for both players in their service games. Mladenovic only lost five points in five service games while Halep was the one who faced more troubles on her serve — having to dig for a hold having been dragged to deuce on two occasions.
The second set then proceeded into a tiebreak where Mladenovic claimed the perfect start with a commanding 3-0 lead. However, Halep managed to close out the deficit and return level on serve soon later. Nonetheless, despite being in pain, Mladenovic displayed some world-class defensive skills to regain a 5-3 lead while an incredible drop shot earned her two set points out of nowhere. Fearless hitting from the unheralded Frenchwoman eventually sealed her the second break after an hour and two-minutes, bringing the match into a decider.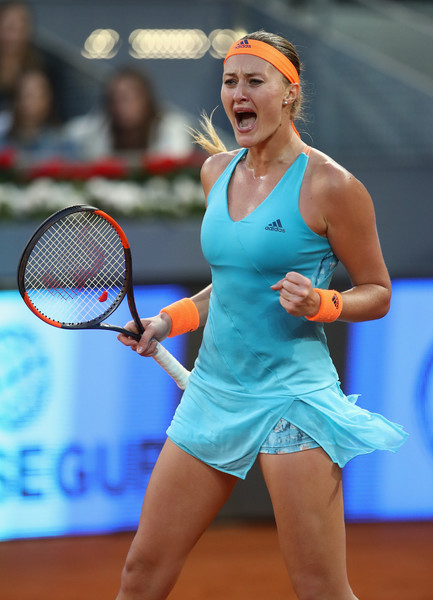 Halep completes her impressive run; defends her title
Carrying over the momentum into the deciding set, Mladenovic claimed an important service hold in the opening game as she fended off two break point opportunities while Halep seemed to have issues with a lingering problem once again — her mentality. From a set and a break up, Halep was brought into a deciding set while her missed chances in the first game definitely affected her confidence level. However, this time the Romanian remained mentally strong and started to play smartly with her controlled aggression, rattling 12 of the next 16 points to take a 3-1 lead.
Mladenovic, whose movement around the court was hindered, found her groove once more and fired four consecutive winners to lessen the deficit, but was still unable to find an answer to Halep's solid serves as a narrow backhand miss eliminated her chances of breaking back. Everything seemed to fall apart for the Frenchwoman, who was broken for the second time in the deciding set as Halep earned the golden opportunity to close out the match. Serving for her second consecutive Madrid title, Halep ignored the pressure and claimed the win in some fashion after holding to love, capping off a successful week with a marathon two-hour, 46-minutes victory.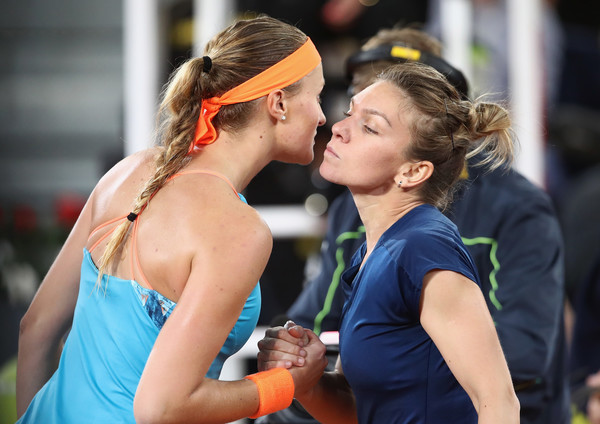 Reaction from the players
Speaking about the high-quality final in her press conference after the heartbreaking loss, Mladenovic claimed, "I think, yeah, honestly this final was quite amazing. That's the feeling I have, because what we did today with Simona on the court, battling for two hours and a half in the last match of the tournament, knowing we for sure had both of us a long and tiring tournament to reach the final, and somehow to push even more to produce probably the best tennis from both of us for the entire tournament." The Frenchwoman was also extremely gracious in defeat, and was full of praise for the better player on the court, "She's very consistent, very smart. She makes you move, using angles, deep shots. Yeah, she's very tough to make a winner out there."
Meanwhile, it was the first time in Halep's career when she managed to defend a Premier Mandatory title. "I feel great that I could defend this title. It means a lot because it's very big and gives me confidence for the bigger tournaments. I feel that actually I have the game to win big tournaments. I have just to be consistent mentally. Today I struggled a little bit. But in the end, I was stronger. I was better mentally. I'm proud actually that I could stay there focused," the Romanian mentioned, and her confidence was definitely boosted with this title as she went on to reach the final in Rome and Paris as well.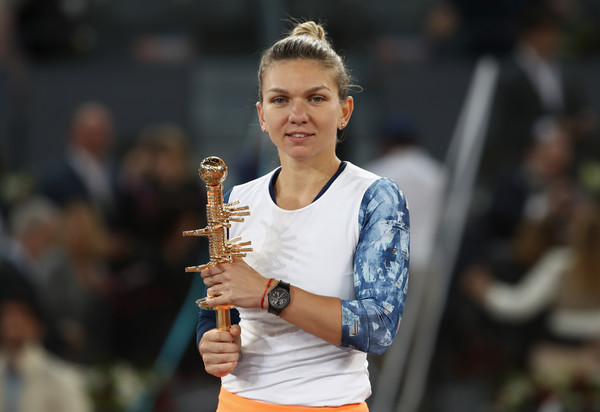 Aftermath: Halep and Mladenovic experiences successful clay-court season
Mladenovic's success on clay allowed her to reach two finals (Stuttgart and Madrid) before making her debut in the last eight of a Grand Slam, doing so in front of her home crowd. The Frenchwoman, as a result, rose to a career-high ranking of 13 and ultimately cracked the top-10 at the end of the year.
Halep went on to reach the final at the Internazionali BNL D'Italia, earning a couple of impressive wins along the way. Her clay-court season, ironically, ended on a disappointing note as she wasted a huge lead in her second Major final of her career at the French Open, falling to a shock defeat against Jelena Ostapenko in three sets.