 The Australian Open featured a thrilling quarterfinal encounter between huge favorite Karolina Pliskova and the underdog Mirjana Lucic-Baroni. In one of the best Grand Slam matches of the year, the Croatian veteran prevailed in the clash of hard-hitters, shocking the third seed for just her second Major semifinal of her career.
The victory came off as an emotional one for Lucic-Baroni, who had to endure through several rough patches in her life due to personal problems earlier in her career. This was her first last-four appearance at a Grand Slam since 1998, and 2017 also marked the first time that the Croatian progressed past the second round in Melbourne.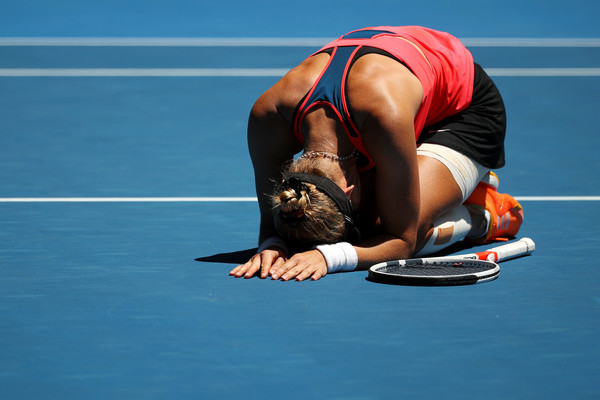 Lucic-Baroni recovers from a break down to take the first set
In just Pliskova's second Major quarterfinal of her career, the Czech certainly faced some nerves as she threw in a double fault and handed Lucic-Baroni a break point in her opening service game of the match. However, Pliskova quickly overcame her nerves and served a powerful ace which eventually allowed her to escape from trouble. The Croatian would rue her missed opportunities as she was outplayed in her own service game, gifting the first break to Pliskova in the third game.
Some powerful serving allowed the third seed to consolidate the break easily, but Lucic-Baroni managed to keep the scores tight as her merciless forehand winners troubled Pliskova. Unforced errors started to overwhelm the higher-ranked player as her failure to find her first serves proved to be costly ­— Lucic-Baroni started to exploit those vulnerable serves and hit winners after winners to retrieve the break back. The set then went on serve and Pliskova soon found herself serving to stay in the first set at 4-5 down. The pressure seemed to have affected the usually-composed Czech, and unusual forehand errors ultimately saw Lucic-Baroni edge ahead after 33 minutes of play.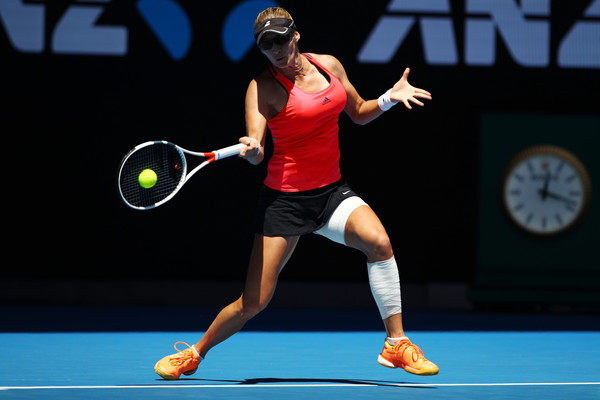 Pliskova pegs back the Croatian as the match head to a deciding set
With the confidence gained from winning the first set, Lucic-Baroni continued to swing freely and the rhythm she had on her shots were just too good for Pliskova, who struggled to deal with the power of the Croatian. She soon jumped out to a commanding 2-0 lead in the second set, with the finishing line being in sight. However, a slight misfocus totally ruined the momentum of the 79th-ranked player, whose backhand was a liability as four unforced errors immediately allowed Pliskova to return to contention.
Nothing was going right for Lucic-Baroni as she missed the easy shots on break points, whereas Pliskova was doing everything right with her groundstrokes and serves looking to shape up well. Triumphing on all the crucial points, the ever-cool Czech came out of nowhere to gain the lead in the second set but the scores soon became messy with the encounter becoming a service break galore.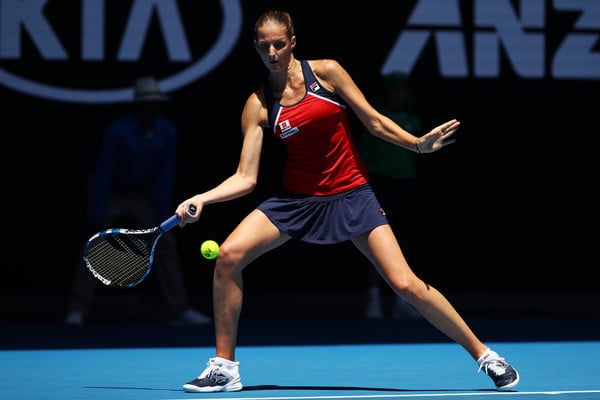 Both players are hard-hitters and the least-expected event in their match is occasional service breaks, but ultimately it was the consistent Pliskova who earned the next service hold for a 5-3 lead. Looking to play some of her best tennis, the huge favorite produced some big winners to claim the second set and send the match into a decider.
Lucic-Baroni seals a spot in the semifinals
An unbelievable three consecutive service breaks started the final set but it was Lucic-Baroni who had the last laugh as she was the first player to claim a hold. Pliskova trailed her opponent in terms of power as the Czech was the more passive player on the court, which was the crucial factor in deciding the match outcome.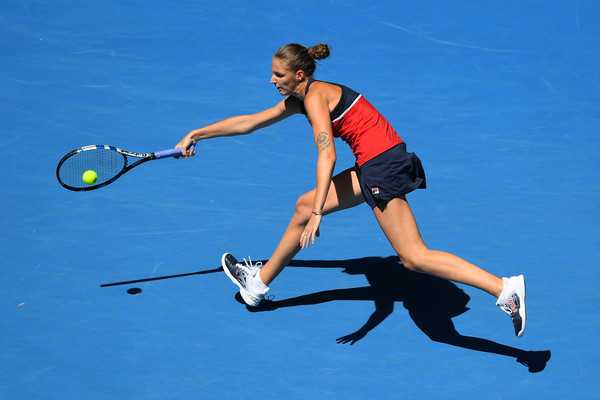 Jumping out to a 3-1 lead, the win seemed to be within Lucic-Baroni's grip with the Croatian strolling through the decider. However, a sudden change in momentum saw Pliskova find the rhythm on her shots and started to frustrate her opponent with the depth of her shots. Within a blink of an eye, three games went over quickly, and all of them went in Pliskova's favor and the Czech owned a 4-3 lead with Lucic-Baroni taking a medical time-out during the next changeover for a thigh issue.
That medical time-out seemed to have broken Pliskova's momentum as the Croatian came out firing with Pliskova missing everything after the break. Lucic-Baroni claimed eight consecutive points (including three straight aces) after receiving treatment, earning the golden opportunity to serve out the match. Despite the tremendous amount of pressure faced, Lucic-Baroni put in an excellent service game, stealing the win after an hour and 50-minutes of play.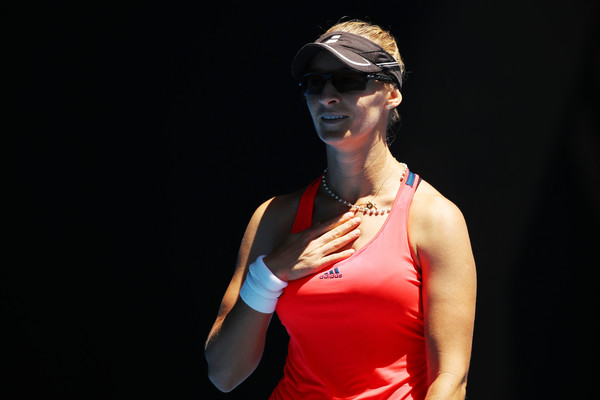 Reaction of the victor
Certainly, reaching your first Major semifinal in 19 years is worth a huge celebration. To Lucic-Baroni, it definitely means a lot, "This is what I've been dreaming about, this is what I've been training for. At 34 years old, like I said before, I have a wonderful home. I'm happily married. I would be perfectly okay being at home enjoying my family. But I really knew deep down in my soul that I have these results in me. To now be here and actually live these moments, it's incredible."
Coming out of nowhere to reach the semifinals as the world number 79, Lucic-Baroni had some fun while proving the doubters wrong, "This time, it's incredibly special, especially since it's been so long since the last time I've been in semifinals. And the struggle has been so much bigger, and nobody in this world thought I could ever be here again, beside my closest family, my coach, and my brothers, my sisters, my husband, my mom. Beside my little circle, I don't think anybody believed that I could do it. And it's really fun. It's fun to prove everybody wrong, and it's fun to enjoy this for myself and live these incredible moments. It's more special this time, for sure."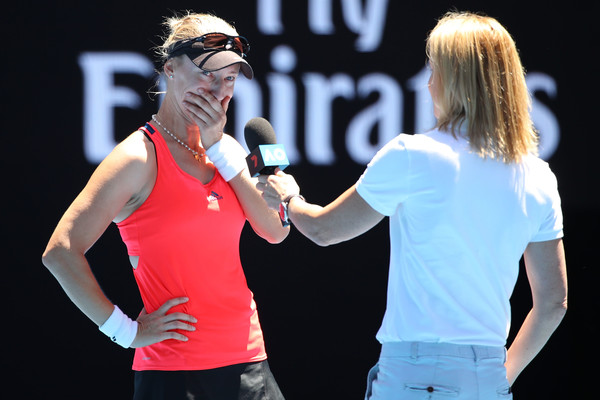 Speaking about her controversial medical time-out which led to the huge momentum shift which ultimately decided the outcome of the match, Lucic-Baroni stated that it was a leg injury which forced her to get more taping during the changeover, "I started hurting pretty bad mid-match, especially towards the end. The fact that I was able to do it and so well at the end, I was really grateful."
What it meant for both players
For Lucic-Baroni, it was definitely an emotional win as she was able to return to a Grand Slam semifinal for the first time since 1998 especially after all the obstacles she had to overcome. Shedding some tears of joy on the court, her semifinal encounter against eventual champion Serena Williams would be a match to forget as she was outclassed in straight sets, winning only three games in the process. Nonetheless, her incredible run propelled her into the top-40 and some solid results which followed allowed her to crack the top-20 for the first time in her career on 1st May.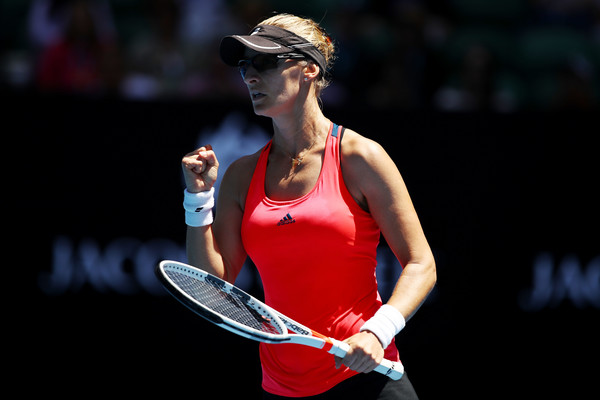 This quarterfinal result was Pliskova's first of third appearances in the second week of a Grand Slam throughout 2017. However, this tournament was the Czech's to lose after she was the huge favorite entering the tournament, but this shock defeat ended her chances of claiming a maiden Major trophy. Nonetheless, Pliskova still managed to reach greater heights in her career as she reached the pillar of the WTA rankings after Wimbledon, but ended a relatively successful year as the fourth-ranked player with a semifinal finish at the WTA Finals.
Stats Corner: Lucic-Baroni's aggression proved to be effective
Lucic-Baroni was, surprisingly, the more aggressive player on the court as she outplayed Pliskova for the majority of the match. The Czech threw in eight aces and just one double-fault but was extremely disappointing on her serve throughout the encounter as she shockingly won just 55 percent off her first serve while winning just 13 points behind her second serves.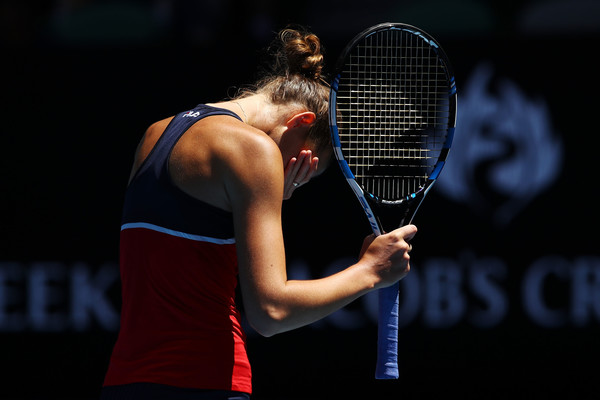 Meanwhile, Lucic-Baroni served nine aces to five double-faults, and three of her aces came in a clinical service game at 3-4 down in the deciding set. It was break points galore in this quarterfinal match as there were a total of 24 break opportunities while 14 of them were converted. Pliskova lost despite having a 23-21 winner to unforced error ratio, but Lucic-Baroni's statistics were even more impressive after hitting an incredible 42 winners which came with a heavy price of 35 unforced errors. A statistic worth noting is that 20 of those winners came in the final set.