 One of the best BNP Paribas Open finals in history, it was an all-Russian affair this year as the surprise finalist Elena Vesnina caused a huge upset against the dark horse and compatriot Svetlana Kuznetsova in three tight sets. The 30-year-old came from a set and a break down to triumph, and also mounted another incredible comeback in the decider for the biggest title in her storied career. From losing in the first round of the qualifying draw in the previous year, Vesnina returned a year later and stormed to claim the title, together with a huge paycheck of $1,175,505 and 1000 ranking points.
Coming into the tournament, no one would have placed a bet on either of these players reaching the final, especially when they were given exceptionally tough draws. Vesnina overcame the odds and claimed consecutive upsets over higher-ranked players while Kuznetsova replicated her 2008 self and returned to the final after nine years. Shocking the world, Vesnina triumphed 6-7, 7-5, 6-4 after a marathon three-hours, two-minutes of thrilling tennis.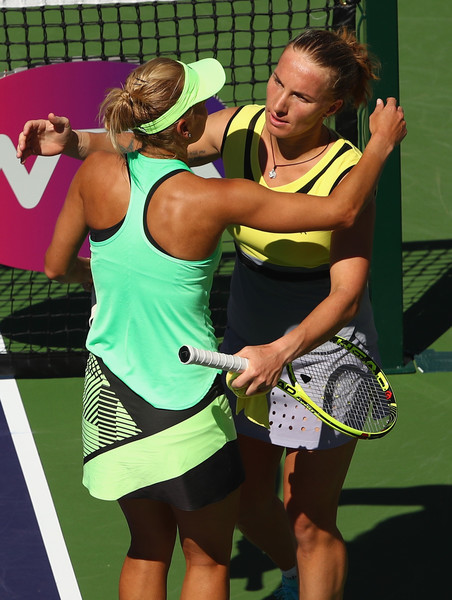 Kuznetsova steals the first set after a thrilling hour
Surprisingly, it was Vesnina who made a bright start to the match. Kuznetsova played three matches under the bright sun and in the soaring temperatures while Vesnina played just one, meaning that the conditions would be in the 32-year-old's favor. However, the 14th seed found her groove early on, making the first breakthrough with an impressive forehand return winner as she was able to challenge the solid Kuznetsova with her powerful shots.
Unforced errors started to overwhelm Vesnina, who threw in consecutive errors which allowed Kuznetsova to break straight back. Nonetheless, the underdog continued to fire on all cylinders, coming up with a world-class baseline game and regaining the lead with some incredible defense. However, for the second consecutive time, the Russian failed to consolidate the break and gave Kuznetsova a way back after throwing in a double-fault on break point.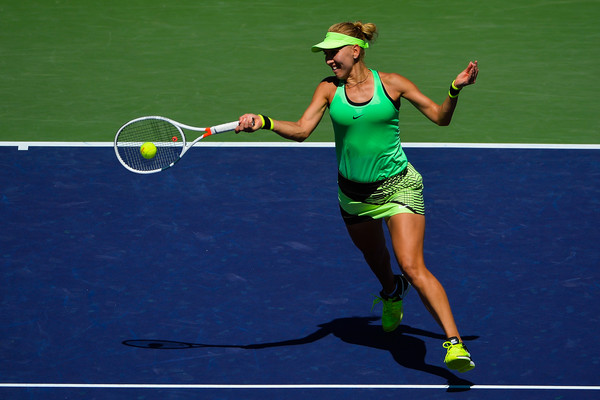 A couple of good serves helped Kuznetsova to level the scores before she earned three break points in the ninth game, facing the golden opportunity to take the lead for the first time. Vesnina started to send her shots into the net more often but regained her composure in time as some clutch serving saved her from the brink. Blowing a 40-0 lead, Kuznetsova found herself in deep trouble as Vesnina was fearlessly going for her shots, earning a set point with the eighth seed throwing in a double-fault at deuce. Nevertheless, she narrowly survived the marathon service game and remained in contention.
The set was eventually brought into a tiebreak to decide the outcome, and Vesnina looked mentally stronger than Kuznetsova as she was able to get through a nervy service game at 5-5. However, the 14th seed started to show a tinge of inconsistency, and her unforced errors proved to be pivotal as Kuznetsova ultimately earned two set points at 6-4 up in the tiebreak.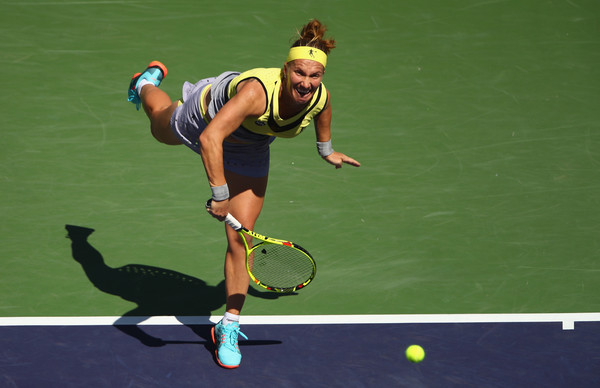 Unexpectedly, her infamous history with closing out sets/matches came back to haunt her, serving an unfortunate double-fault to gift Vesnina a way back. A high-quality first set ended awkwardly, with a net-cord going in Kuznetsova's favor with the pre-match favorite claiming the first set 7-6 after a thrilling one-hour, 10-minutes. Both players combined for an incredible 45 winners and just a mere 26 errors throughout the set.
Vesnina fights back from the brink
The dead net-cord gave Kuznetsova all the momentum she needed, and the Russian easily strolled to a comfortable service hold in the first game of the second set. Vesnina seemed out-of-sorts during the early stages and was probably still affected by the loss of the first set. Her shots visibly lacked the power it used to possess, and Kuznetsova soon powered to a 2-0 lead having won eight of the opening nine points.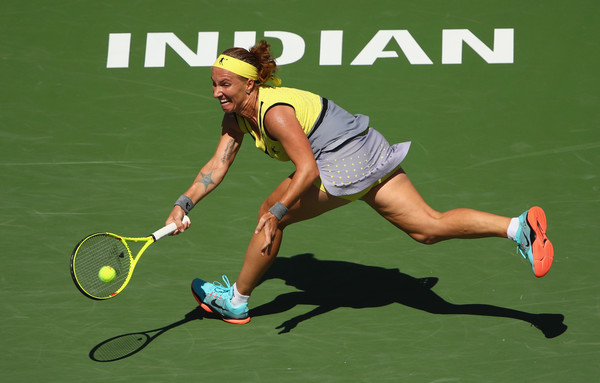 Unexpectedly, Kuznetsova failed to hold onto her lead (a phenomenon which will be common during the latter stages), and Vesnina got on board with a love break. It soon became breaks galore with neither being able to stay consistent on their serves, and their second serves were an obvious liability. Kuznetsova, though, remained calm and regained her lead before finally consolidating the break for a commanding 4-1 advantage, edging closer than ever to the win.
However, everything went wrong for Kuznetsova from there on. She saw the finishing line but was never able to cross it. The pressure and all her thoughts started to overwhelm her, and a slight misfocus from the Russian saw her lose four consecutive games, and within a blink of an eye, Vesnina was serving for the second set. Although Kuznetsova managed to stop the rout and break straight back, the errors kept coming from the veteran as she lost the power in her game, looking under the weather. On her second attempt, Vesnina finally served out the second set 7-5 after an hour of play, completing the miraculous comeback.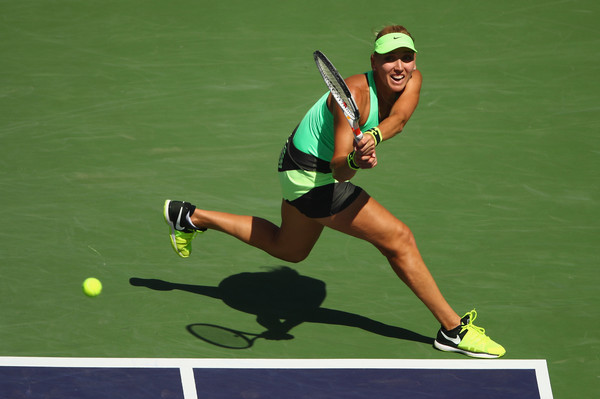 Kuznetsova fails to capitalize on her chances, Vesnina stuns the world
Completely losing the plot, Kuznetsova seemed to have totally broken down after throwing in four straight errors to get broken in the opening game of the final set. However, there proved to be more twists and turns as Vesnina handed her back the break, serving another double-fault to level the scores. After a rare exchange of service holds, it was surprisingly Kuznetsova who made the first breakthrough as she was the calmer of both players, and Vesnina lost the rhythm on her strokes once more.
The flat-hitting from the 30-year-old was risky because of the wind during the day, and it proved costly as Kuznetsova's topspin groundstrokes worked well. It turned out that there was more in store, as Vesnina started to mount another improbable comeback. Pressure seemed like nothing for Vesnina, who had nothing to lose in the final. Despite the stakes getting higher as we edged closer to the closing stages of the affair, Vesnina dealt with her nerves well and Kuznetsova, contrastingly, grew frustrated with herself as her unforced error count increased drastically.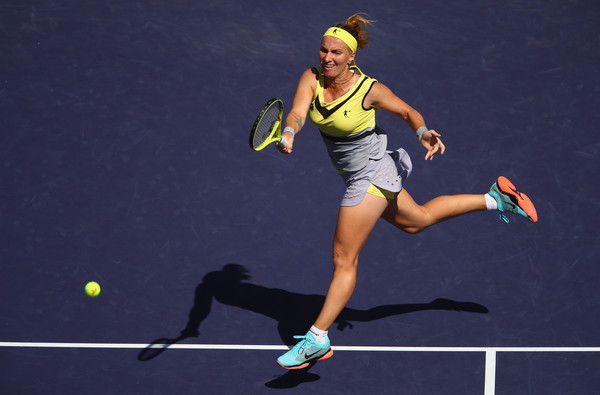 The ninth game was pivotal — had Kuznetsova won it, she would be one game away from the win; had Vesnina won it, she would be serving for the title. And, Kuznetsova was the one serving. With the Russian 32-year-old facing the pressure, what happened next was inevitable. Despite fending off four break points, she wasn't fifth-time lucky as Vesnina finally broke serve with a return winner which landed just inside the court. The underdog went on to successfully serve out the match, falling to the ground in tears of joy after Kuznetsova sent a return long.
Reaction from the players
After edging closer than ever to the win, Kuznetsova crumbled on the crucial points and ultimately fell in three tough sets. "I didn't feel comfortable at all today on the court. I was trying to do the best I could, you know, but this is the type of day when you don't play your best tennis and you've gotta still do your effort. I tried my best and she won because she was more aggressive than I did. I was too passive. That's it. Too much behind and didn't serve well, I think it was key points," the Russian mentioned in her press conference.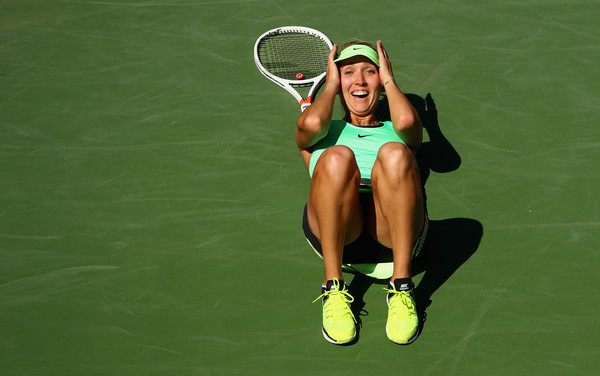 Kuznetsova sounded extremely disappointed with her losses but quickly affirmed everybody that she would only take the positives from her impressive run, "Look, I gotta be positive, you know. It's no way to be negative. I made finals here is great. I lost a match which I should have win, but, you know, this is tennis. This is game. Nobody died, so I move on, and I'm on a good way. I'm playing better. I'm winning lots of matches in a good way, in two sets. I'm really positive. Definitely I'm really frustrated with that loss, but I will go above that, hopefully, and will be all right."
The victory didn't come easily for Vesnina as she had to battle back from a 6-7, 1-4 deficit before storming back from a 2-4 hole in the final set. "I was kind of fighting to just stay longer on the court, you know, just don't give it so easy. I was telling to myself, You're 4-1 down. Nothing to lose. Just fight for each game, you know, try to win every point, you know, try to deserve every point, because she will not give you anything." Certainly, Vesnina's fighting spirit was evident on the court with all the "Davai"s after hitting clean winners.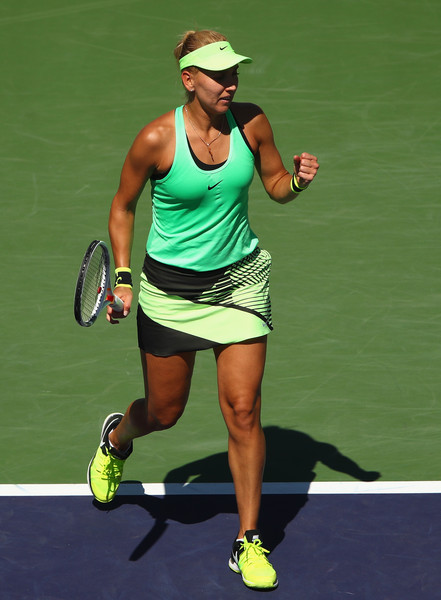 Coming into the encounter as the underdog, Vesnina had nothing to lose and she constantly troubled Kuznetsova with her aggressive tennis and was tougher when it came to mentality, "I was just not giving anything, you know, that moment. I was just -- I didn't thought about, like, the end of the match. I was just thinking about how to kind of get back into the game. You know, I was just thinking about that." Even Vesnina herself thought that her triumph was unexpected, "And now here I won the title, and this sounds like a miracle, you know, for everybody, for you guys, for me, for, I think, all the girls out there.I think nobody could pick me at the beginning of the tournament that I could win this title. Me, also. I couldn't pick myself."
Aftermath: Vesnina fails to replicate her success, Kuznetsova remains on the radar
After suffering a heartbreak during the final, Kuznetsova went on to reach the fourth round in Miami before enjoying a decent clay-court season. Her successes allowed her to stay inside the top-10 but the Russian sustained her left-wrist injury at the US Open which effectively ended her season earlier than expected, ending the year as the 12th-ranked player.
However, it was a totally different story for Vesnina, who struggled through the rest of the year. The Russian failed to earn any top-20 wins while also being unable to make a quarterfinal appearance at any WTA events, eventually ending 2017 as the world number 18. Though, Vesnina replicated her success in doubles, grabbing her third Major trophy alongside Makarova.