 2017 BNP Paribas Open champion, 2017 Wimbledon doubles champion, 2016 Rio Olympics Gold Medallist, 2016 WTA Finals doubles champion. Aforementioned are just a sneak peek into Russian superstar Elena Vesnina's storied career achievements, adding onto her career-high singles rank of 13 and doubles rank of 3.
Vesnina experienced an up-and-down 2017, and VAVEL USA Tennis is extremely fortunate to achieve an email interview with the Olympics Gold Medallist, speaking about her season and upcoming goals.
Before 2016, fans usually saw Vesnina as an acclaimed doubles player but she had an incredible rise in the singles rankings, improving about 100 spots within a year with impressive results such as Charleston final and Wimbledon semi-finals.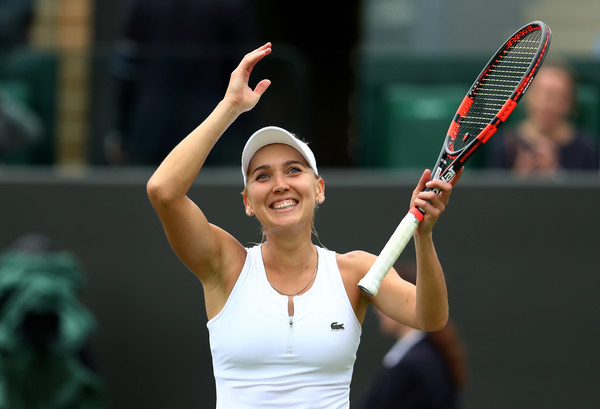 Coping with both singles and doubles
For the second consecutive year, Vesnina finished the season inside the Top 20 of singles and Top 10 in doubles, being one of the few players to excel in both competitions. She is also currently the highest-ranked player when it comes to the combined singles and doubles rankings. Speaking about how to cope with both competitions, Vesnina said that playing doubles actually helps to "add on her singles game", as seen with her world-class volley skills at the net.
"As I said before doubles game is teaching us many good drills that become very useful when we play singles. Not that many players now like to serve and volley so doubles without doubt is the advantage here," Vesnina added. The Russian's singles game is based off her explosive shots coupled with some great hands at the net, and doubles have definitely aided her during her rise in the rankings.
"It has been a long and very tough year for me, but it definitely brought up some satisfaction and my hard work (of many years) has paid off," Vesnina claimed. The Russian is one of the most hardworking players on the tour, while her years of battling injuries (which saw her ranking dip in singles back a few years back) finally had its reward.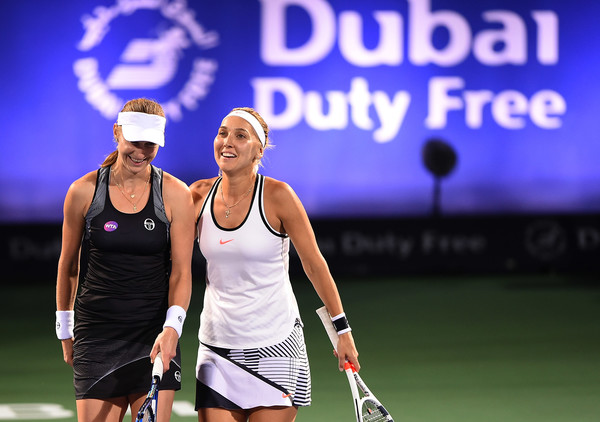 Singles success
2017 was extremely special for Vesnina, who won her third women's doubles Grand Slam title while also lifting the biggest title in her singles career, putting up a dominant show at the BNP Paribas Open. Her run was unbelievable and was long due considering her caliber.
"Winning a Premier tournament and especially the one like Indian Wells is a huge result. Of course I consider it to be the biggest win of my career, however, I hope that this experience will help me in the future to achieve something similar." Vesnina was humble in her response, and she affirmed that the win would only motivate her to go further in the future. "It feels great to be on the list of other great Champions that have won this event in the past."
After Vesnina's triumph in Indian Wells, she had to endure through a poor run which saw her claim two wins in nine matches. Furthermore, the Russian failed to reach any quarterfinals through the remainder of the year. Hence, 2017 has been full of ups-and-downs for Vesnina, but this year have taught her some values.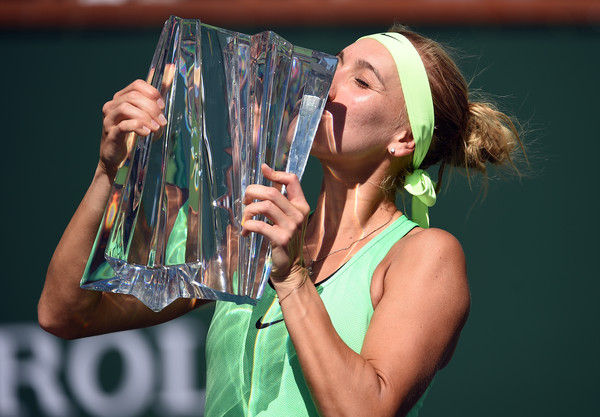 "I can say I have grown up as a person and as a tennis player. I perfectly understand there are ups and downs in everything you do (not only in sports), so I have learned to get the best of every loss and just keep on moving with my other goals." Vesnina was truthful in her answer and displayed the maturity a sportsperson should own. The Indian Wells champion used "satisfying" to describe her 2017 in one word. Amidst her disappointing singles campaign in the latter half of the year, it has been quite a year for Vesnina — a Wimbledon title certainly meant a lot as well.
After the recent controversy revolving around Russia's eligibility to compete at the 2018 Winter Olympics, the Olympics Gold Medal in Rio must have meant the world for Vesnina. "Growing up in Russia means I am very much interested in everything related to Olympic Games. This is a big deal for every Russian."
"Being able to become a part of the Olympic Team and especially winning Gold is dreams come true. This is something that will be a big part of me forever. Pure happiness is how I can describe it," the pure joy on Vesnina and her partner Ekaterina Makarova's faces came from the pride of being able to represent their country, prevailing on the biggest stages of the sport and seeing the Russian flag rise on the podium.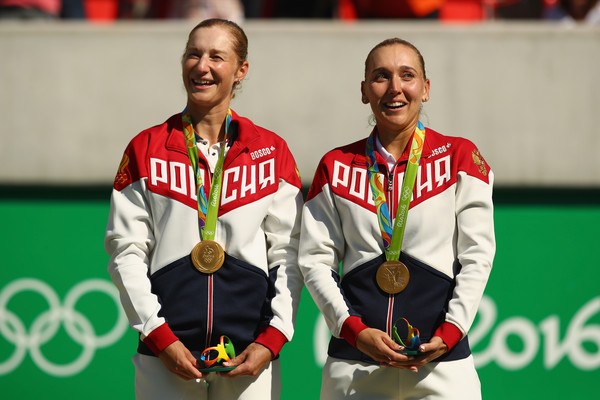 Vesnina's on-court celebrations have slowly integrated itself into being a part of her game itself. Often enough, we could witness the Russian spurring herself on with words in Russian, most particularly "Davai" and "Luchshaya". Being such a proactive player on the court, Vesnina claimed that she is "like any other athlete speak to myself (herself) with highly motivated things as it is absolutely working when you need to put yourself together and to keep your concentration."
In a joking manner, Vesnina mentioned, "Every player has her own "things" to yell to cheer herself up. Actually, "Davai" is a very common word for almost every Russian, so I guess I am not being original here."
Back to serious business, I asked Vesnina about her specific goals for 2018. Something missing in her list of achievements is definitely the Australian Open doubles title (giving her the Career Grand Slam), and the world number one ranking in doubles. The Russian is still looking towards the top-rank on her wishlist, but she would rather not make any predictions. "Every player is dreaming of this. I assume I am not the exception."
"I will just keep on working hard to achieve the best I can in 2018. Hopefully, I can stay healthy and fit to keep on with the singles and doubles."
To a sportsperson, results are certainly secondary while health is of the utmost importance.
Ending off the interview on a lighter note, Vesnina spoke about how her off-season preparations have been going. "I have been able to spend some quality time with my family, do some media and sponsors' appearances and have started my new season preparation in Sochi and in Moscow," from the Russian's Instagram posts and stories, she was seen practising in her home country, alongside her new addition to the team — fellow tennis professional Dmitry Tursunov.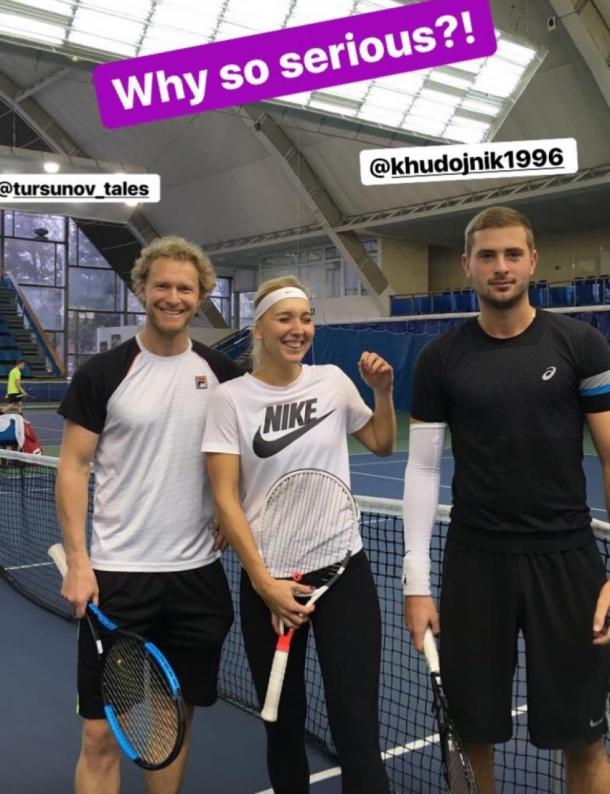 Furthermore, Vesnina is also a part of a new project called "Choose to Teach". As quoted by the Russian herself, this is an educational program targeting regional schools in rural geographical areas in Russia, allowing the children there to receive the best possible education.
Lastly, Vesnina had some nice words relaying to all her supporters who have supported her all-year long.
"I'd like to extend my appreciation to everyone who is supporting me and I hope I can keep up playing some good tennis to keep my fans happy. Thank you guys! This means a lot to me!"