 After a week of exciting action in Perth, the 2018 Hopman Cup final is set to take place, with a German team of Angelique Kerber and Alexander Zverev taking on a Swiss team of Belinda Bencic and Roger Federer for the title.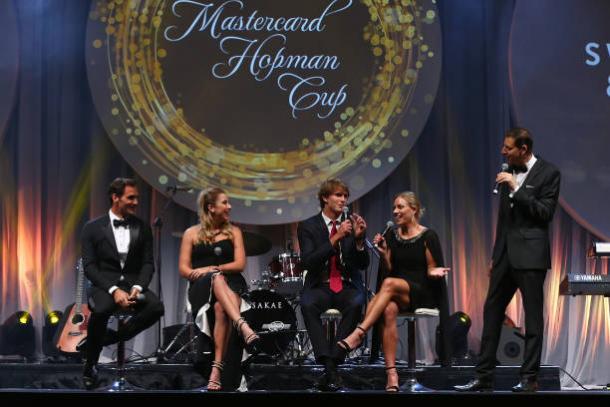 It has been a good week for both teams, with both winning all three of their group ties, though it has been particularly good for Bencic and Federer, with neither of the two losing a single rubber as they head into the final as arguably the favorites for victory, though Kerber and Zverev (especially the former) have also impressed this week and are undoubtedly in with a big chance on Saturday.
So far in Perth
As previously mentioned, neither team has lost a tie in the competition so far, though it is the Swiss team who have been the most impressive side in the competition.
The Swiss team started with an impressive win against Japan, with Bencic and Federer recording straight-set wins over Naomi Osaka and Yuichi Sugita respectively to seal the tie, before sealing a whitewash from a set down in the Fast4 mixed doubles. The two then secured victory over Russia, with Federer beating Karen Khachanov in two sets and Bencic prevailing over Anastasia Pavlyuchenkova in three sets before winning the mixed doubles against Russia before the team won all three ties against the American team of Coco Vandeweghe and Jack Sock.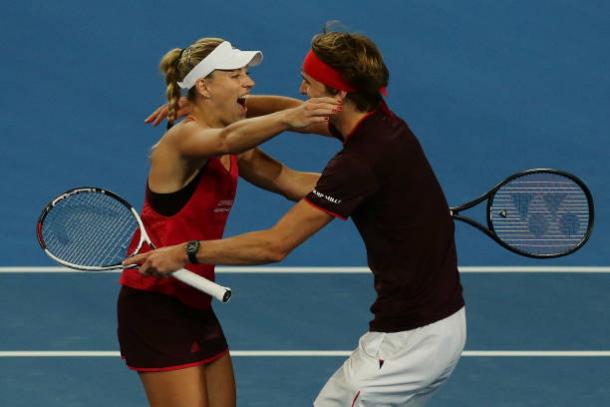 The German team got off to a trickier start, with Zverev and Kerber clinching an opening win against Belgium in the mixed doubles after Kerber prevailed over Elise Mertens and Zverev fell to David Goffin. Things, however, were much simpler in their next tie against Canada, with the German team not dropping a single set against Vasek Pospisil and Eugenie Bouchard as they put themselves in control of the group. After Kerber comfortably beat Daria Gavrilova and Zverev fell to Thanasi Kokkinakis, the duo faced a must-win mixed doubles tie against the Australian duo, though prevailed in from a set down to hold off Belgium and reach the final.
Previewing the rubbers
With four well-known players competing in the final there will undoubtedly be a lot of interest in the final, and we could be set for two very interesting singles rubbers.
The first rubber pits Zverev against Federer, in what has been an interesting matchup over the past couple of seasons. The two have met five times in the past on tour, with Federer winning three of those meetings, including their last at the ATP World Tour Finals, though Zverev has won their other two, including their Rogers Cup final clash, and also beat the Swiss in the Hopman Cup last year; this result, however, does not count to their head-to-head, and it is fair to say that Federer has been in better form than the German this week. Zverev knows how to beat Federer and will have that belief, though form suggests it is Federer who is in the driving seat for this one.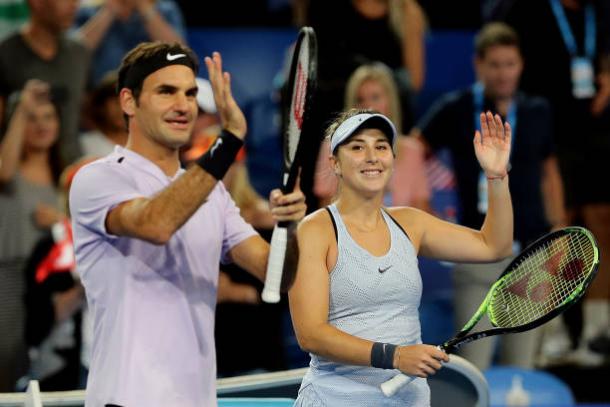 Perhaps the most interesting will be the second singles tie between Kerber and Bencic, a battle between two women who have been in impressive form and won all three of their singles rubbers in Perth after difficult 2017 seasons; Kerber struggled to back-up her stellar 2016, whilst Bencic spent several months out with an injury. Surprisingly, Bencic has won all three of their previous meetings in straight sets and because of that might be the favorite for this tie, though Kerber looked incredibly sharp against Bouchard and Gavrilova and will be very difficult to beat.
After a short break, the two teams will face off in what could be the decider Fast4 mixed doubles clash. Neither duo has lost one of these ties this week, and it is incredibly hard to call who could edge this; Kerber and Zverev won two of their three rubbers in straight sets, though it is arguably Bencic and Federer who have looked more comfortable together this week. It seems likely that this will be tight, though it is arguable that the Swiss duo may be the slightly better doubles players
Prediction
It has been another great week in Perth, and hopefully, the crowd will witness another great final. Despite having never beaten Bencic, Kerber has been incredibly sharp this week and I would expect her to pull through and give Germany one rubber. However, I would expect Federer to secure victory over Zverev, and though the mixed doubles is a tough one to call, I would say that Bencic and Federer take it to seal Switzerland's first Hopman Cup title since 2001.
Prediction: Switzerland def. Germany 2-1