 Grand Slam tournaments are famous for subplots and this year's Australian Open will center around a host of familiar faces down under.
Sam Groth has announced his retirement from the sport and is ought to make an appearance around the site despite falling in the first round of qualifying to Taylor Fritz. Bernard Tomic, meanwhile, continues to draw attention and his path will be closely monitored should make the main draw after he was denied a wild card by Tennis Australia, while expectations for Nick Kyrgios have been ratcheted up after he claimed first ATP title on home soil last week in Brisbane.
But perhaps the most intriguing plot heading into Melbourne surrounds 18-year-old Alex de Minaur who, as the fourth youngest player inside the top 200, will enter his second Australian Open brimming with confidence.
Living the dream
His place in the main draw was secured at the start of the year when he triumphed in the Australian Open wildcard playoff and he secured the biggest victory of his fledgling career only three days into 2018 when he dismantled former world number three Milos Raonic in straight sets at the Brisbane International.
To say he is riding the crest of a wave is an understatement. He waved farewell to Brisbane with a semifinal showing – he led by a set against Ryan Harrison in his defeat – and is currently only two sets away from a maiden ATP final in Sydney. Little wonder he does not want it to end. "I reckon the best way to describe this is at the moment, I'm in this really good dream and I really don't want to wake up," he told the media after his 6-3, 6-0 victory over Michael Mmoh last week.
His playing style has bore comparisons with Lleyton Hewitt and it is no surprise to discover that the two-time Grand Slam champion has been playing an advisory role in de Minaur's development. Against Raonic he swarmed the Canadian's second serve, breaking his serve three times in a 6-4, 6-4 victory. His unorthodox forehand – where he is late to snap his wrist – troubled Fernando Verdasco in Sydney and, most impressively, each of his victories in the last two weeks has come in straight sets.
It is tempting to get swept away in the media frenzy and, given the cutthroat nature of the sport, each piece of success should not be taken for granted. Tomic experienced similar elation at Wimbledon in 2011 when he burst through the qualifying rounds and reached the quarterfinals. His troubles since then have been well-documented.
Yet the most important juncture of de Minaur's early development lies outside Australia, detached from a familiar climate and the benefits of a partisan crowd.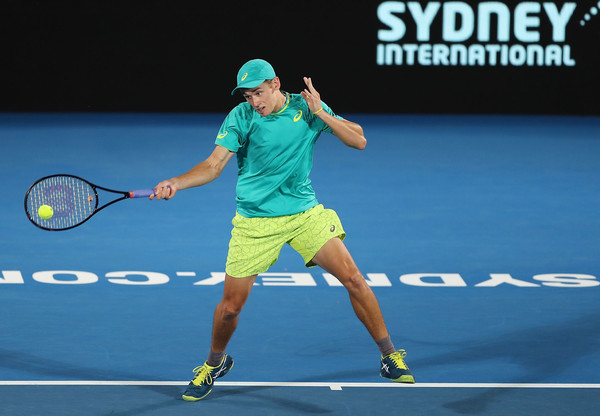 Unfamiliar terrain
It is easy to forget that de Minaur burst onto the scene as a 17-year-old last year in Australia, where he qualified for his first ATP tournament in Brisbane and recorded his maiden main tour victory over Paire a week later in Sydney. He backed that up with an emotionally-charged five-set victory over Gerald Melzer in the first round of the Australian Open. But that, to put it lightly, was that for de Minaur.
He made only two more appearances on the main tour last year and both came as part of Australia's reciprocal wildcard agreement with France and the USA. The Australian exited both tournaments in the opening round. Success on the Challenger tour was hard to come by, too, with his only final appearance coming in Segovia in August.
Denis Shapovalov is two months younger than de Minaur and it is perhaps harsh to compare both at a time when we should be appreciating their talents, but the Australian will be hoping to replicate the Canadian's post-Rogers Cup run from last year.
Shapovalov enjoyed a memorable week in Montreal -- not too dissimilar to de Minaur's respective runs in Brisbane and Sydney – before making a dash to the round of 16 at the US Open. The Canadian was able to harness the confidence gained from his run on home soil and produce on a bigger stage.
The points accrued from both of those fairytales runs allowed Shapovalov direct entry into the main draw at the remaining ATP tournaments of 2017 and, although de Minaur may not enjoy a similar luxury, a final appearance in Sydney will see him climb to just outside the top 120.
Tomas Berdych awaits in the first round in Melbourne for the 18-year-old. He will meet the challenge with similar tenacity to the questions posed to him in the last two weeks. The task after that is to start maximizing his gifts overseas.