 The Australian Open draw ceremony took place Thursday evening in Melbourne. The ceremony was highlighted by Roger Federer, the defending champion on the men's side, and Maria Sharapova, who won her lone title in Melbourne a decade ago. With the unveiling of the draw, there were a few notable takeaways and we'll take a look at them below.
Notable Draw Takeaways
Men's Draw
On the men's side, top-seeded Rafael Nadal got one of the best draws he could ask for to open up the tournament. He'll start with Victor Estrella Burgos and then will get the winner of Leonardo Mayer and Nicolas Jarry. His potential third round seed will be Damir Dzumhur who had a breakout 2017 but has struggled to capture that form to start off the new season. A healthy Nadal should easily see himself into the second week at Melbourne Park.
Defending champion Roger Federer should also see himself into the second week without any problems. He'll open up with Aljaz Bedene then take on the winner of Kwon Soon-woo and Jan-Lennard Struff. His third round seed would be Richard Gasquet, a player he has not had trouble defeating in the past.
Two potential wide-open sections for semifinalist would be the bottom half of the top section, led by Grigor Dimitrov and then the top half of the bottom section, led by Dominic Thiem and Alexander Zverev.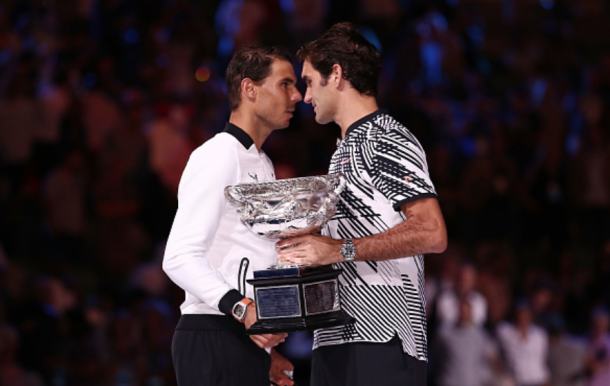 The Bulgarian has not found his form which saw him capture the Nitto ATP Finals so we'll see how he comes into the opening major of the season, defending semifinal points. Nick Kyrgios is the Brisbane champion but is also carrying a knee injury which could hurt him in a best-of-five set format but has the firepower to definitely take him to new heights in his home Slam.
The top half of the bottom portion of the draw is the most interesting. Thiem isn't really the best hard court player while Zverev has yet to make it past the fourth round of a major. Also in this section are Novak Djokovic and Stan Wawrinka. The Swiss number two withdrew from TieBreak Tens earlier this week and still remains questionable for the tournament.
For Djokovic, his opening competitive match will be tricky against American lefty Donald Young. It won't get any easier in round two with Gael Monfils lurking. Should he get by those two matches, the former world number one should get to the second week with a blockbuster with Alexander Zverev looming large.
Women's Draw
When the draw came out, all eyes were pointed to one certain first round matchup, Belinda Bencic vs Venus Williams. Last year's finalist will take on the young Swiss who has been brilliant since her return from injury late last season. Ironically last year, Serena faced Bencic in her opening Australian Open match.
All eyes move onto section three of the draw where it is as wide-open as it can get for potential fourth round matchups. Garbiñe Muguruza leads this part of the draw but a retirement and a withdrawal leading up to the event while Agnieszka Radwanska has shown flashes of brilliance but isn't fully to her best yet.
Anastasija Sevastova has only made it to the second week once in Melbourne but the biggest factors will be Maria Sharapova and Angelique Kerber. Kerber is one of the hottest players on tour right now. She did not drop a set in Hopman Cup play and will play for the Sydney title against Ashleigh Barty.
Picks
Noel
Men's Quarterfinals: Nadal-Cilic, Kyrgios-Anderson, Djokovic-Wawrinka, Federer-Goffin
Men's Semifinals: Nadal-Kyrgios, Djokovic-Federer
Finals: Djokovic defeats Nadal
Women's Quarterfinals: Halep-Pliskova, Sharapova-Keys, Svitolina-Goerges, Wozniacki-Vandeweghe
Women's Semifinals: Pliskova-Sharapova, Svitolina-Wozniacki
Finals: Pliskova defeats Svitolina
Oliver
Men's Quarterfinals: Nadal-Muller, Kyrgios-Anderson, Djokovic-Thiem, Federer-Goffin
Men's Semifinals: Nadal-Kyrgios, Djokovic-Federer
Finals: Federer defeats Nadal
Women's Quarterfinals: Halep-Pliskova, Kerber-Garcia, Svitolina-Goerges, Wozniacki-Vandeweghe
Women's Semifinals: Halep-Kerber, Svitolina-Wozniacki
Finals: Svitolina defeats Halep
Follow our Twitter @OnTheLinePod. You can also find Oliver and me on Twitter @OliverDJ1998 and @notfirstnoel