 Mihaela Buzarnescu has only made two main draw Grand Slam appearances in her career; both times drawing Caroline Wozniacki in round one. A tough task for a player who has been in great form these past few months. The same can be said for Wozniacki also. An injury plagued 2016 led to a resurgent 2017 and now the Dane is closing in on the very top once again.
A final for Buzarnescu in Hobart just the other day; a final for Wozniacki in Auckland the week before. An in-form clash to start the evening session on Day 1.
Wozniacki starts steadily
The opening game of the match was quite quiet as both players settled into the match. A fairly comfortable hold for the Dane was followed by a break in the next game, as the Romanian opened with a number of errors from both wings. That loose game seemed to settle Buzarnescu, as she managed to get the break straight back with a couple of excellent angled shots.
However, that was the last game that the Romanian would win in the first set as Wozniacki powered through. A couple of powerful backhands and a forehand winner saw the Dane break again in the sixth game, with Buzarnescu struggling to get past Wozniacki's excellent defense. Another pinpoint backhand at 30-0 put the Dane in position for the first set. The set was wrapped up with an error from the Romanian, Wozniacki took it 6-2.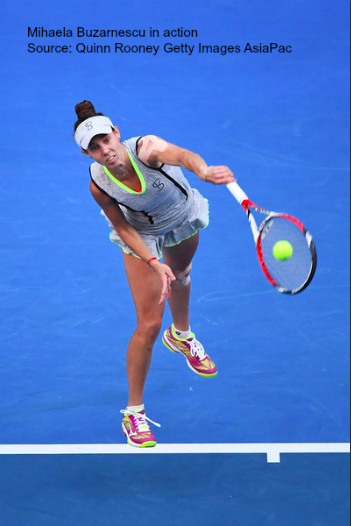 Romanian fightback quickly stopped
The second set started exactly the same as the first, with Wozniacki grabbing an early break with some excellent net play and court coverage. However, she was once again pegged back as the Romanian loosened up more. A well-disguised drop shot in the third game and a couple of aces brought Buzarnescu back level. The momentum was then with the Romanian as she went on to break the Dane for her first lead of the match; the errors were now coming off Wozniacki's racket.
Although, the momentum didn't last long as an excellent volley gave Wozniacki break back points, which she took rather comfortably. Now it was Buzarnescu's turn to produce errors as she gave the Dane a comfortable hold before gifting another break. The Romanian was broken 6 times during the match. The final game of the match did prove to be the most entertaining. A completely random point at the beginning of the game saw a curveball shot from Buzarnescu, which was well picked up by the Dane.
Match point was another error from the Romanian who had played some excellent points in the match. However, she struggled with consistency and the ever solid Wozniacki was able to contain and progress 6-2 6-3.
Next up for Wozniacki
Wozniacki will face Jana Fett in round two. The two players have never played each other before so it should be an intriguing clash.