 17th seed and home favorite Nick Kyrgios continued his Australian Open campaign in fine style on Wednesday, beating the potentially dangerous Viktor Troicki in straight sets to reach the third round.
Though it was not a massively easy win, the Australian rarely had to play at his best, looking comfortable throughout most of the match, though suffered a slight wobble late in the third set, with Troicki saving a match point and then breaking as Kyrgios served for his place in the third round. However, the 17th seed eventually righted the ship to secure a 7-5, 6-4, 7-6(2) victory in two hours and 12 minutes.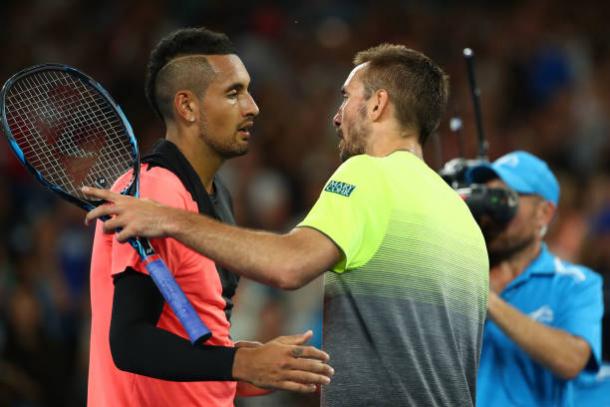 After two fairly comfortable victories so far in Melbourne, Kyrgios will likely face his biggest test yet in the third round against 15th seed Jo-Wilfried Tsonga, who battled past Denis Shapovalov in five sets earlier today. Though he is the lower seed, the Australian will likely be the favorite to win that match and reach the second week.
Kyrgios comfortable as he progresses at home slam
Following his run to the title at the Brisbane International a couple of weeks ago, there is undoubtedly a lot of pressure for Kyrgios at his home slam, though the Australian seems to be dealing with it very well at the moment having faced little trouble in his opening two matches.
It was the Australian who was in control of the first set throughout, though Troicki was able to save several break points as he took a 5-4 lead on serve. Kyrgios, however, showed no sign of any nerves serving to stay in the set, and immediately broke the Serbian as he put himself in the driving set; he comfortably served out the opening set after 44 minutes.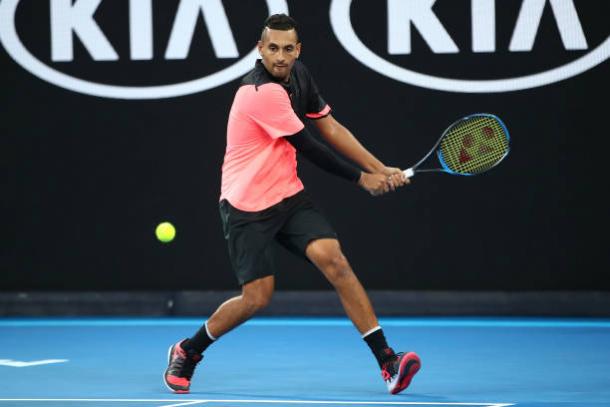 Kyrgios had been unable to break early in the first set, though was able to break straight away at the beginning of the first set as he began to ease away slightly from Troicki. The Serbian was solid after that, having no more troubles on serve in the second set, though failed to trouble the Australian on his serve, and Kyrgios found himself two sets to love in just an hour and 17 minutes.
Just as in the second set, Kyrgios was able to break early on and looked very comfortable as he eased to a commanding 5-3 lead in the third set. Troicki, however, was not done just yet, saving a match point on his own serve before breaking for the very first time in the match to pull himself back in the match. The Serbian tested Kyrgios in the next two games, though was unable to break, and eventually the Australian converted his third match point in the tiebreak to reach the third round.