 In what was perhaps the best match of the Australian Open so far, 17th seed and Brisbane International champion Nick Kyrgios edged past 15th seed and former runner-up Jo-Wilfried Tsonga to reach the fourth round at his home Grand Slam tournament.
There was certainly a lot of anticipation heading to this one, with both me being incredibly entertaining when playing well, and that more than proved to be the case, with Kyrgios eventually prevailing 7-6(4), 4-6, 7-6(6), 7-6(5) in what was three hours and 17 minutes of fantastic tennis, securing the Australian's seventh consecutive win.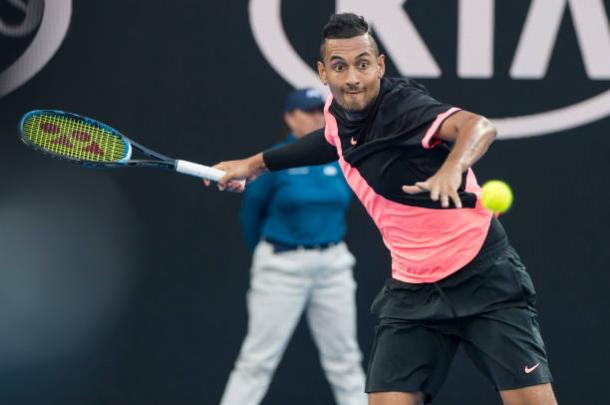 Inform Kyrgios prevails against former world number five
Despite being the lower seed of the two, Kyrgios was arguably the favorite for this encounter following his impressive run to the title in Brisbane a few weeks ago. However, it would have been unwise to rule the Frenchman out, and the two played out what was perhaps the best match of the whole tournament so far.
Kyrgios started well, breaking early on for a 3-1 lead in the first set, though it did not take Tsonga too long to break back to even up proceedings once again. Neither man was particularly troubled after that, though it was the Australian who controlled the tiebreak to win the first set. Tsonga needed a strong start to the second set, and he got just that, breaking Kyrgios and eventually building a 4-2 lead. The 17th seed was not threatened after that, though Tsonga remained firm as he leveled up proceedings in the Rod Laver Arena.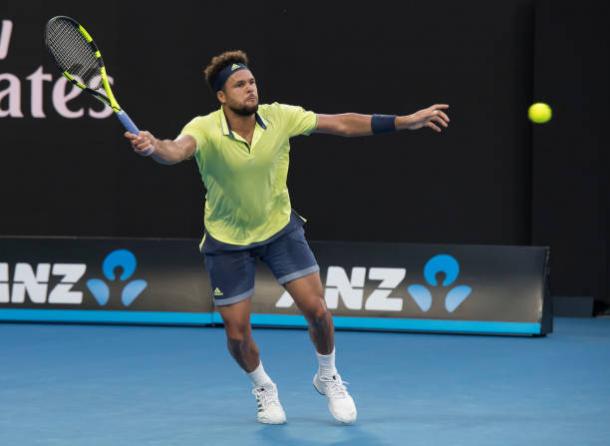 The third set was incredibly even, with both Tsonga and Kyrgios looking on supreme form when serving, dictating play and handing out very few opportunities. The ensuing tiebreak was thrilling, with the Frenchman holding an early minibreak and having a set point, though Kyrgios was able to rally off the final three points to take a two sets to one lead. Though there were chances for both men to break in the fourth set, neither was able to take advantage of those opportunities, and another tiebreak commenced. Once again Tsonga started quickly, building a 5-2 lead, though Kyrgios forced back control, and won the final five points to claim victory.
Though he dropped a set today, there can be no doubt that Kyrgios has been in very impressive form throughout the tournament. The 17th seed will well and truly fancy his chances against 3rd seed Grigor Dimitrov on Sunday, in what is another match likely to take place in Rod Laver Arena.