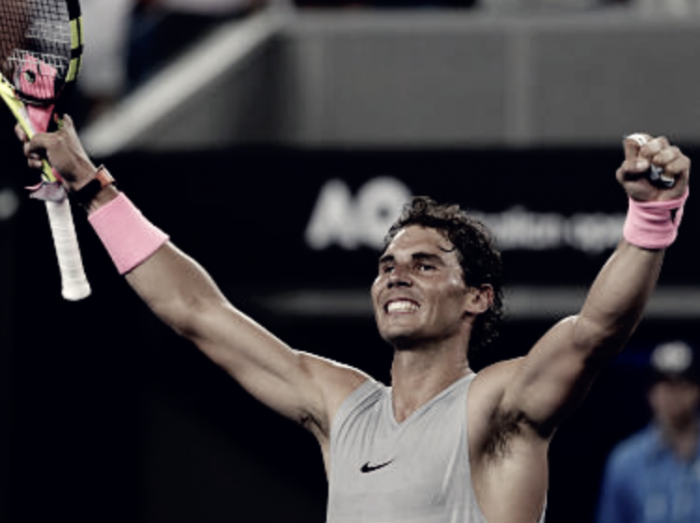 It was supposed to be Rafael Nadal's first test of the Australian Open. He met 28th-seeded Damir Dzumhur who was coming off of a career year. It was anything but a test for the world number one, rolling the Bosnian 6-1, 6-3, 6-1. He will now face Diego Schwartzman for a spot in the quarterfinals.
On His Form
Nadal withdrew from the exhibition and Abu Dhabi and the Brisbane International but made his season debut at the Kooyong Classic and TieBreak Tens events held in Melbourne Park. Entering the event, the tennis world did not know the kind of form Nadal would be in for the Australian Open, but he's undoubtedly looked stellar so far.
He said, "I don't know, no? I didn't think about when I arrived how I going to be in two weeks. I am already two weeks and one day here. I just try to go day by day.
I needed hours of court, hours of practice, hours of playing sets with different players. That's what I did. I think I did a good preparation here. I felt myself playing well. That's all. Here I am. I am in the fourth round. That's because I am doing the right things. Let's see how far I can go."
On Playing In The Heat
Temperatures over the last couple of days in Melbourne have reached well over 100 degrees with on-court temperatures being much hotter. The tournament does have an extreme heat policy, but it has not gone into effect so far.
"My opinion that is not safe enough sometimes, you know? But is not the only place. That's the real thing. Have been very, very tough conditions yesterday and today. Yeah, sometimes is too much and can become little bit dangerous for health. That's the real thing. It's not nice to see players suffering that much on court.
But there is one positive thing, only one: was not humidity, was dry. That's make a big difference. Even if is very warm, still very tough. But in my opinion is tougher, for example, Rio de Janeiro than here, because the humidity there is crazy and almost the same heat.
That's the only positive thing. The rest of the things are very negative to play in that conditions."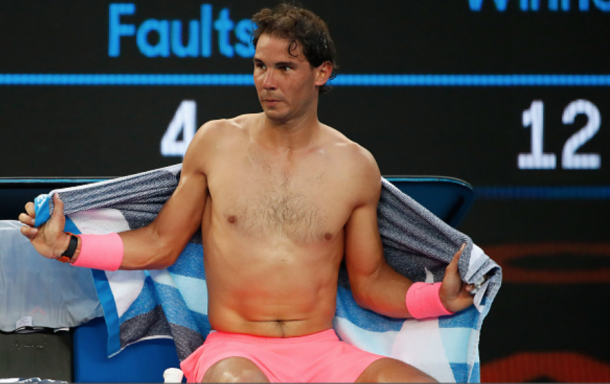 On His Next Opponent, Diego Schwartzman
Nadal's next opponent is Diego Schwartzman. The small Argentine may only stand at 5'7'' but packs a punch for a player his height. Nadal leads the head-to-head 3-0, defeating him in Monte Carlo last year. This will be their second-ever meeting at a Grand Slam, meeting at the 2015 US Open second round.
Despite never dropping a set against the Argentine, Nadal is wary of the trouble that Schwartzman can cause.
"He's a great player. He's a player that last year had an amazing year, and this year start again playing so well. So already won three matches here, playing again at very high level. He's a very complete player.
Being honest, he's a player that if I don't play my best, probably I don't going to win. He's a player that have all the shots, big control from the baseline, don't miss much. He's able to change directions easy. He's a player that already played the quarterfinals in the US Open. He's already in the fourth round. Tough one, and I need to play my best."