 Under the lights of Rod Laver Arena, Grigor Dimitrov avenged his Brisbane semifinal loss against home favorite Nick Kyrgios in the fourth round of the 2018 Australian Open as he managed to book his spot in the last eight in Melbourne for the third time in his career. Prevailing in three tiebreak sets, Dimitrov ousted the big-serving Australian 7-6, 7-6, 4-6, 7-6 after a marathon three-hour, 26-minute match which ended around 11:30pm local time.
The high-quality encounter saw both players combining for a total of an outstanding 140 winners and just 83 errors, with just one point separating them in the statistics board. Dimitrov will now face Kyle Edmund in the quarterfinal, fighting for a place to defend his semifinal points.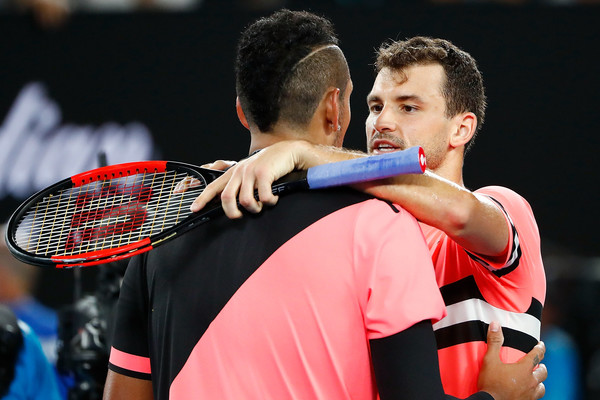 Dimitrov takes the opening set
It was a perfect start for Dimitrov, who powered to a 40-0 lead in his opening service game before his first serves abandoned him, allowing Kyrgios to fight back and threaten to break. Nonetheless, he managed to overcome his early jitters and prevailed in the nervy early stages.
Amidst the support from his home crowd, Kyrgios failed to find a breakthrough on the return while Dimitrov constantly looked for loopholes. Impressive one-handed backhand winners from Dimitrov earned him multiple break points, but the Australian played some of his best tennis at the crucial moments — powering to a tricky hold and leveled the scores at 3-3. As expected, the first set soon proceeded into a tiebreak, which turned out to be surprisingly one-sided. A double-fault proved to be pivotal as Dimitrov stunned the home crowd by taking the first set 7-6 after 54 minutes.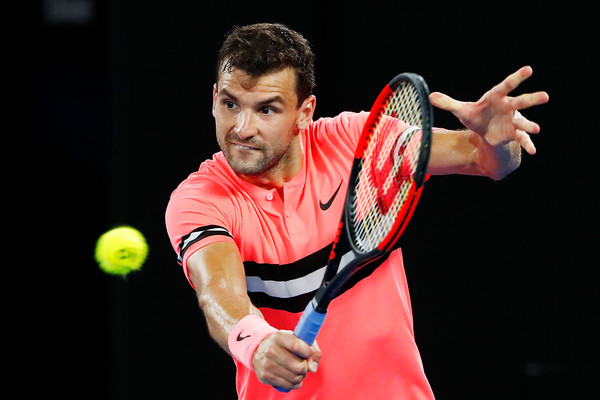 Dimitrov continues to roll through
Consecutive aces set Kyrgios up for a comfortable hold in the first game of the second set but he failed to ride on his momentum as the 17th seed missed out on a 0-30 lead in the fourth game, with Dimitrov handling his nerves well and serving an ace to remain on serve. All it needed for the Bulgarian to take the lead was a slight misfocus from Kyrgios and a poor game saw Dimitrov taking the lead once again.
It was a high-quality encounter with both players putting up an impressive performance with the perfect conditions, as stated by Dimitrov in his press conference, "Playing against the home boy, I think it's always that way. I think everything was great. Great atmosphere tonight. Nice to play on such good conditions. The court played nice. There was no wind. It was not hot. It was not cold. It was just a great match for tennis tonight."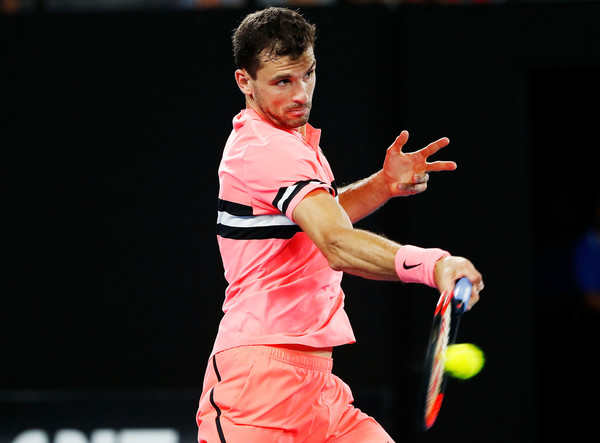 Dimitrov soon took the lead but crumbled when it mattered. Serving for a two-set lead at 5-4 up, his backhand errors proved costly as Kyrgios was able to convert on his first break point in the match. Another tiebreak ensued, and this time it was a similar outcome as Dimitrov rattled off three consecutive points at 4-4, edging closer than ever to the win.
Kyrgios fights back
Nothing seemed to be going Kyrgios' way after he faced a break point in the second game and all the momentum was with Dimitrov. Nonetheless, he continued to give it his all and mentally remained in the match while the Bulgarian's confidence certainly took a blow after failing to convert his chances.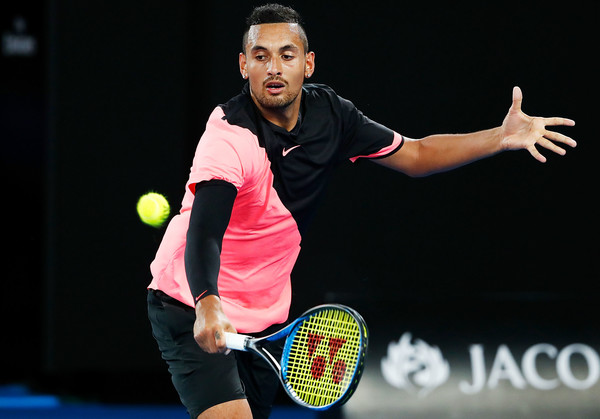 A poor game from Dimitrov saw him throw in three errors and allowed Kyrgios to take the lead for the first time in the match, before easily consolidating the break for a commanding 4-2 lead in the third set. Growing increasingly erratic, the Bulgarian produced a tough fight but Kyrgios ultimately closed out the deficit and looked on course for a terrific comeback.
Dimitrov steps over the finishing line
Kyrgios once again found himself in some deep trouble, facing multiple break points early in the set. Clutch serving from the Australian saw him blast consecutive aces, and despite managing to escape from the brink, he was still frustrated with himself. There were several calls from Dimitrov's box requesting for Kyrgios to be punished with a code violation for sending a ball into the stands, while claims were made to limit the conversations between Kyrgios and his team.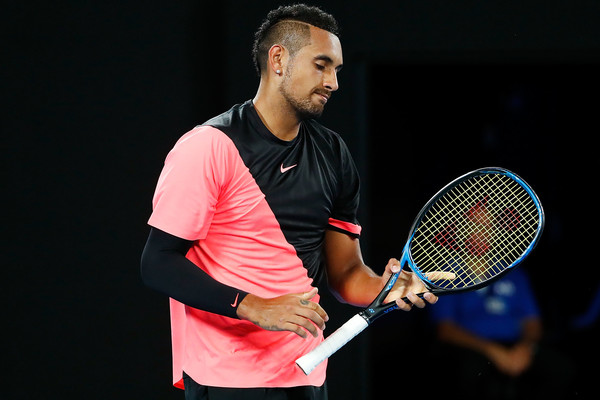 Putting up an offensive masterclass, Dimitrov fended off a break opportunity before finally grabbing the lead and earning the golden chance to serve out the match as Kyrgios sent a smash straight into the net on break point, leaving the crowd speechless. Several merciless returns from Kyrgios, including a flawless backhand winner down-the-line, saw him making an immediate reply and level the scores once more.
Dimitrov's positive attitude was what got him through, "I just had to suck it up and go on the other side. Hey, man, come on, let's try another one. Of course, I would have loved to have finished without playing another tiebreak. But again, I didn't let myself down for a second." He prevailed in yet another one-sided tiebreak, finishing the high-quality encounter with his 64th winner of the match.